This is K'ómoks, Snuneymuxw, Tseshaht and Te'mexw land.
This was the most enjoyable way I've ever gotten up Mt. Arrowsmith. And probably the most enjoyable scramble that I've done on Vancouver Island.
We started by hiking the Saddle Route, which was completely full of wildflowers.
I really didn't want to move along. I could just live here in the flowers.
But onward we went. The Bumps came into view in about an hour of hiking.
We definitely made a wrong turn getting down the first bump and ended up doing some very exposed 4th class or even low 5th class down climbing. (If you read my report about Red Pillar, you will know this seems to be a theme for me this year.) On the way back we saw the much easier ridge walk and took that instead.
Eyeing up the Main Gully in the summer made that route look just impossible. It's remarkable how much more reasonable that route is in the spring!
After three hours of wandering from our car, we hit the Nose. Just as it says in Alpine Select, the first pitch was a short 4th class scramble that would be hard to protect.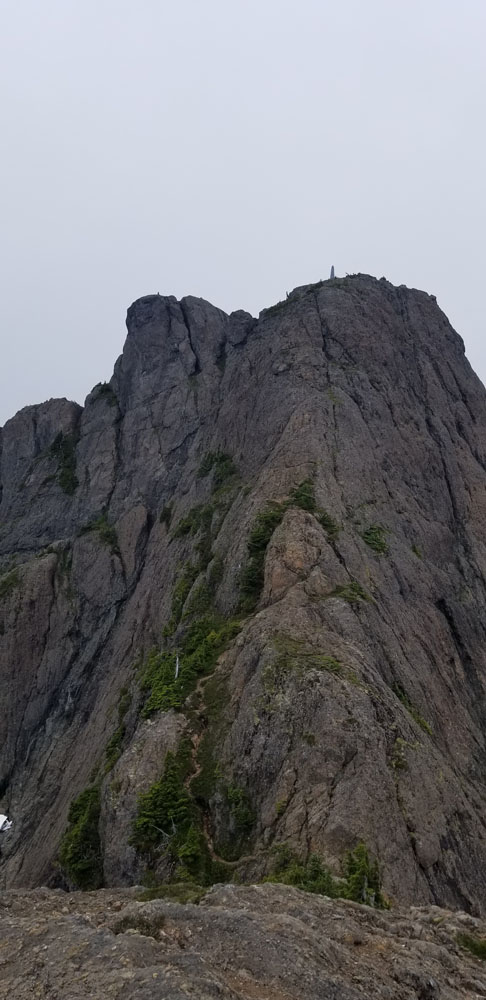 Bolts, chains and rap rings waited for us at the start of the second pitch. We weren't sure how intense the 5th class step would be, so we decided to use the rope and trad gear we carried up there.
It turned out to be one fifth class step that we probably would have been fine soloing. (It felt easier than the off-route nonsense we got ourselves into on the Bumps.) But we placed one cam (red #1 camalot) and bopped on up to the top.
And it's our 7th year anniversary! How cute is that!
Tips for making your next adventure a safe one
Our comfort on this type of terrain has come from years of climbing in the mountains. If you're a hiker who wants to check out Arrowsmith, start with the Judges route. And check out the resources below to find a guide, mentor or club to help you learn.
We brought mountaineering boots, harness, rope and other climbing gear. We also brought maps, a GPS and the 10 essentials. Remember to leave a detailed trip plan with someone who will call 911 if you don't come home on time.
Resources