We drove from Cambodia to the border of Thailand. It was nearly 37 C and sunny. It is even hotter inside the immigration building.
There were hundreds of bodies crammed into this small room. Most of them are Cambodians returning to Thailand for work after going home for New Years.
"This way, this way!" Someone in a uniform steers away from this line. We find ourselves in another, very short line tucked off to the side. A line just for tourists.
There are three immigration officers working. One for us and two for all of them.
Only about 30 minutes later, we're done. We get onto our air conditioned mini-bus. It even has wifi. Off to a new country.
The other line has barely moved.
A lot of my experiences in Cambodia were like this. We get a taste of what life is like. And then we move on.
Our guide, Sovann, is from Cambodia. He grew up in a small village. He told us that his parents prioritized his education, even though it was expensive. He became a tuk tuk driver and then a guide. He now speaks four languages. He loves to talk about history more than anyone I have ever met. He dreams of owning his own company some day.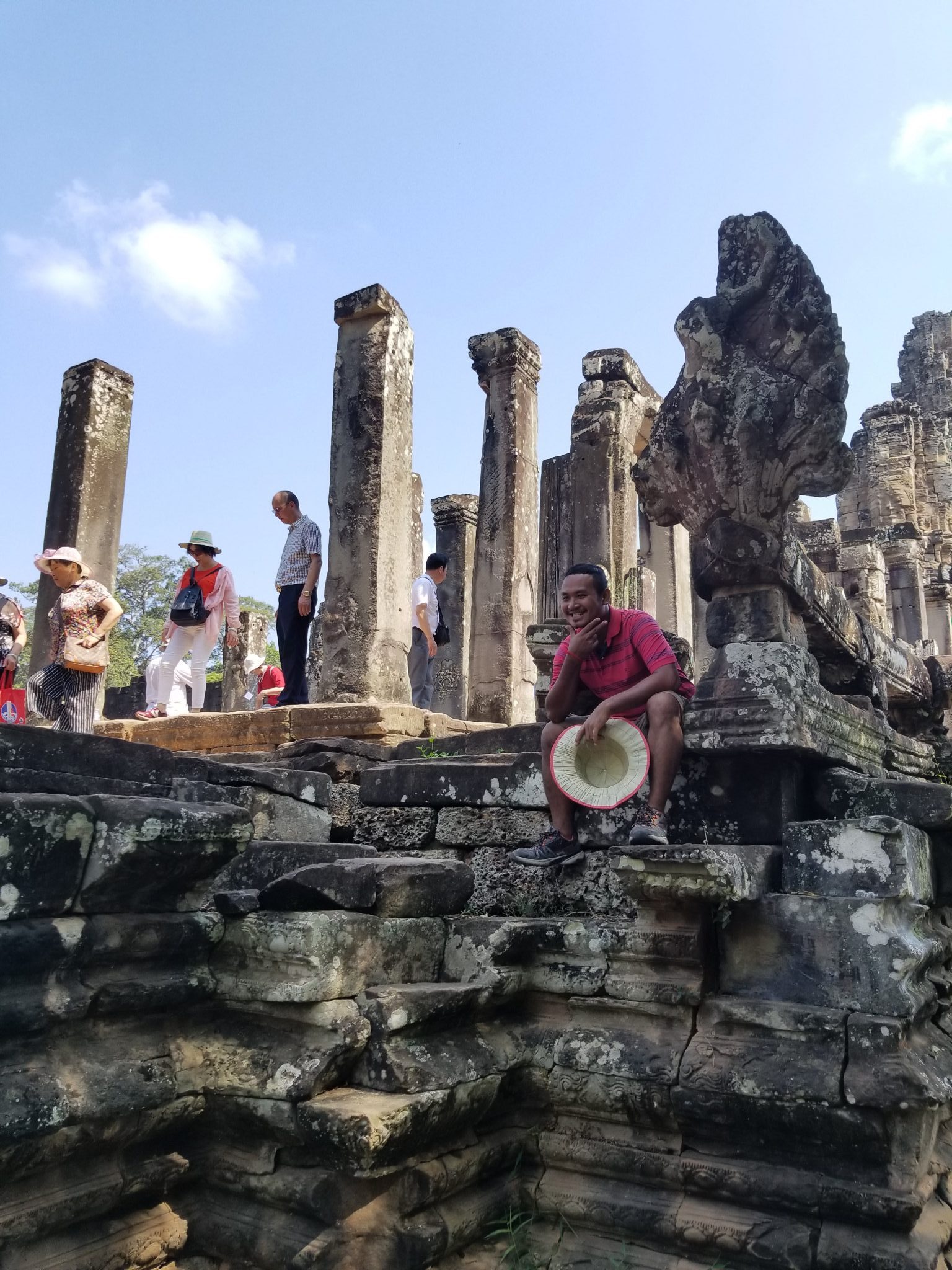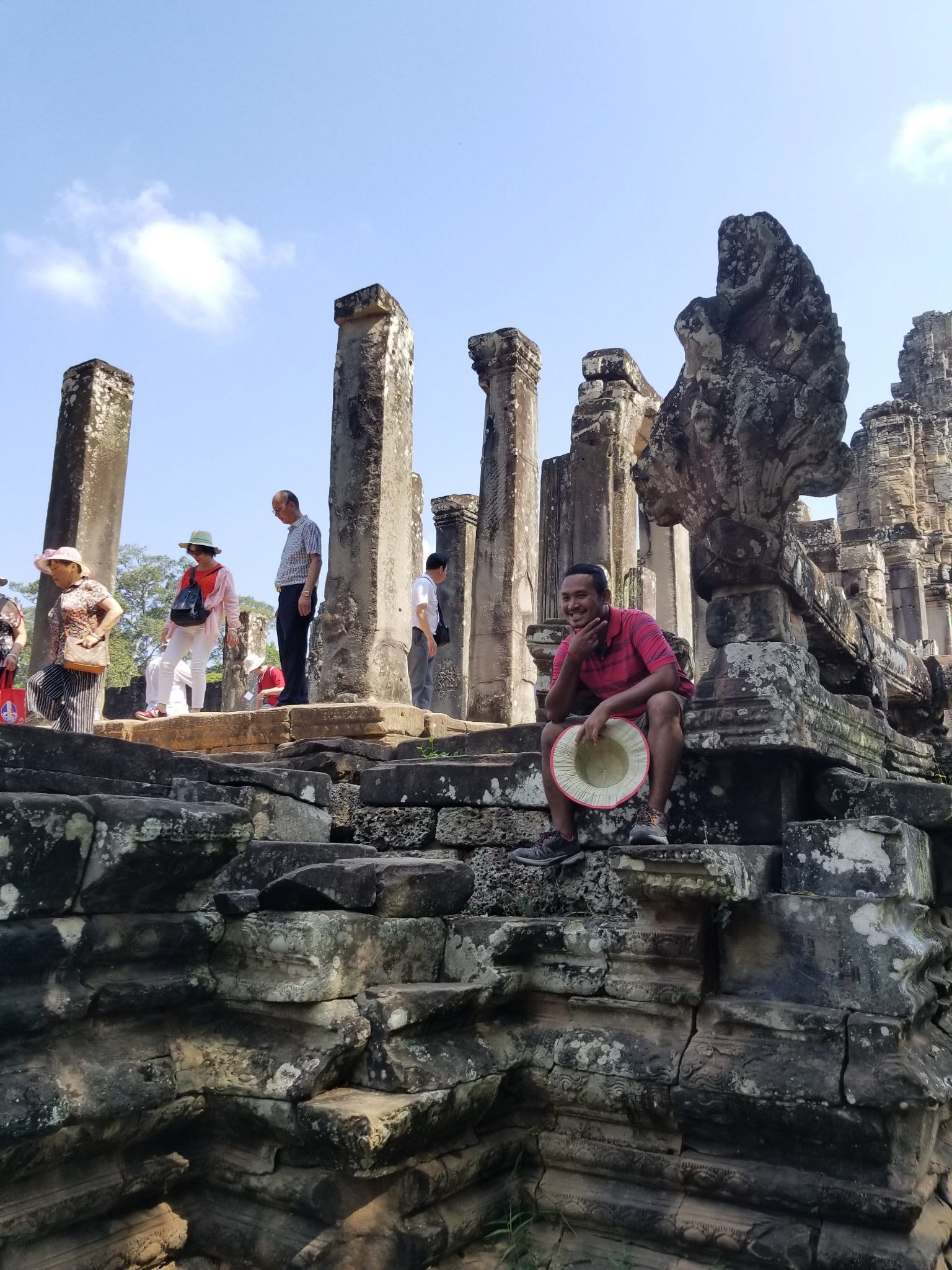 We tourists like to complain. About missing shower curtains, lack of air conditioning, slow service in restaurants.
One of Sovann's main jobs seems to telling us what is worthy of complaining about — and what isn't.
But he doesn't put it like that. He says it in a very patient way. One that feels like he is teaching young children about how the world works.
"It's hard to get things here."
"Only 30% of the country has electricity."
"Everything is imported."
"Everything is expensive."
We spend a night in a homestay in a small village. Families rent out rooms in their houses for guests. Each room has several mattresses with mosquito nets. Four of us stay together in a room. Our rooms have ceiling fans, which are solar powered.
We arrive during the biggest holiday of the year, New Years. Outside our room for the night, the family has set up a giant speaker. Cambodian music is playing loudly. There seems to be an endless supply of local beer. People seem happy that their dance party just doubled in size.
Sovann is beaming for the first time since I met him a few days ago. "This is what my village is like. This is just like home."  He had to miss New Years with his family for work, to be with us.
We didn't even know it was New Years before we arrived.
Before we go have dinner and then the party, we are shown how the outhouse works. There is a squat toliet on the right. No toliet paper allowed in there. There is a big basin of water on the left, filled with water from a local stream. To shower, you scoop water from the basin with a little bucket and dump it over your head. The used water runs out a hole on the floor.
Sovann encourages us to take a shower, even though we could just wait until the hotel tomorrow. "You are only here for one night. So just try it. Learn what it's like for the local people."
We stay up dancing in the sticky hot night. An older guy and a young kid decide to teach us some dance moves. The kids our age laugh at us and record us on their really nice smartphones. It's probably on Facebook Live. And then they join in too. Someone (only half jokingly) tries to set up their female friend with every guy in our group.
When I'm ready for bed, I take a bucket shower. Even though there is a tarantula in the outhouse with me and I am really scared of spiders.
The cool water feels so refreshing. I sleep through all the noise of the lizards and the dogs and the roosters.
And the next day we're off to the beach. And another hotel. And a proper shower.
Chambok Ecotourism
The homestay was definitely a highlight of my trip for me. Check out their website if you would also like to visit.