Bowron Lake Canoe Circuit is a 116km backcountry canoe circuit in Northern BC. Most people take 5-9 days to paddle the entire distance. We took eight, which felt like a pretty relaxed pace and included a rest day.
There are limited number of people who can start each day. No speakers or commercial beverage containers are allowed. There is plenty of space and campsites for everyone to be alone if they want to. It's paradise for paddlers who like backcountry peace and quiet.
We took up paddling this year because I damaged a nerve in my back last December. I spent much of this year unable to walk more than a few minutes at a time. It took a lot of patience, doctors' visits and rehab exercises to get to the point where I could do a trip like this. I am so grateful we could go have this adventure!
Day 1: Registration Centre to Indianpoint Lake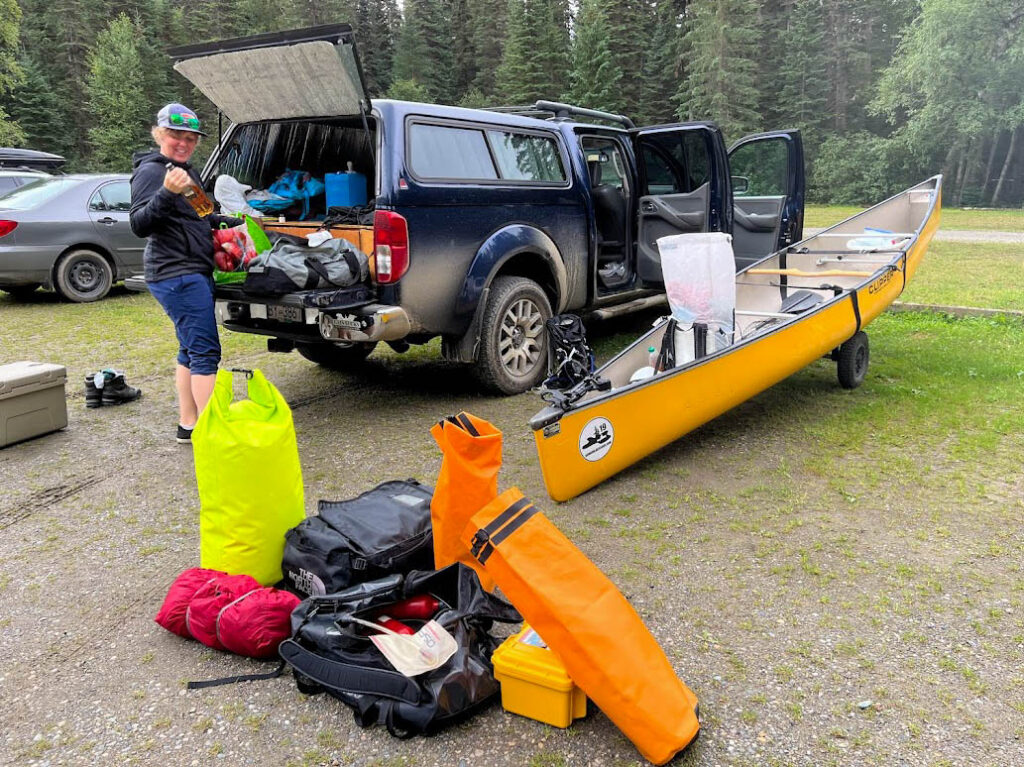 We spent the night before our trip in nearby Wells, BC. We arrived at the registration centre just before our mandatory orientation at 9:00am. The ranger told us that we should pull over in bad weather and she also told us that you must allow people share your campsite, especially if they arrive in the dark or in bad weather. Noted!
We also picked up our rented Clipper Tripper and canoe cart from Bowron Lake Canoes right at the registration centre.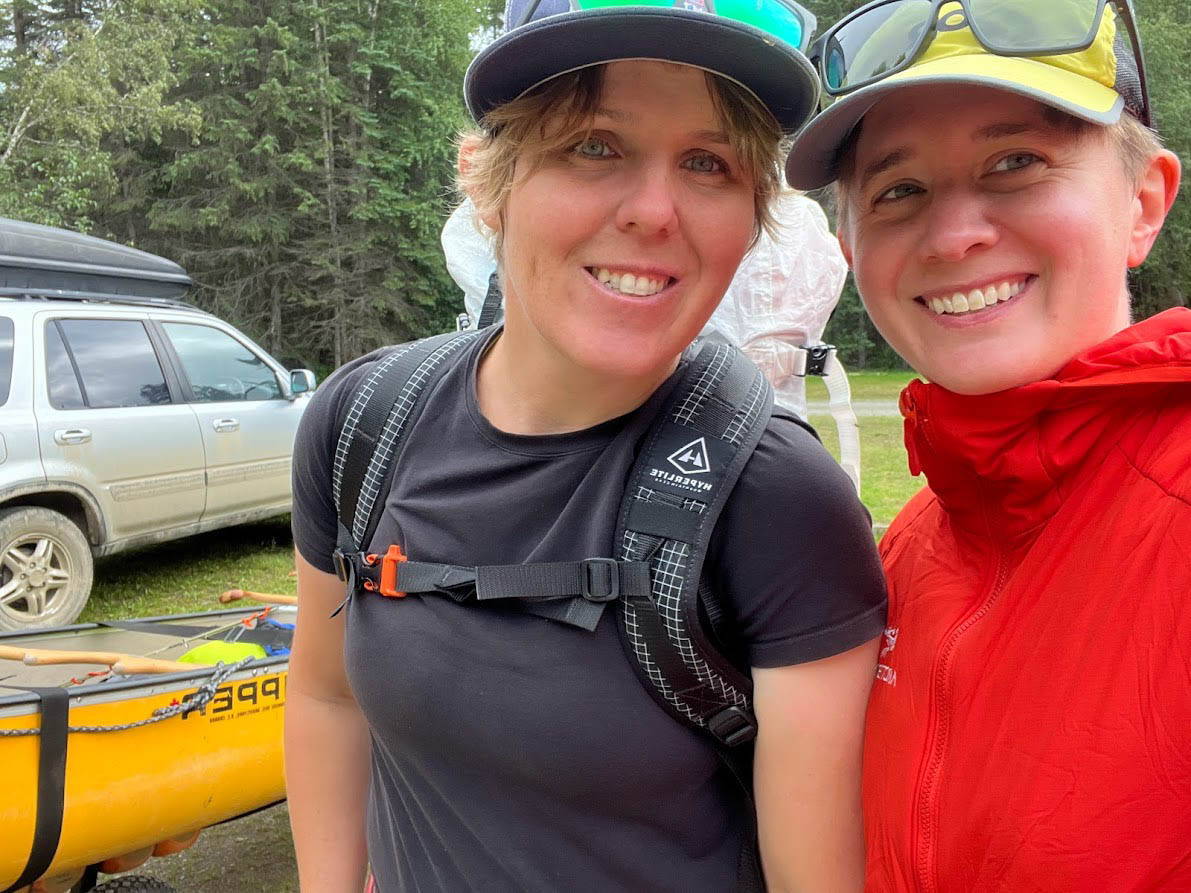 We spent a while organizing our gear. You are only allowed 60 pounds in your canoe while portaging. The ranger weighs your bags and writes down which bags you can keep in your canoe. This is to help keep the portage trails in good shape.
And then we were off! The first portage is fairly long and bumpy 2.4km. Then we arrived at Kibbee Lake for a short paddle. Then another long portage.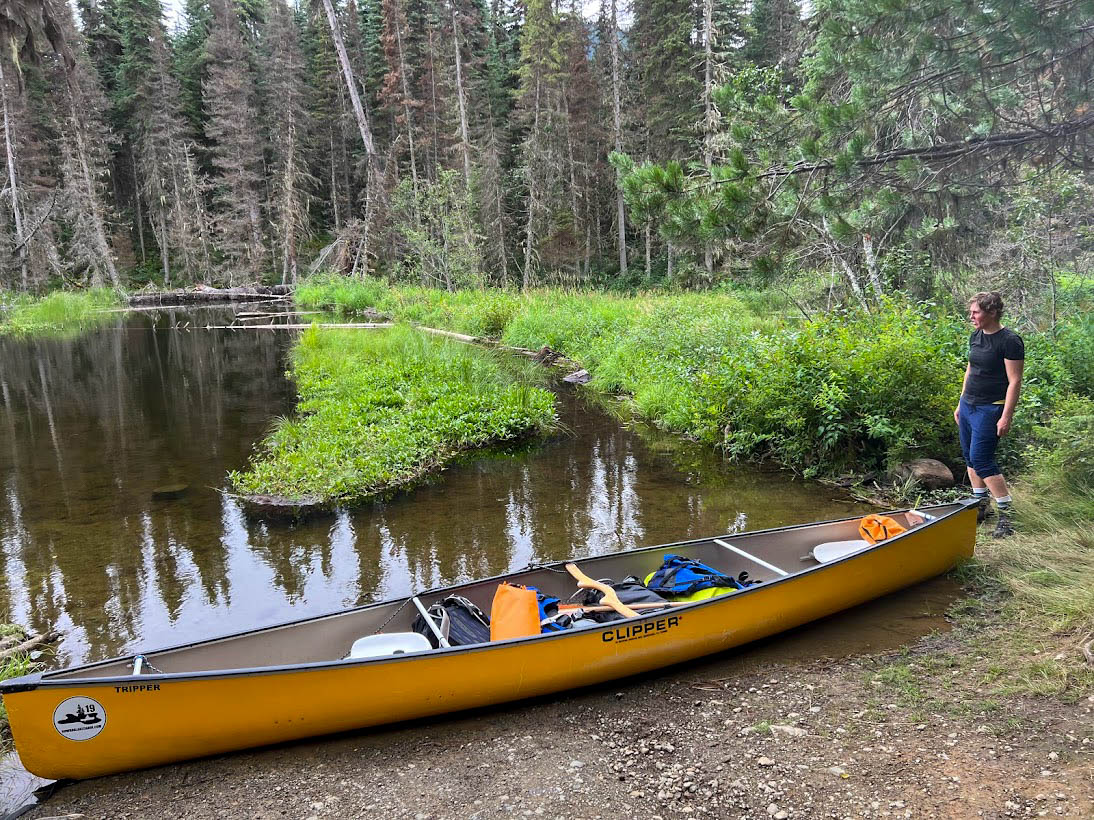 Folks were moving a lot faster than us and pushed onwards. I wasn't feeling it. The lake was choppy and windy. This 5km of portaging was the longest I had walked since my injury ten months ago. I've been working up to this distance for months, slowly added a few hundred meters each week. So we set up camp for the day and enjoyed hanging out at our site.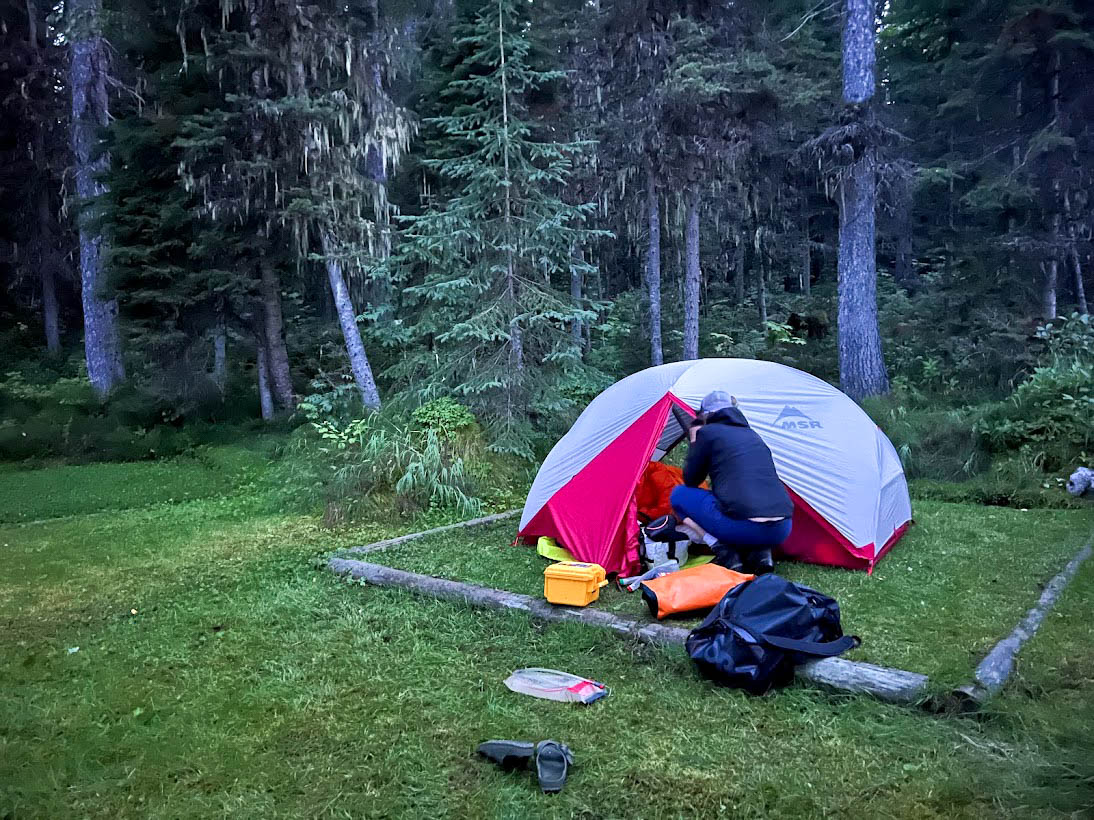 Day 2: Indianpoint Lake to Isaac Lake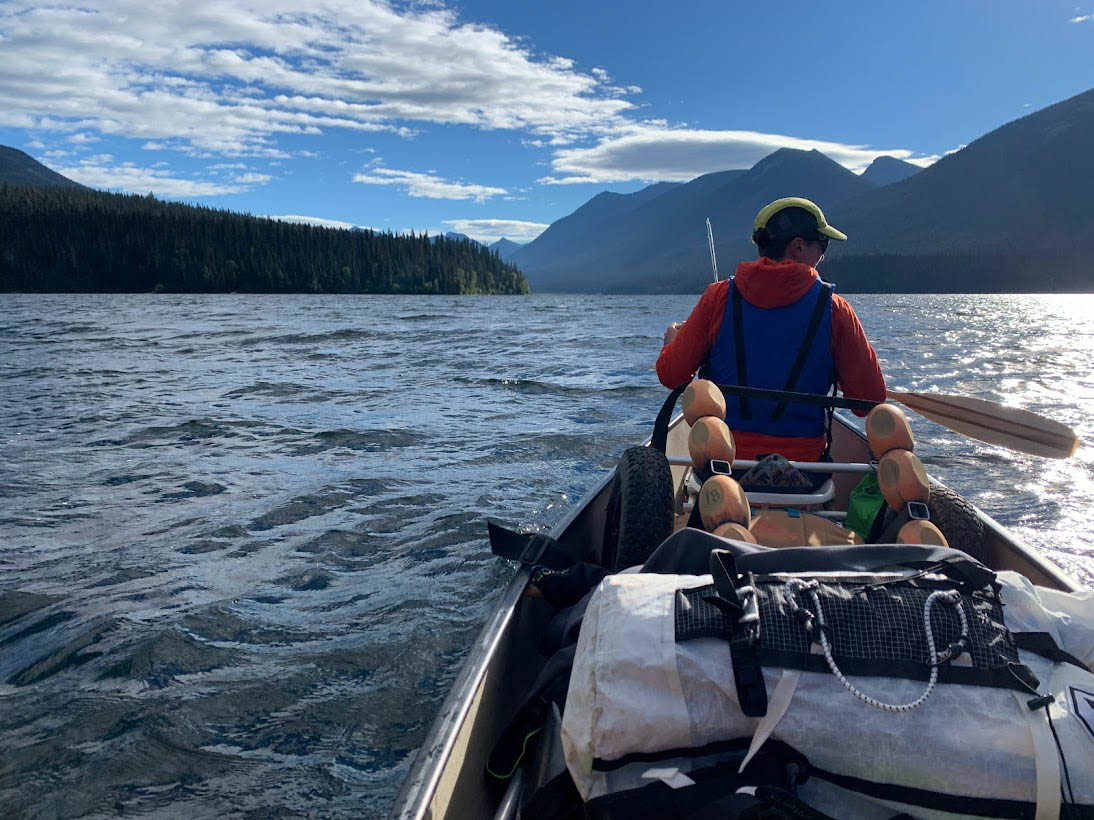 We got up at what we felt like was an early time, but the wind was already blowing hard against us. We paddled against the waves and white caps for a while making very slow progress. I was very tired at the end of those 6.4km.
The lake ended at a small dock in the shade with shocking cold water. Summer was definitely ending!
Our portage that day ended in what could only be described as an obstacle course. Knee deep puddles, high narrow bridges and balancing logs over mud.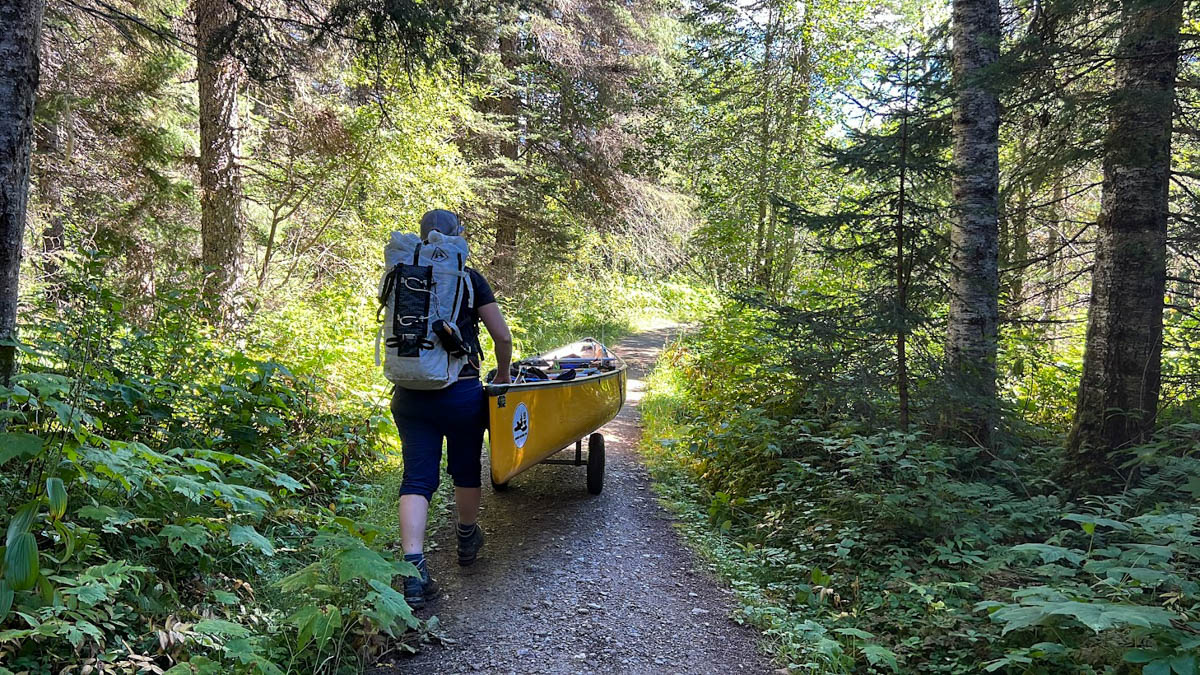 Before we could even start pushing our 130 pounds of canoe and gear through the muck, a group of grey-haired women came running towards us asking if we needed help. They surrounded our canoe on all sides and just floated the canoe through. They told us to go back and help the next group, so we did. No one struggled on that portage that day.
There many moments of mutual aid over the rest of this trip. It's so different from climbing and mountaineering culture, where honestly my own group has sometimes not been helpful when the going go rough… let alone strangers.
We ended the day at a large site with a group cooking shelter in Wolverine Bay. We were surprised to be the only ones there! Most people had shorter itineraries and we watched them paddled swiftly down Isaac Lake to look for a spot.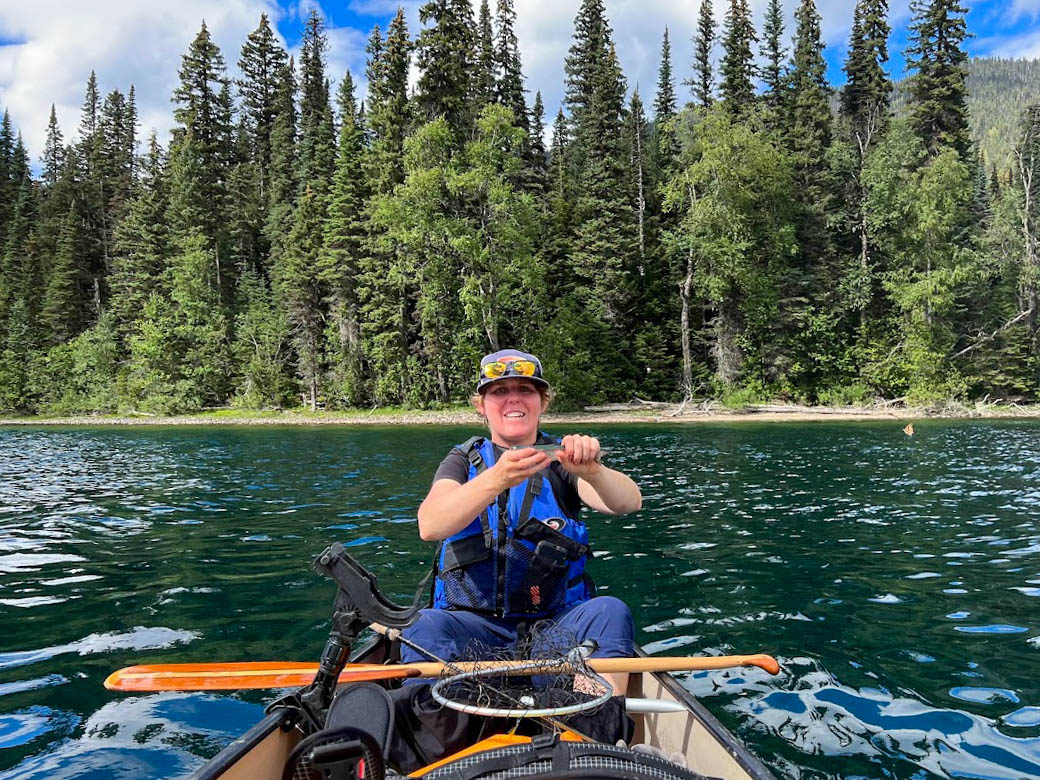 Day 3: Isaac Lake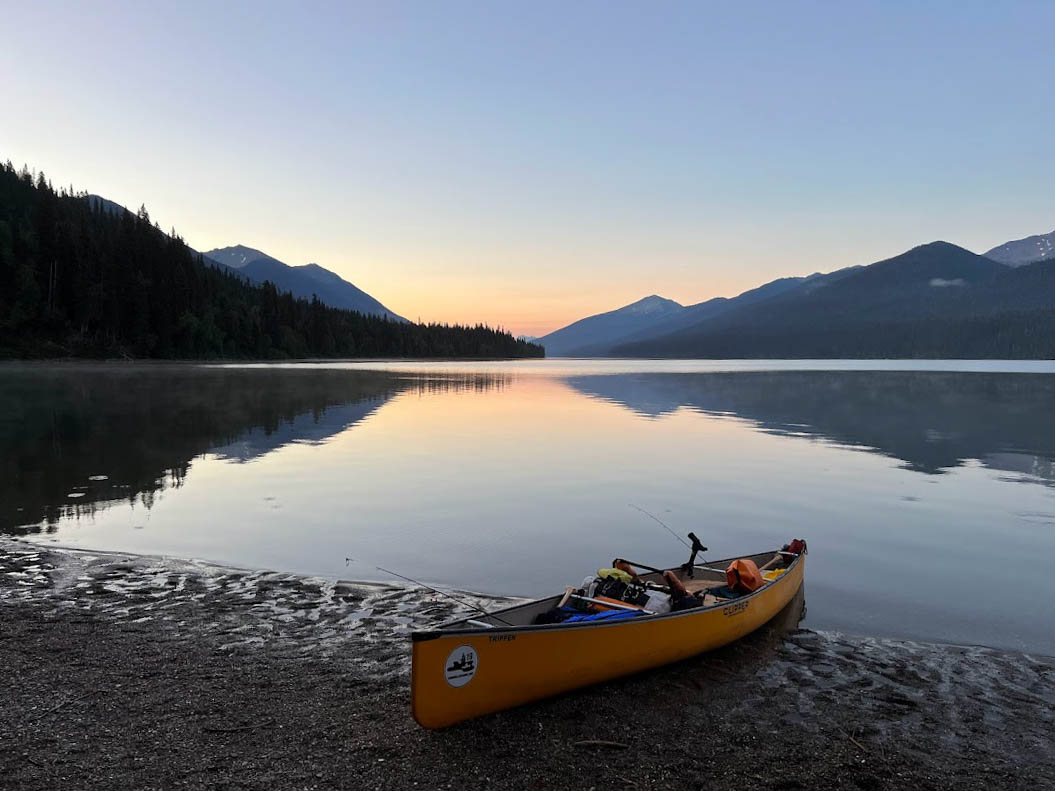 Isaac Lake is 38km long — a huge lake! Like all large lakes, it can be very windy, especially in the afternoon.
After the wind we fought through the day before, we decided to get up at very early at 4:30am. It turns out we didn't need to because it was glassy smooth all day. But paddling at the sunrise was one of my favourite moments of the trip.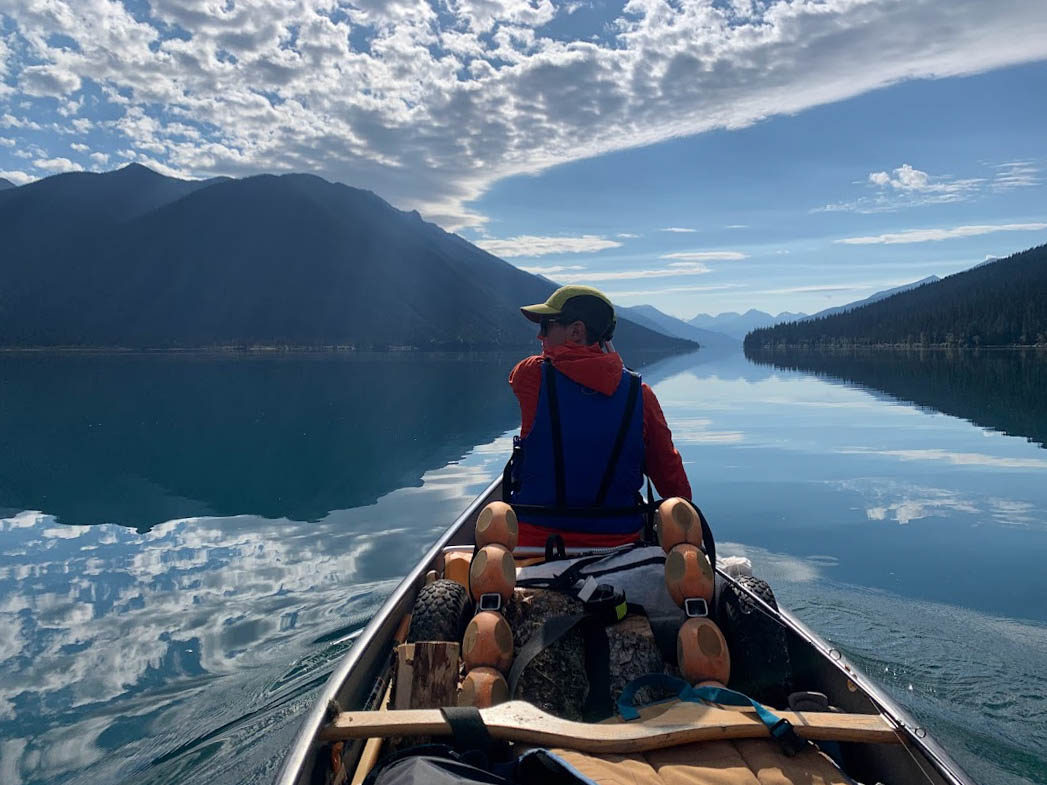 We paddled 21km that day, which is by far the most distance I've covered by boat in a day. Since we were done paddling so early in the day, we had lots of time to pick the perfect campsite.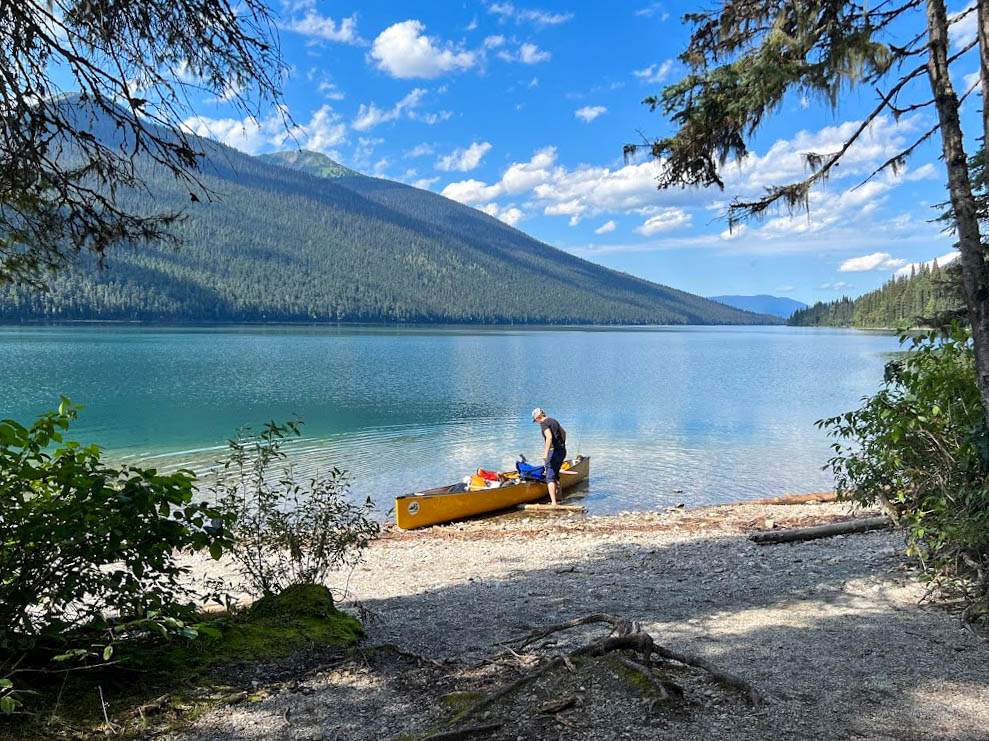 Day 4: Isaac Lake to McLeary Lake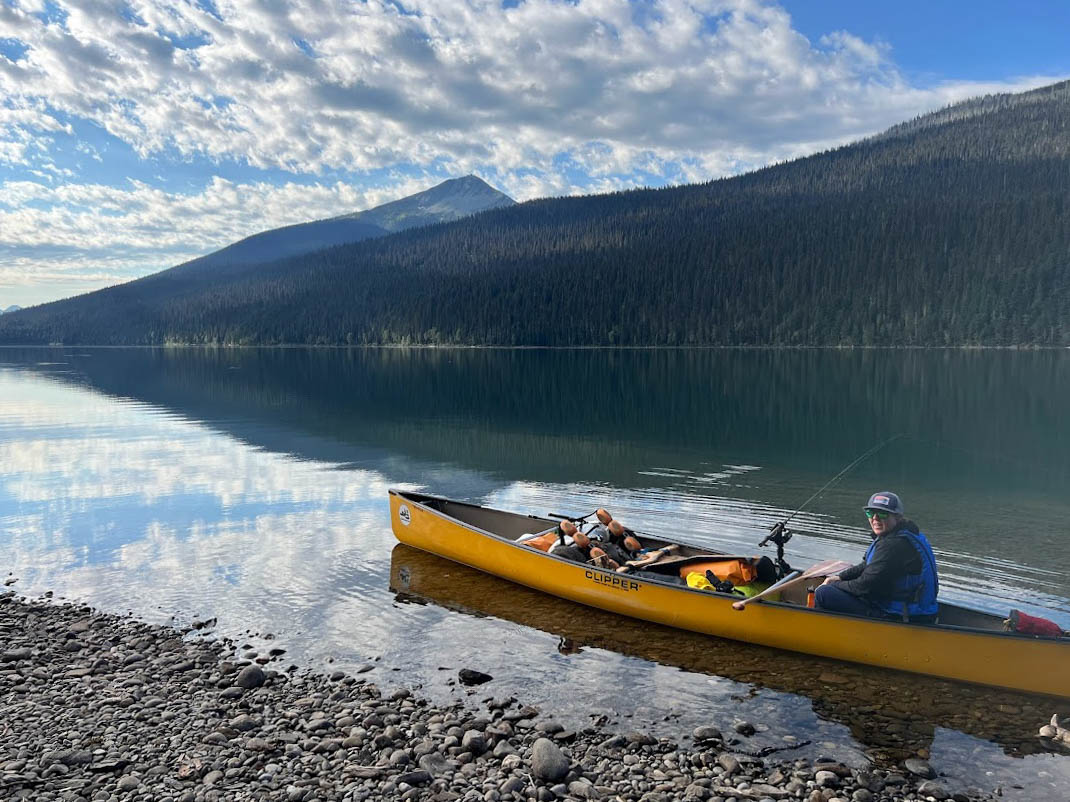 This was our third and final day on Isaac Lake. We spent a few hours paddling the the last section of the huge, flat lake.
Next was the most technical moving water section of the trip: The Chute and The Rollercoaster on the Isaac River.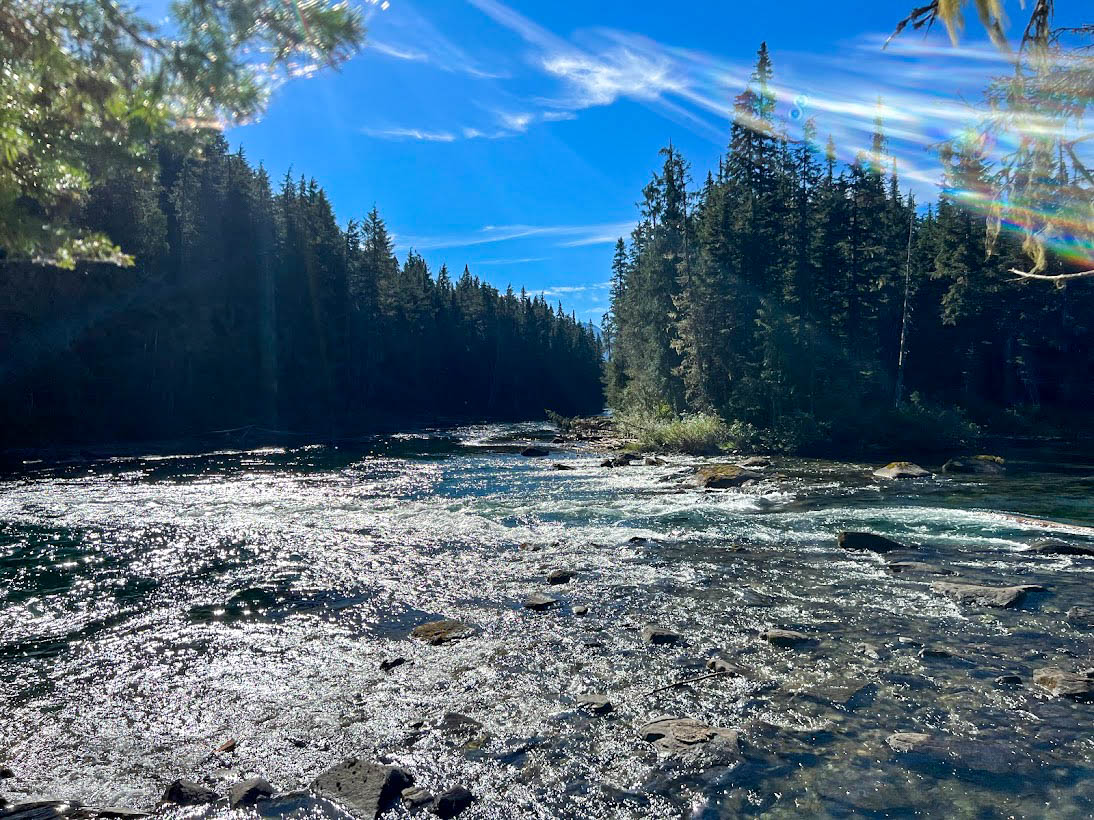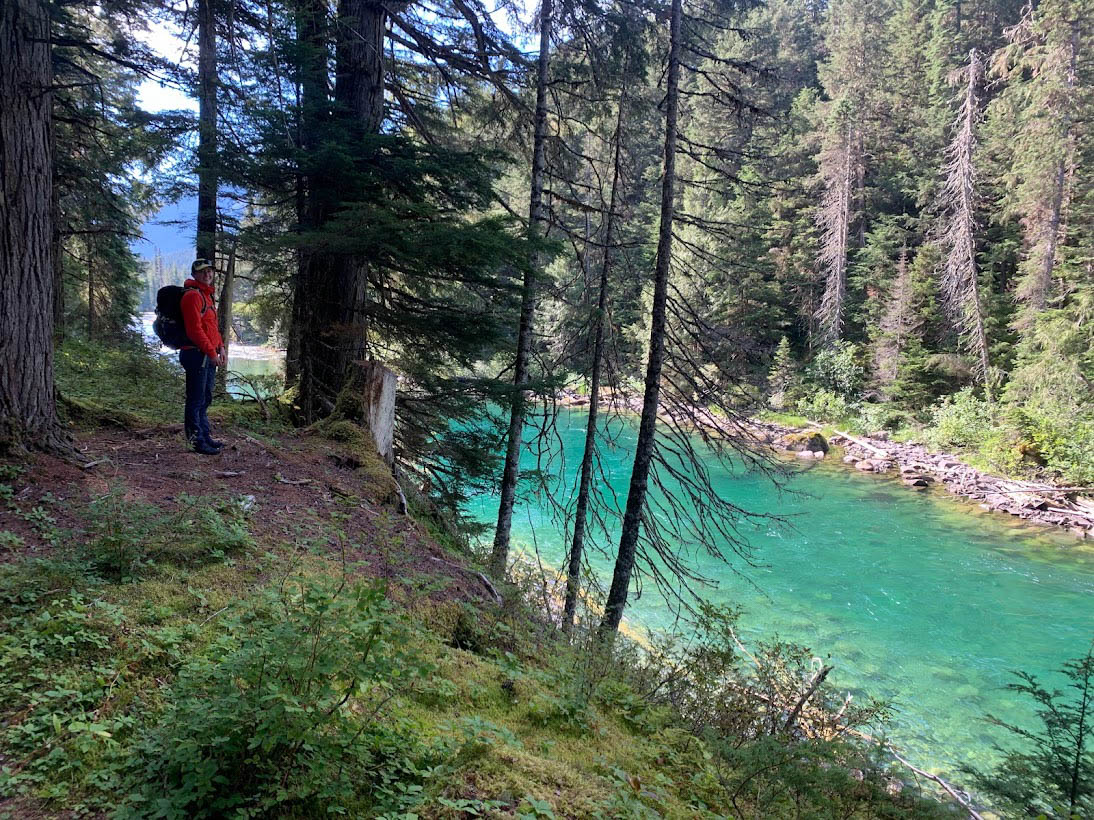 I have only paddled moving water in a kayak almost twenty years ago. Erica had no experience. We clearly had no business paddling these sections, so we portaged around them.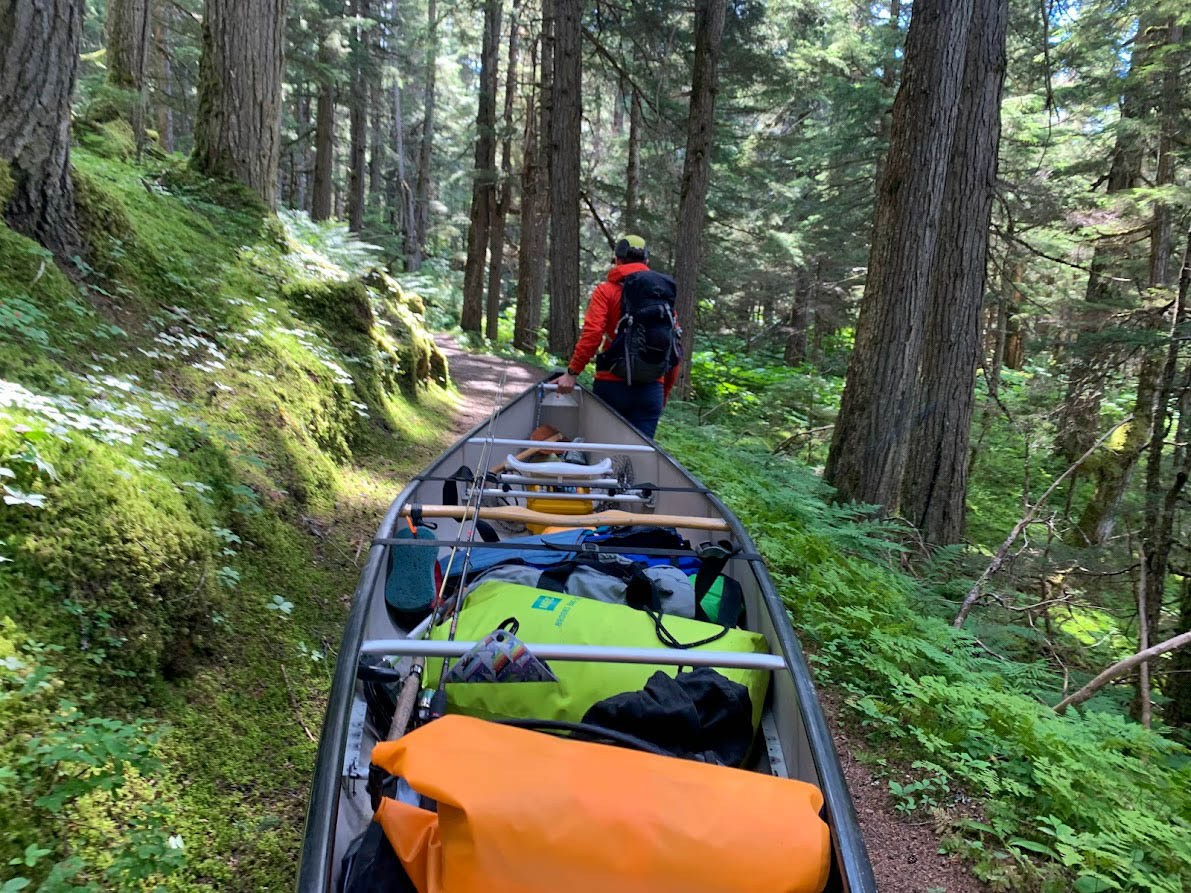 At the end of the portage, I was a bit surprised to see that we had put in and paddle a short section of the swiftly moving river to reach the other side of the river. I nervously double checked our maps, as I had never heard this section mentioned in trip reports. I at some trail mix and reapplied sunscreen, trying to delay the inevitable.
An experienced looking group next to us insisted we go first. An older man who looked like he could be my dad said, "Ladies first!" I really hate being called a lady, but I realized what was going. He had a clean, expensive-looking canoe with his gear tidily packed away in a floating canoe barrel. We had rented stuff sprawled all over the place, mostly in backpacks and duffel bags. He was trying to be kind and allow us to save face. He wanted to go after us in case we needed helped.
So Erica and I went first. We navigated our way through the fast moving water. I had a death grip on the paddle, scanning the horizon, trying to desperately pick which channel between rocks would lead us down the least dangerous ride. Luckily we have had a lot of practice paddling this summer and we could quickly and accurately move our boat to exactly where we wanted it. We pulled up at the designated spot on the other side, just before the well-marked waterfall.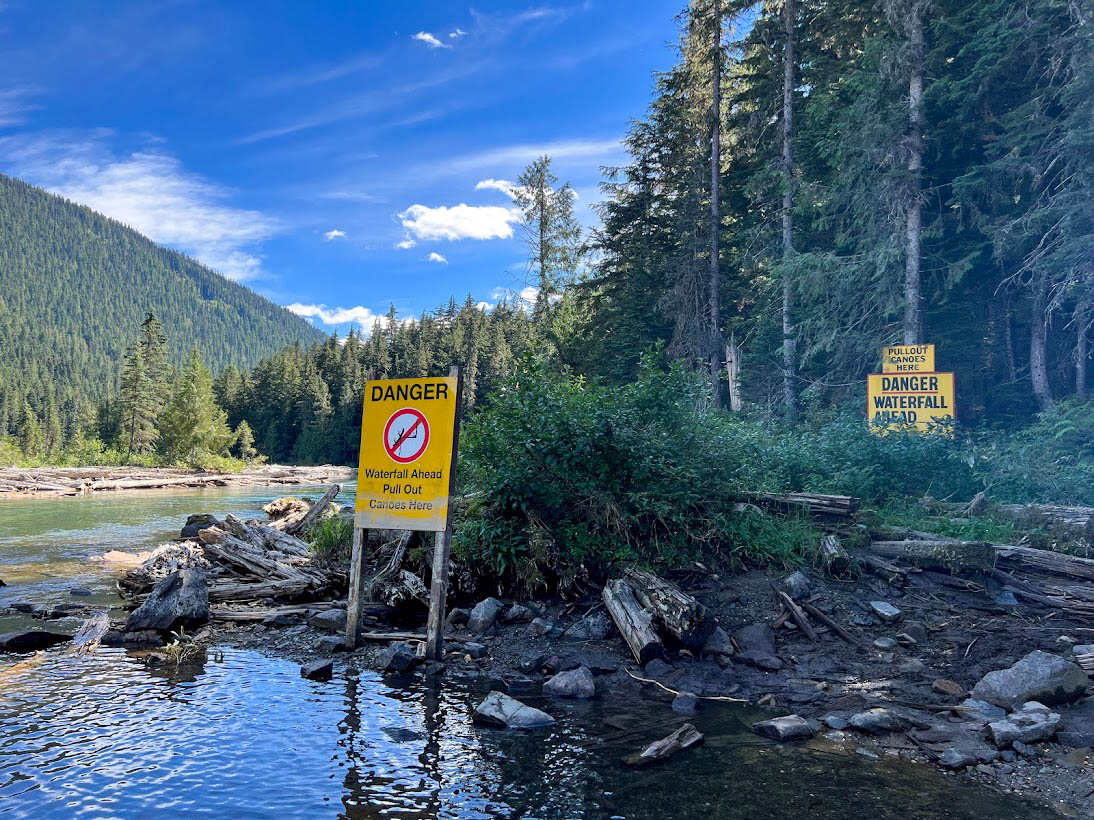 After we arrived, Erica said to me, "Did you see the kayak?!" I had no idea what she was talking about, but we walked back up river to check it out. Through the clear water, we saw half of a blue kayak at the bottom of the river. Comforting.
After that adrenaline rush, it was time for a grueling portage. We struggled to push our boat up the steep hills, and then dug in our feet to control the loaded canoe's descent down a narrow winding path. Did I mention it was also almost 30C outside?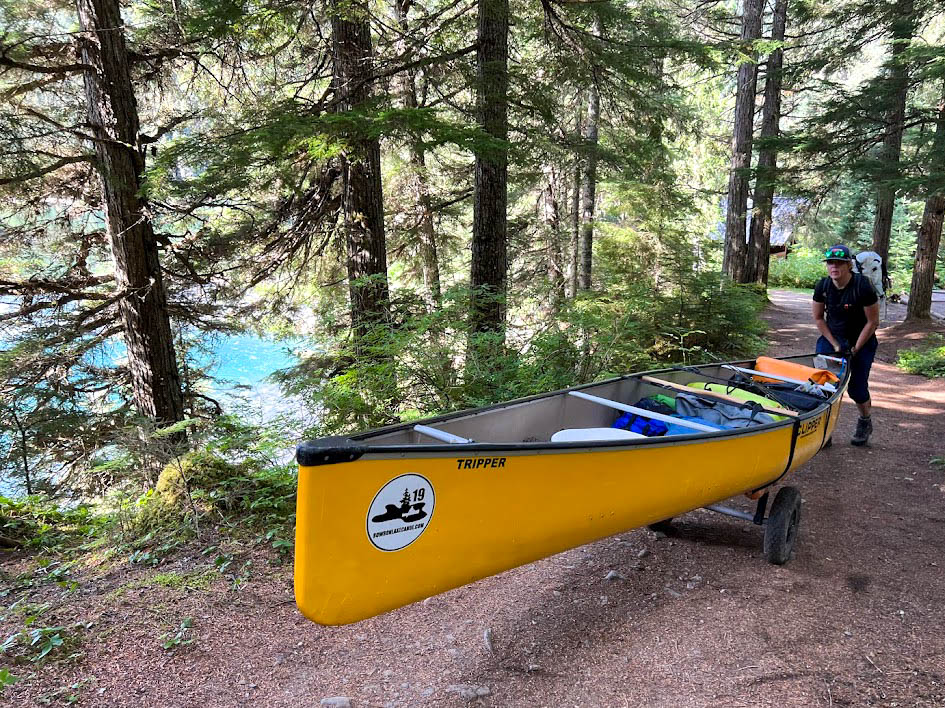 Most people keep paddling on to Lanzei Lake. We had spotted a campsite on the map on nearby McLeary Lake for just one tent — no other sites on whole lake. This was a lot earlier than most people stop, but what was the rush? We pulled up to a very cute cabin where we rested for the night.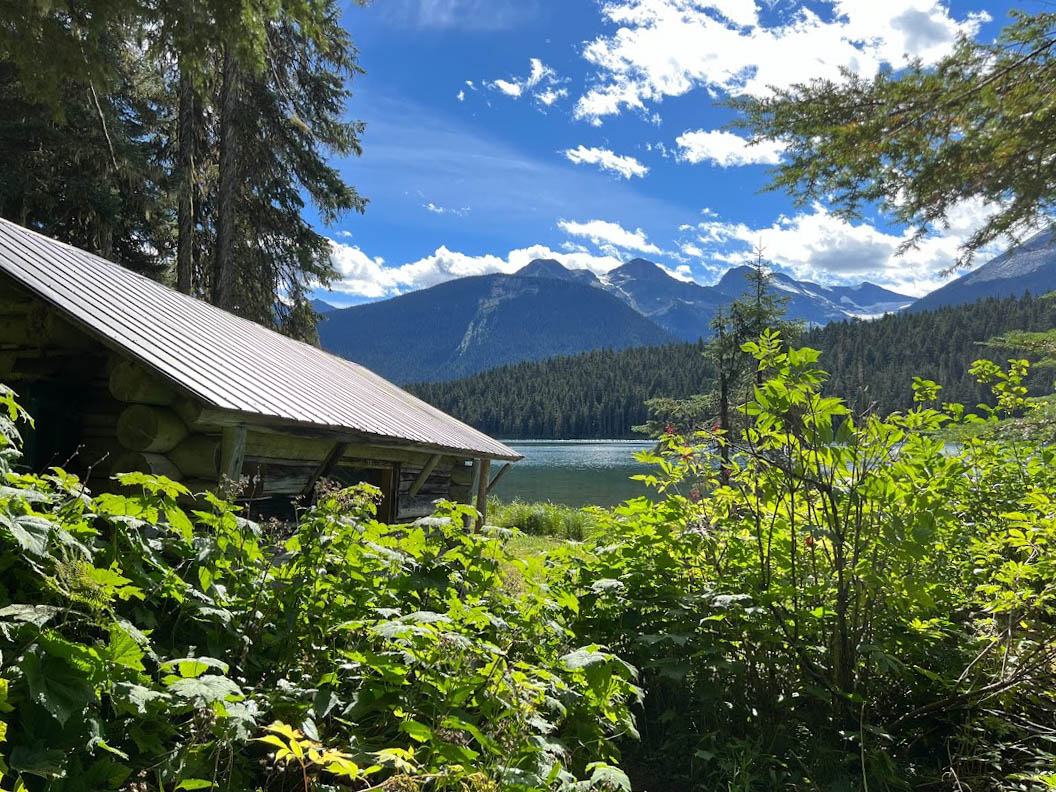 The views were incredible. This was one of my favourite nights of the trip.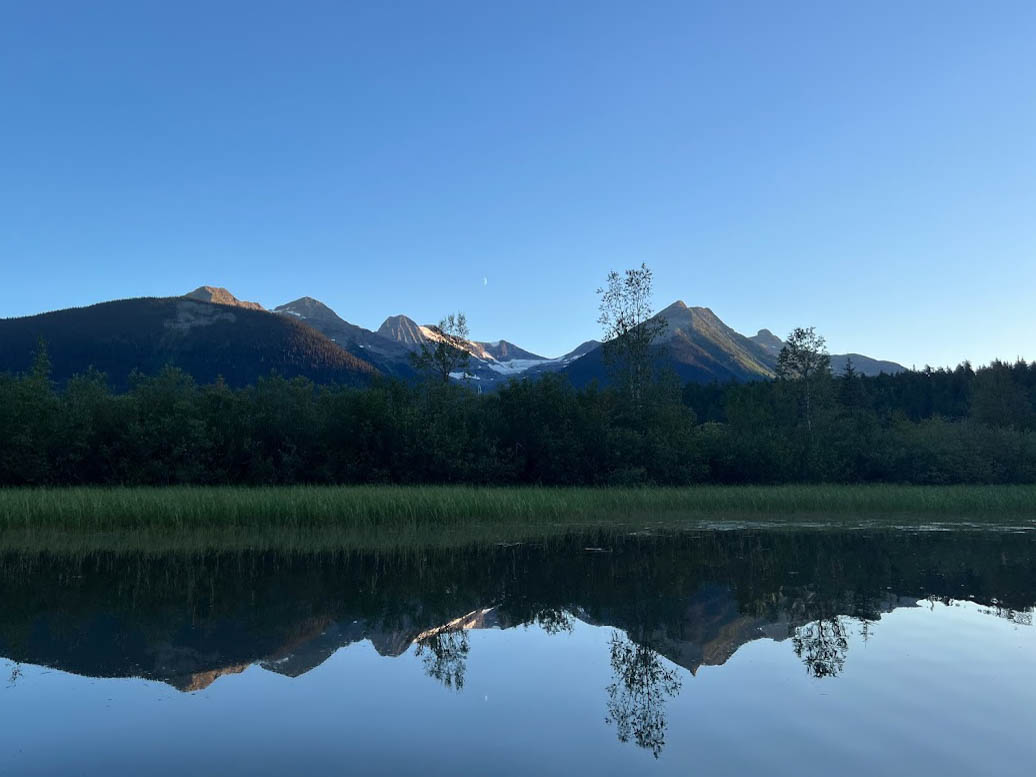 Day 5: McLeary Lake to Sandy Lake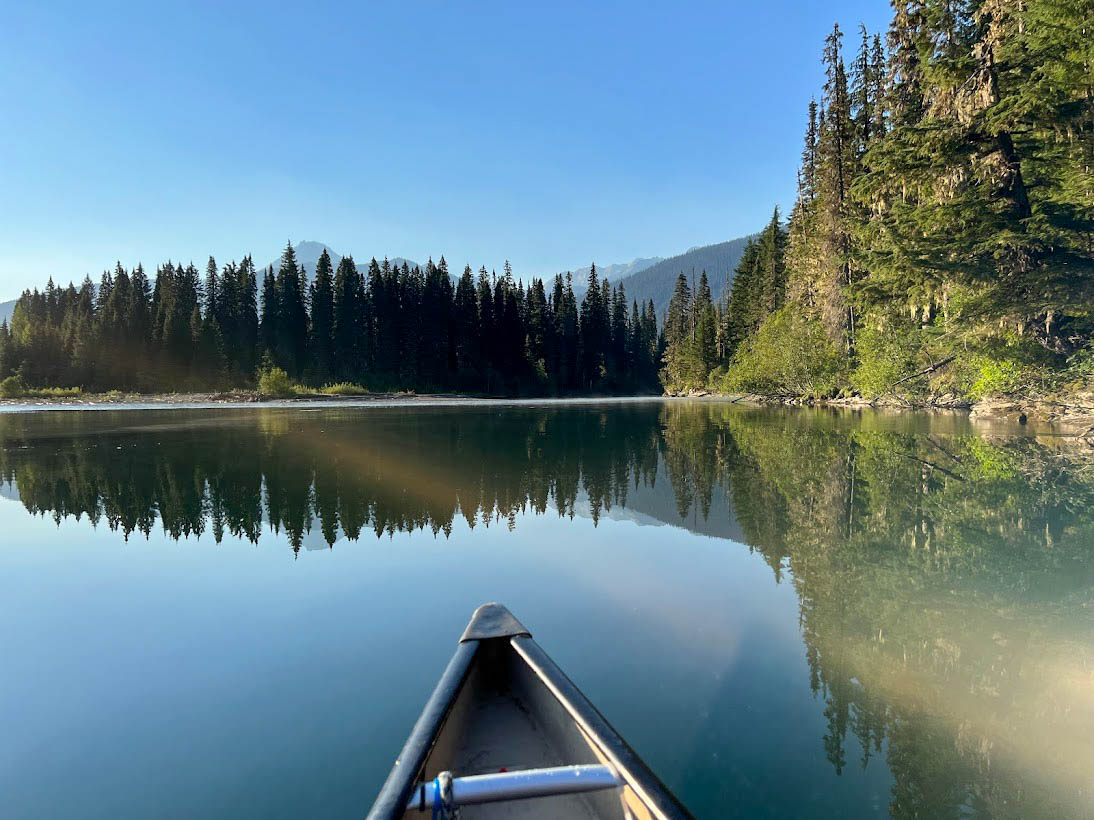 We woke up and the sky was looking unusually hazy. It didn't make sense how it could be so hot and so foggy at the same time.
We paddled down the Cariboo River that morning, the last technical part of the trip. The wide river carried us along quickly. We steered around any dangerous logs poking out of the silty water. It was completely fun and not at all scary compared to the day before!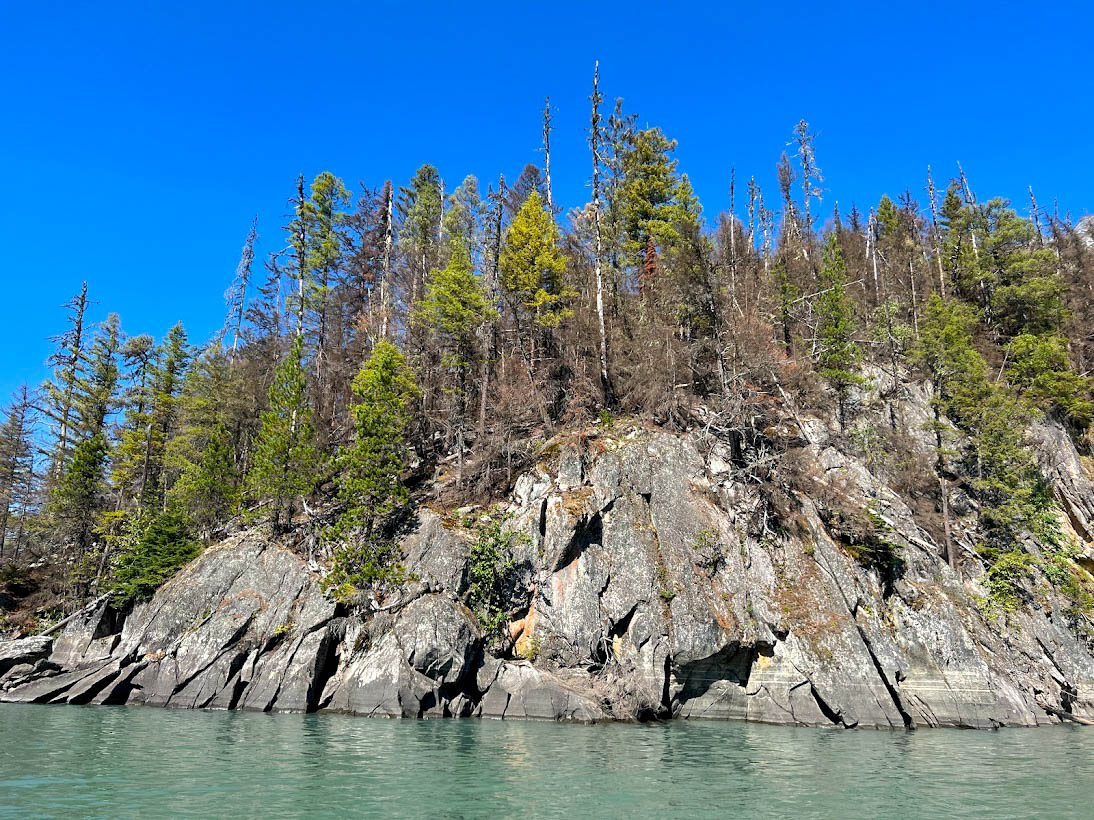 Paddling along Lanzei Lake felt apocalyptic. I watched a huge wall of opaque white being blown over the mountains at towards us. I smelled smoke for the first time, now understanding it was not fog that surrounded us.
The trees close to the water had charred bases after last years forest fire that burned inside the park. Higher up the mountain, the forest was scarred by mountains pine beetle. Those trees were grey and completely bare, no leaves.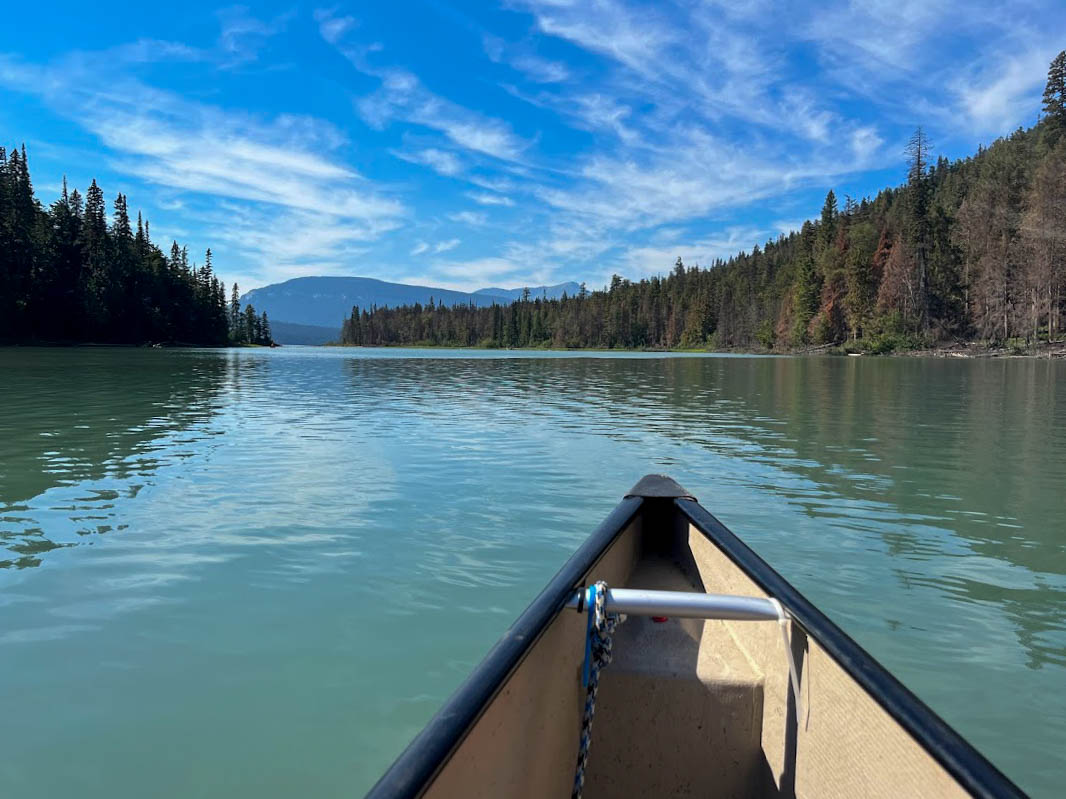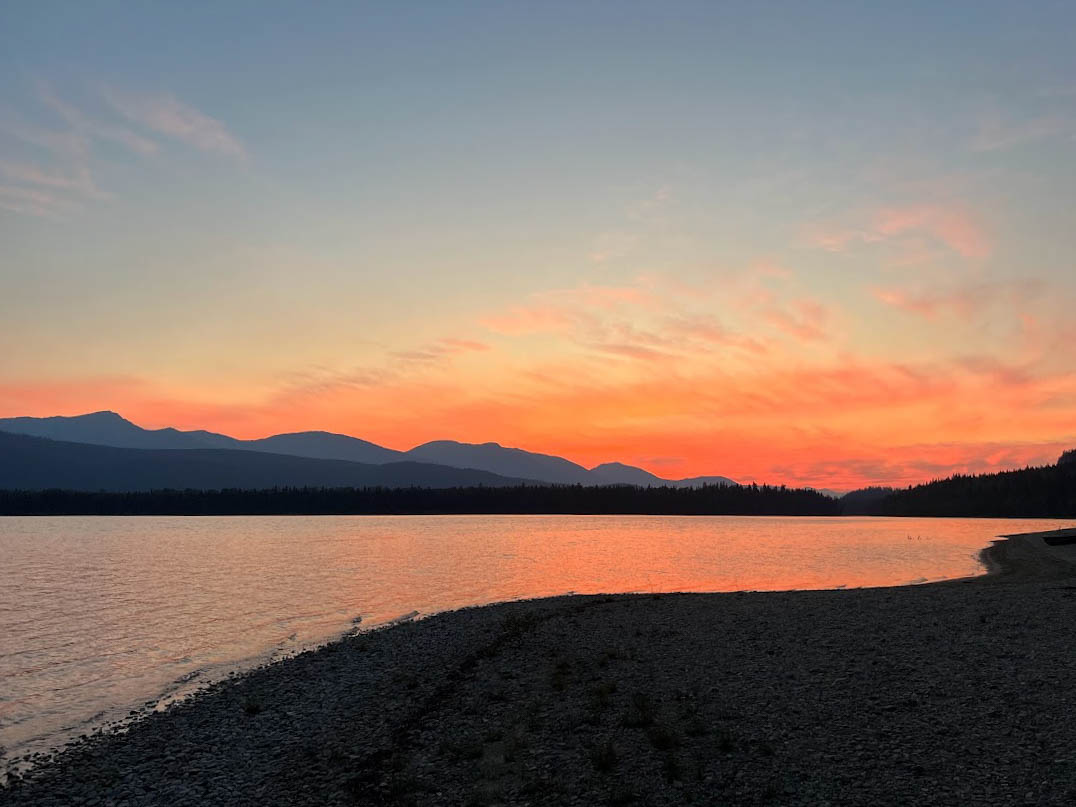 We paddled quickly hoping to find better scenery and cleaner air.
Eventually the 30 degree heat and wind forced us to stop at Sandy Lake. It was our longest day of paddling yet, over 20km.
When we went for a swim, we realized almost the entire lake was no deeper than your waist. Erica walked for 30 minutes out from shore and didn't get her swim suit wet.
Day 6: Sandy Lake to Unna Lake and Cariboo Falls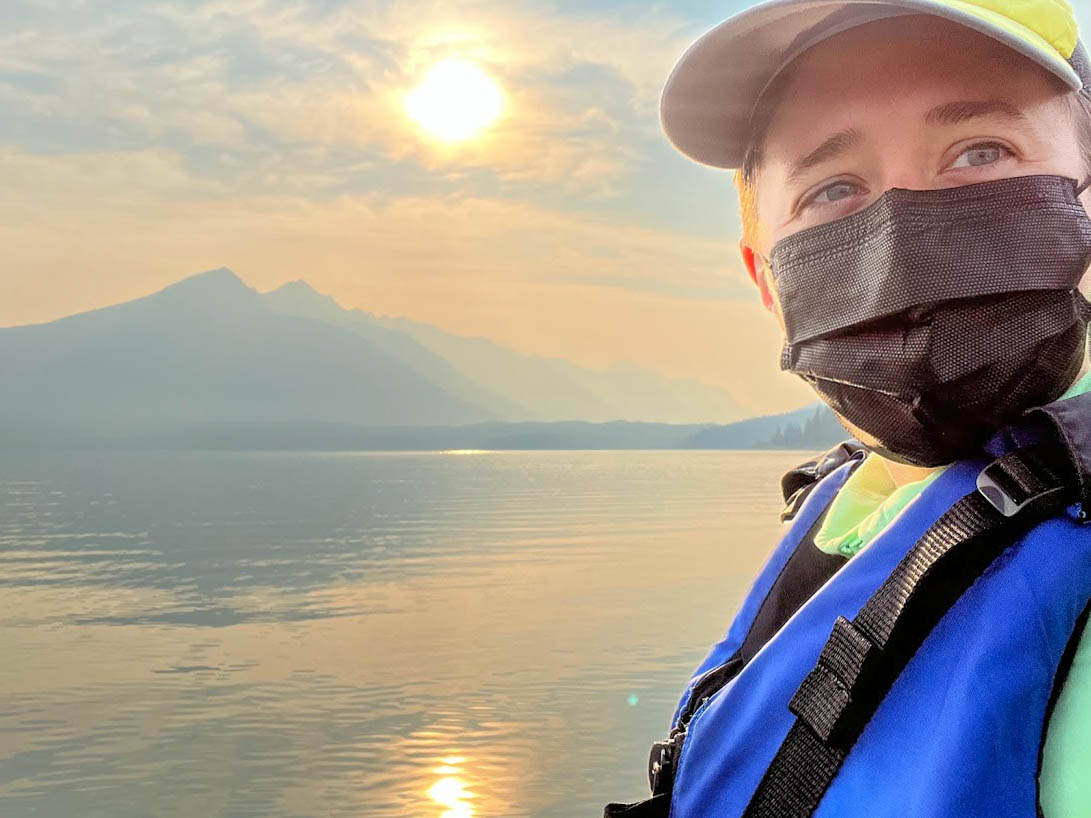 I woke up and could smell the wildfire smoke in the tent. The day before, I used my Garmin to text a friend at home and ask for a smoke forecast. Apparently this morning would be as bad as it gets. I rummaged through my first aid kit and found a mask.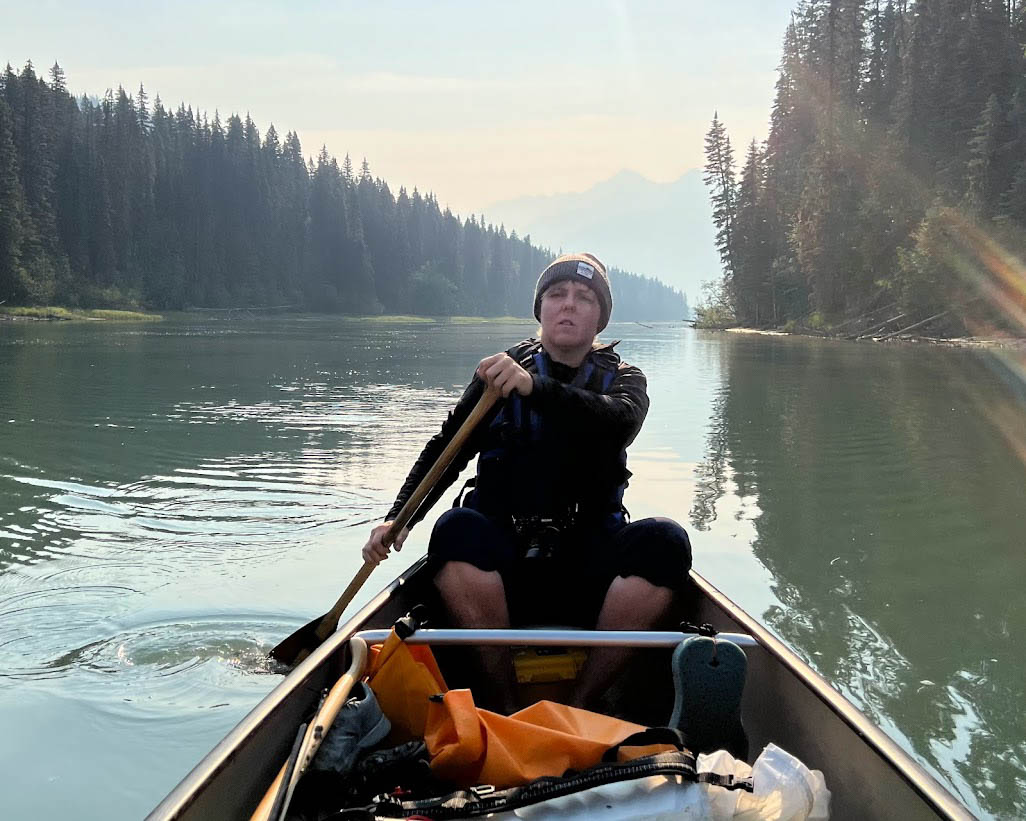 Now that we could comfortably paddle 20km in a day, we were quickly running out of circuit. We knew we needed to slow down if we wanted to take all eight days we had planned. So paddled for about an hour to Unna Lake. We arrived as other sites were breaking down camp for the day. We found a spot and settled in for a rest day of sorts.
We decided to check out Cariboo Falls on the other side of Unna Lake. I packed a swim suit, thinking it would be a cute little waterfall with a pool at the bottom. On the short hike down, we stopped and feasted on blueberries.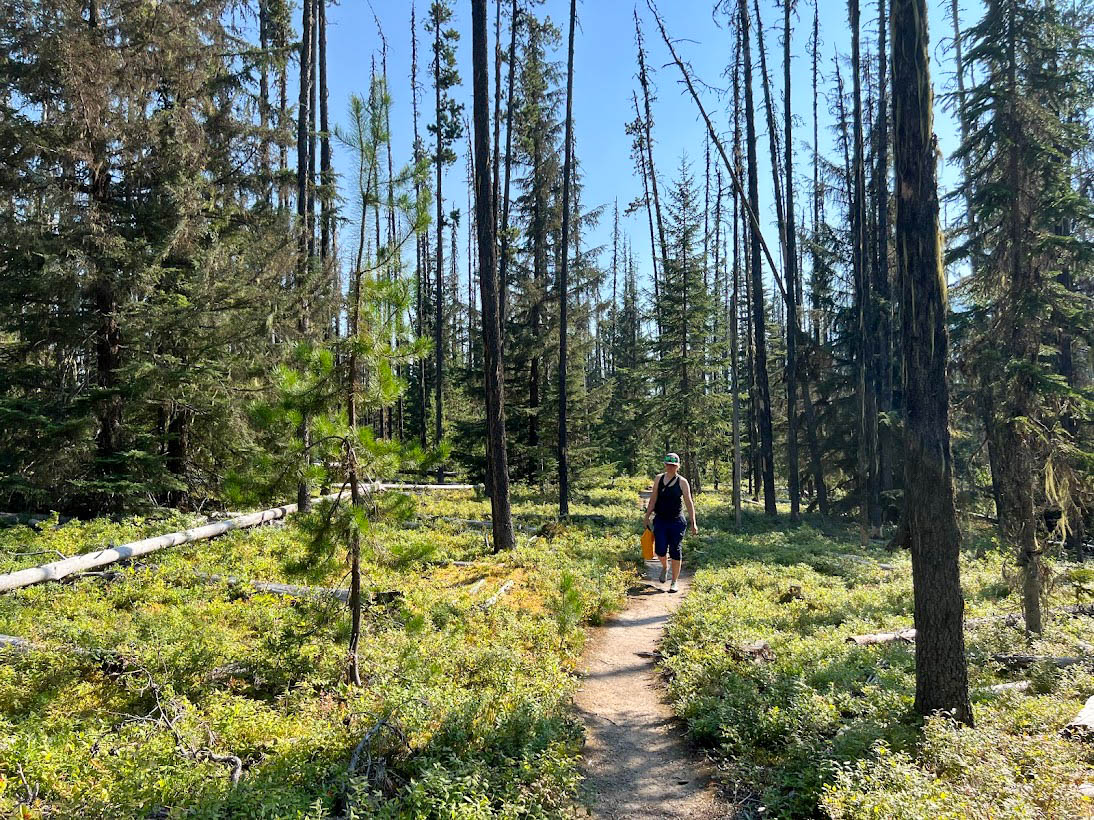 When we arrived, it was clear Cariboo Falls was a different sort of attraction! It was so very large. Standing next to it on the perfectly safe trail, I felt afraid in my bones. Or maybe not afraid — but humbled and in awe. The vibrations of the rumbling of the water were so strong. It was hard to even hear Erica speak over it's roar. When we hiked down to the base, it doused us in water and created beautiful rainbows.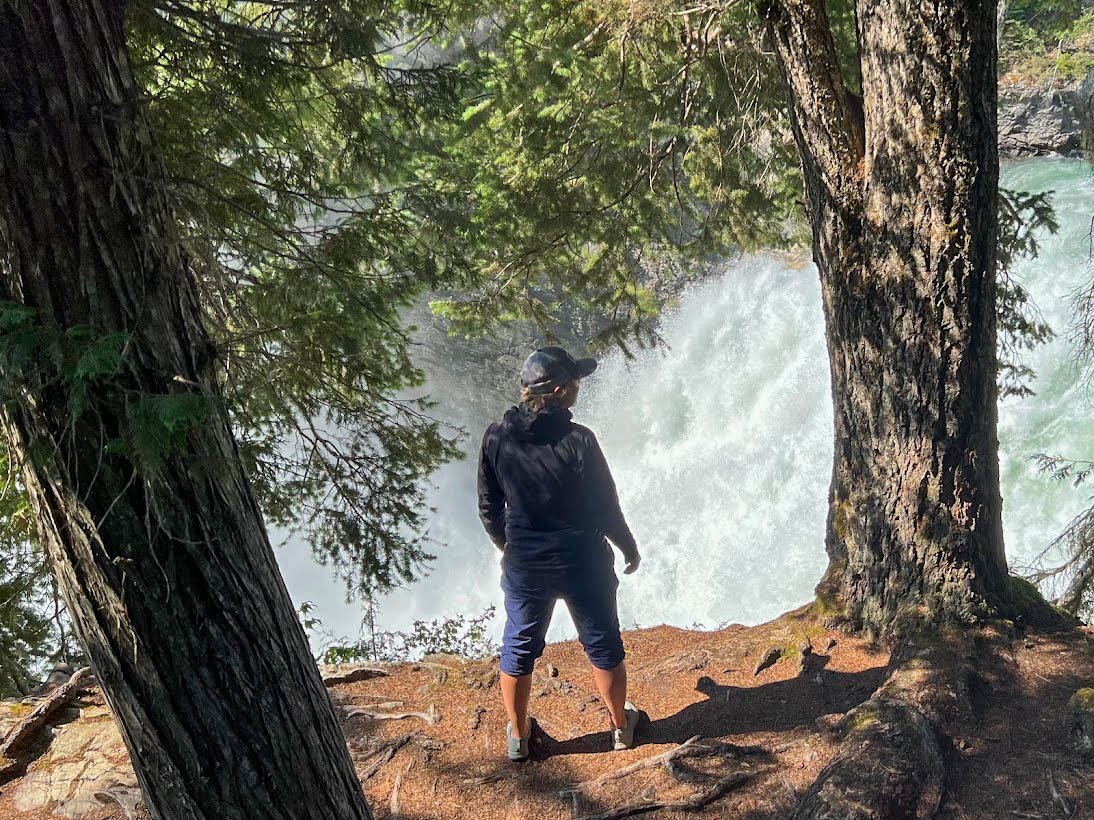 Do you see me in red? I'm standing on the upper part of the trail and Erica is down below taking my photo.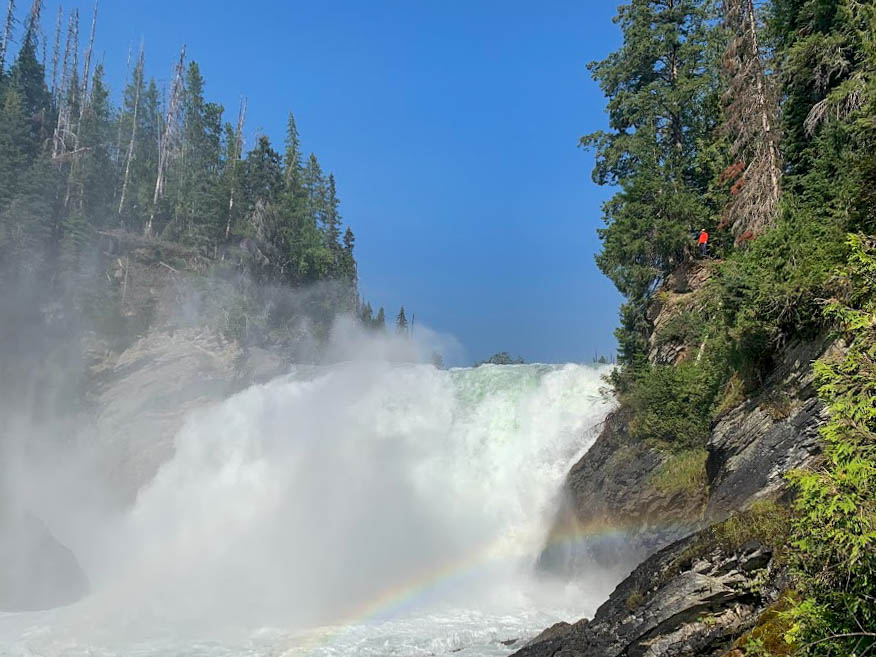 Day 7: Unna Lake to Spectacle Lakes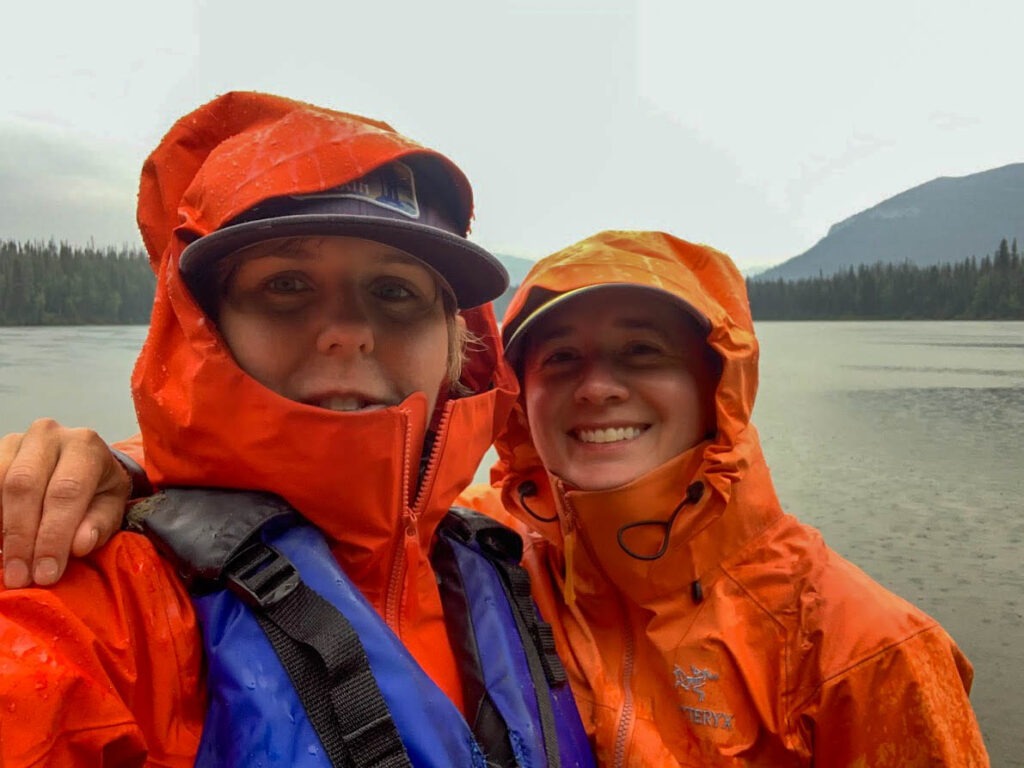 We woke up to cold, rainy weather. After six days of scorching sun, smoke and heat it was a welcome change. We paddled through the very small Babcock and Skoi Lakes, with their very short portages separating them.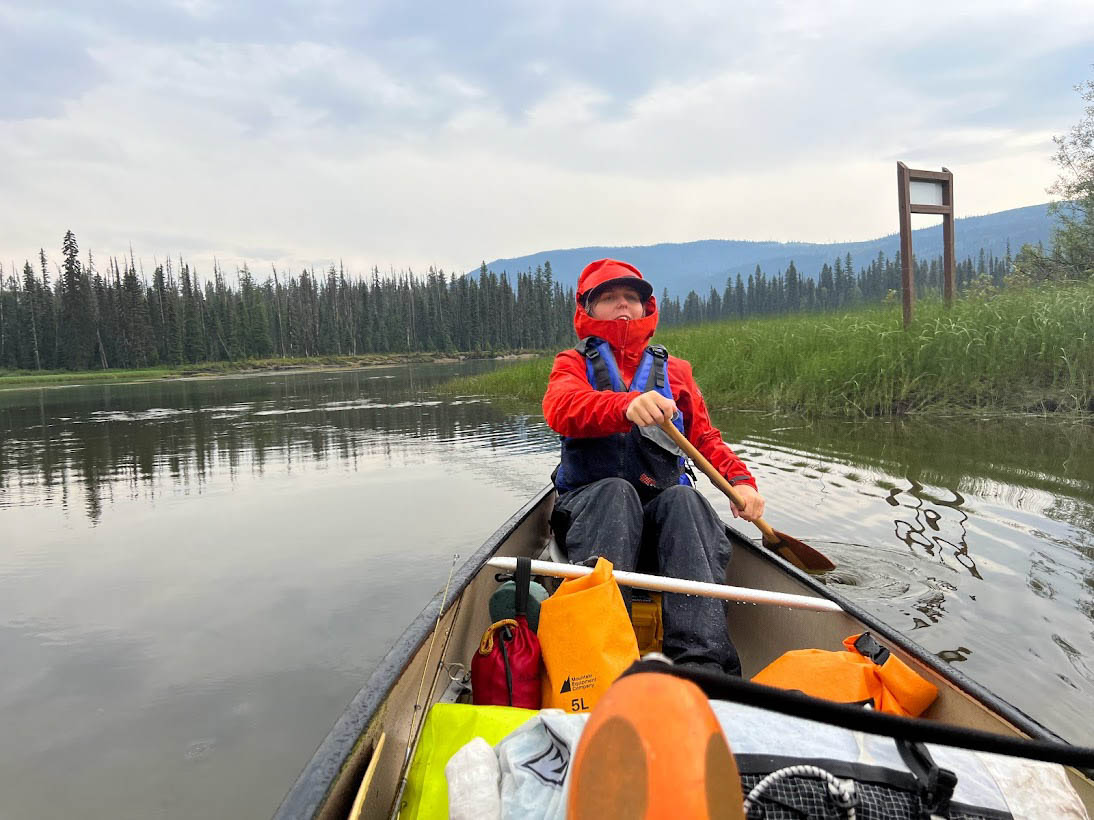 Once we reached Spectacle Lakes, the wind started to pick up again. We struggled our way to another large campsite with both a group cooking shelter and a cabin. Erica didn't want to camp somewhere a lot of people could pull up, as we both love peace and solitude. I was concerned about the weather and convinced her to stay where we had some shelter. We always stake our tent down well, but I couldn't shake a bad feeling about the weather. I double checked the tent, and through some logs in there for extra weight as well.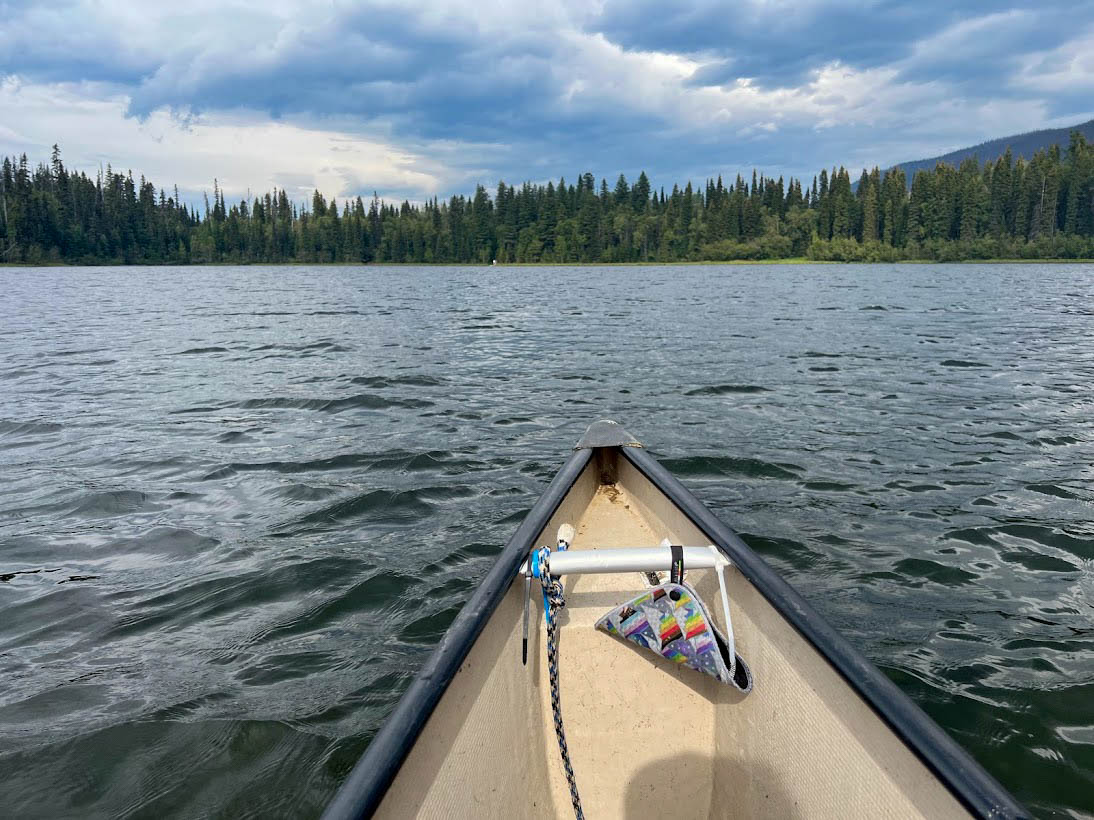 Not long after we had settled in, we heard the roar up the lake. The air around the trees glowed orange. (I am not sure why. Someone later guessed it was the pollen from the trees being stirred into the air.)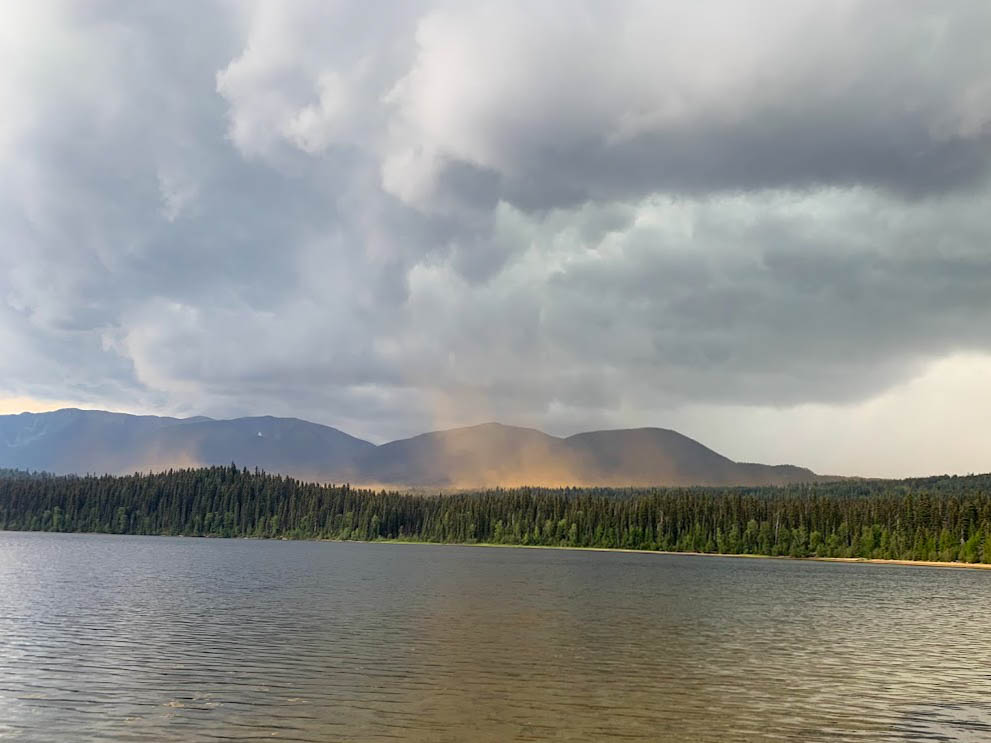 The water was crashing onto the shore. The trees were swaying side to side. I thought they looked like they may snap in half, but I tried to reassure myself all about the program to remove dangerous trees in the park.
We grabbed everything we could and ran for the cabin. We had our food, our stove. I grabbed a handful of clothes and my sleeping bag, just in case our tent blew away.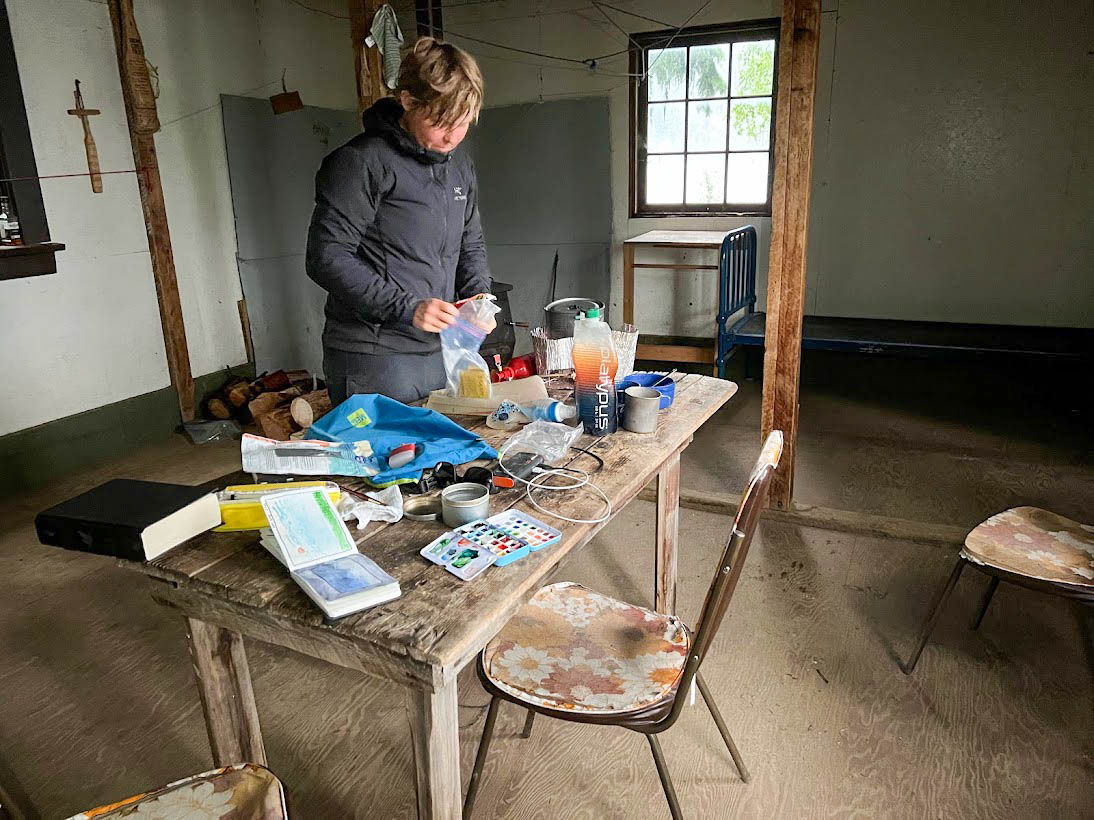 Then the rain, thunder and lightening started. It lasted for hours, only occasionally being broken up with hail. We started a fire in the stove for warmth. We ate dinner. I drew in my sketchbook and finished my novel. The storm raged on. It was the longest thunderstorm I have ever experienced outside.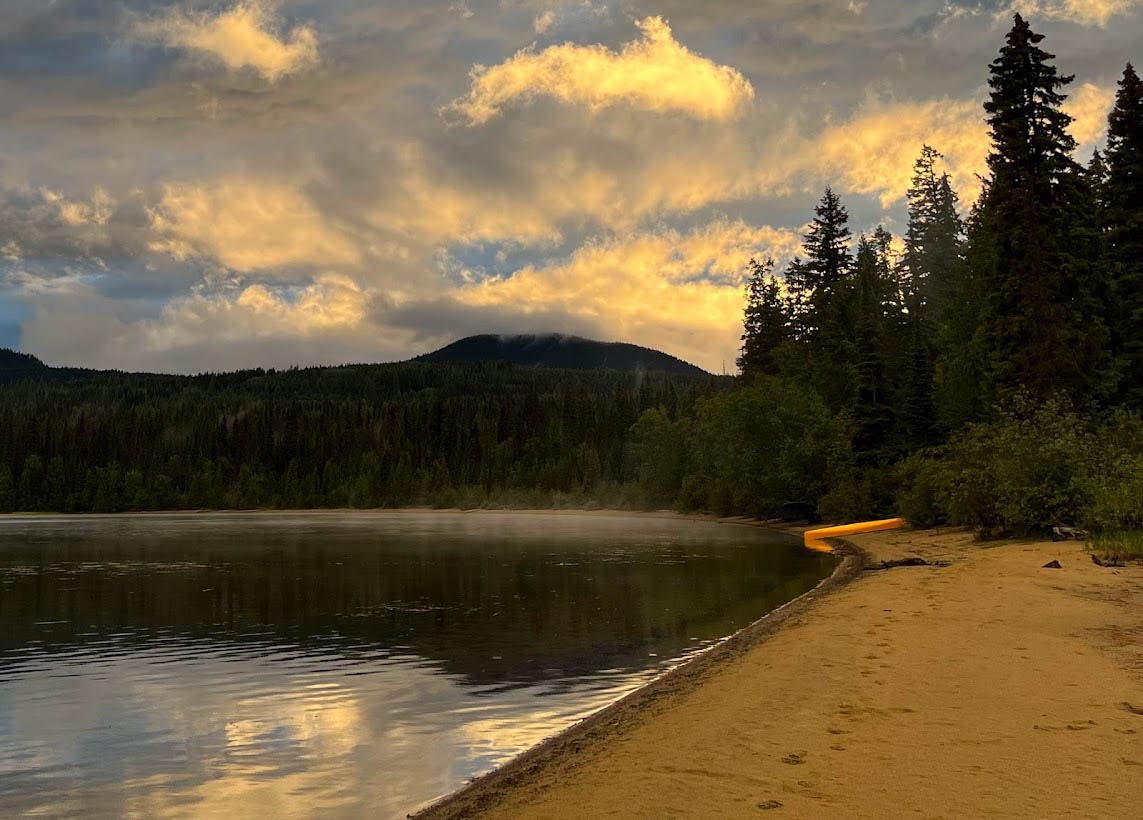 The were debating sleeping in the cabin, as we had gotten it all warm and cozy. But some very loud mice scratching at the door made us consider otherwise. We moved all food to the bear cache (which we would have done anyway) and settled into our tent for the night.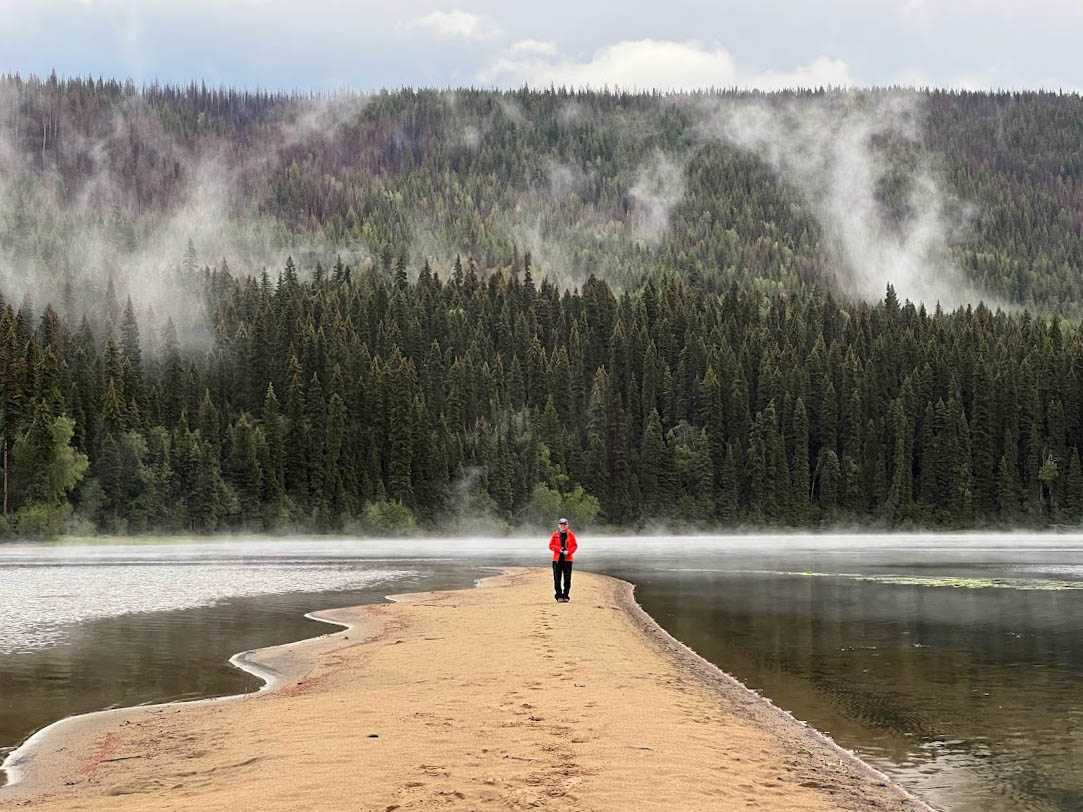 Day 8: Spectacle Lakes to Bowron Lake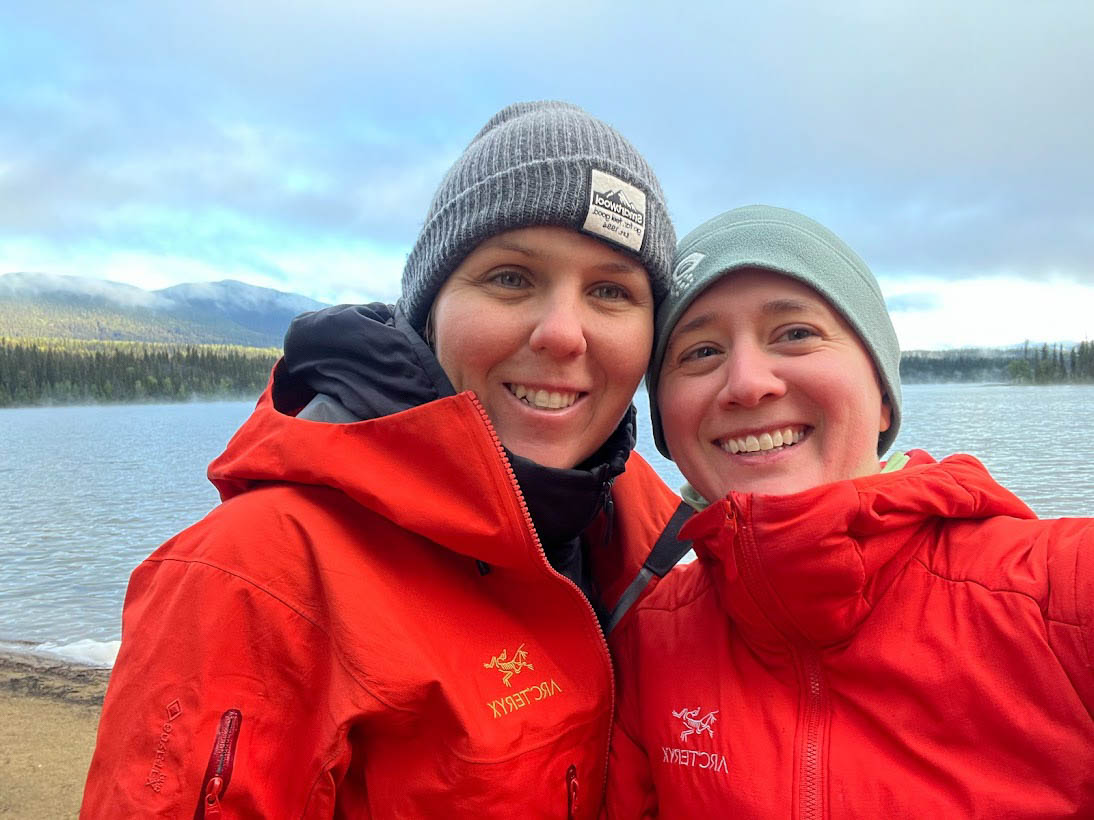 Just like that, summer was over. We bundled up in all our layers for our final day of paddling. We could see dark clouds in the sky, so we decided to get up quickly and paddle as quickly as we could back to the registration center.
We had hoped to see moose on Bowron River, but no luck. I did see some bright pink salmon swimming upstream to spawn!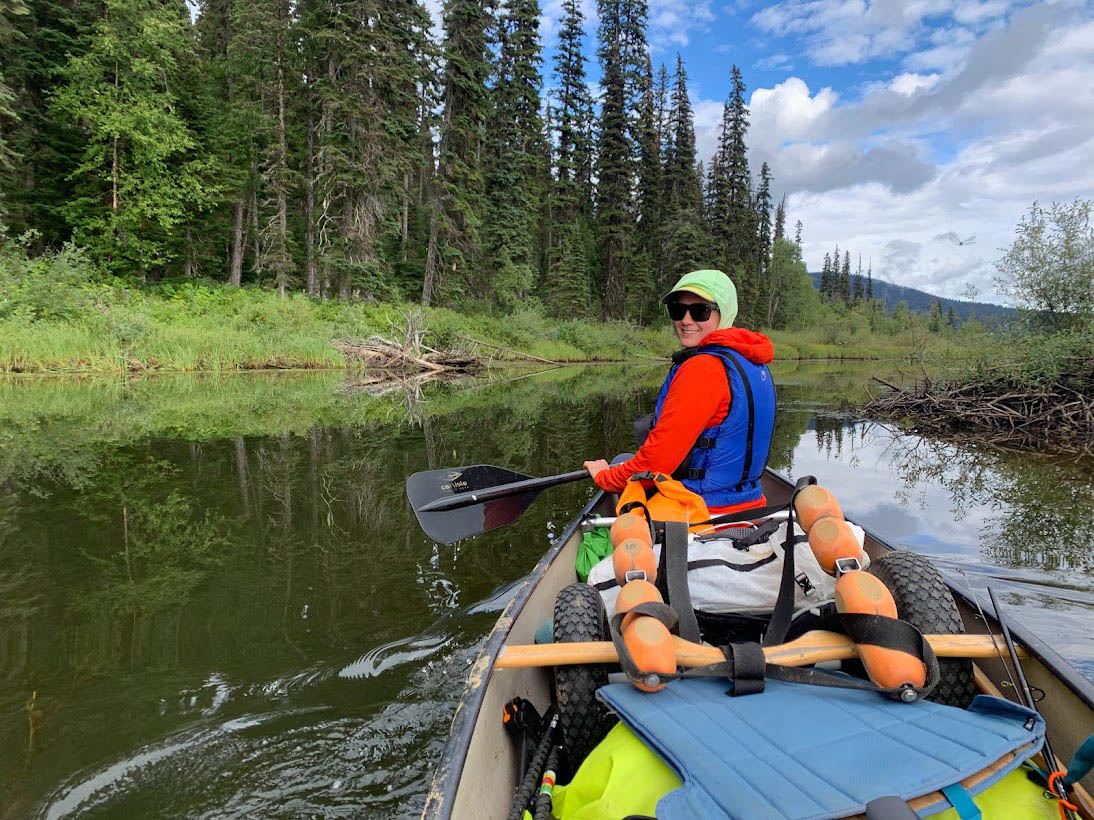 We arrived at the end of Bowron Lake right as the next thunderstorm began! We forgot to check where to return the boats before we left, so we paddled the entire bottom of the lake looking for signs. There weren't any signs for Bowron Lake Canoe rentals, just the lodges that rent boats.
As we paddled quickly in the rain and lightening, we eventually came across a public dock near the provincial campground. We got out here and pushed our canoe uphill, hoping for the best. After a short walk, we found the registration centre and the spot to return our canoes. Our eight-day canoe journey was complete!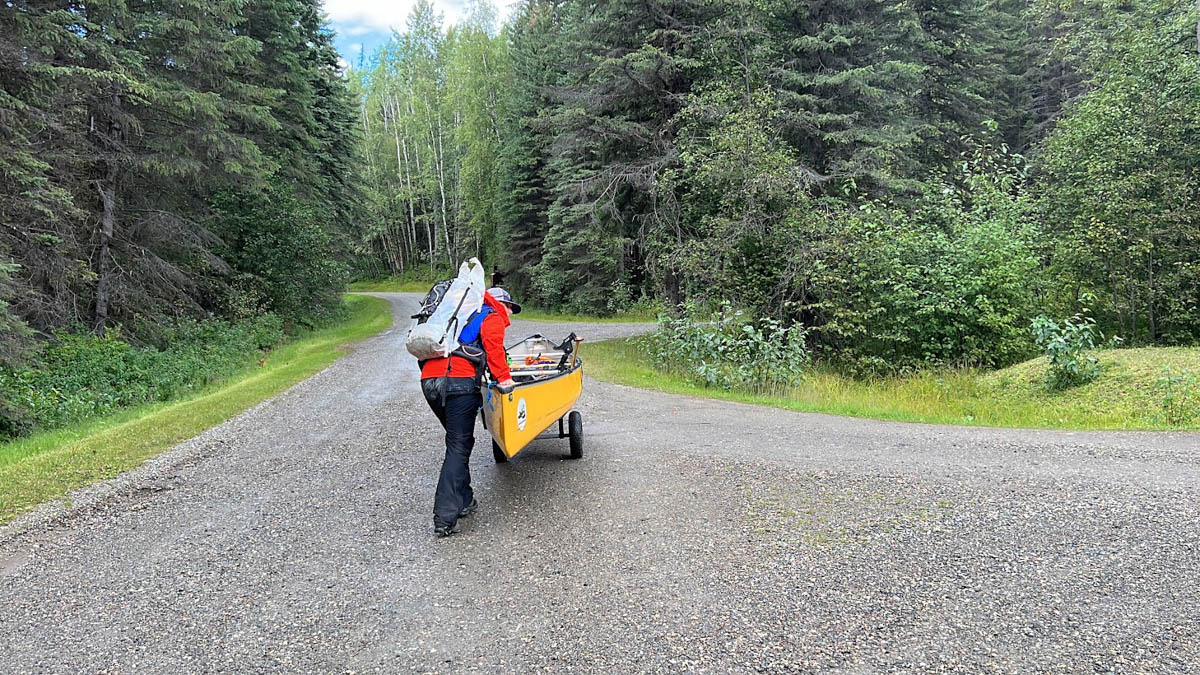 Safety and support
Bowron Lakes is an relaxing mix of backcountry wilderness and safety. Each campsite had an outhouse and very generously sized bear caches.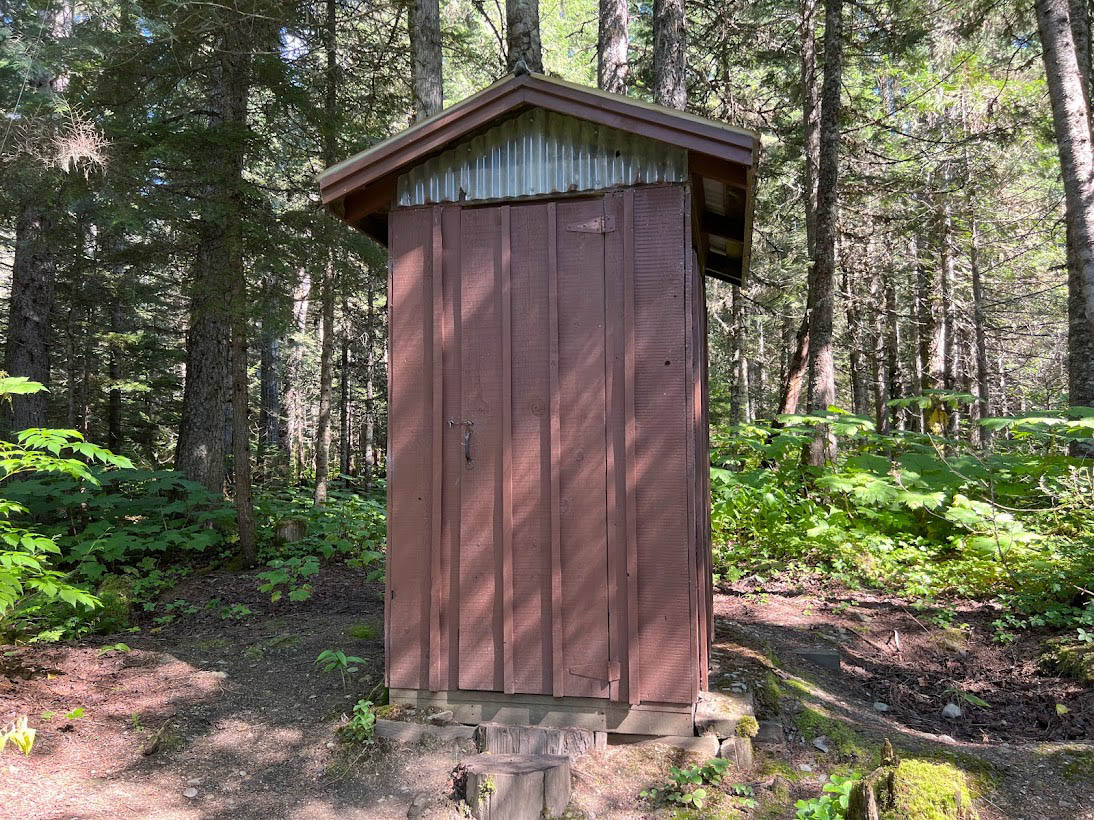 If you run until trouble out there, there are rangers who are patrolling the park who can help. We only saw rangers once, but there are ranger cabins with emergency radios distributed through the park. There is no cell phone coverage, but there is a special email address they provide to anyone who has a two-way communication device like a Garmin. The ask you to contact the park directly rather than press the SOS button for faster assistance.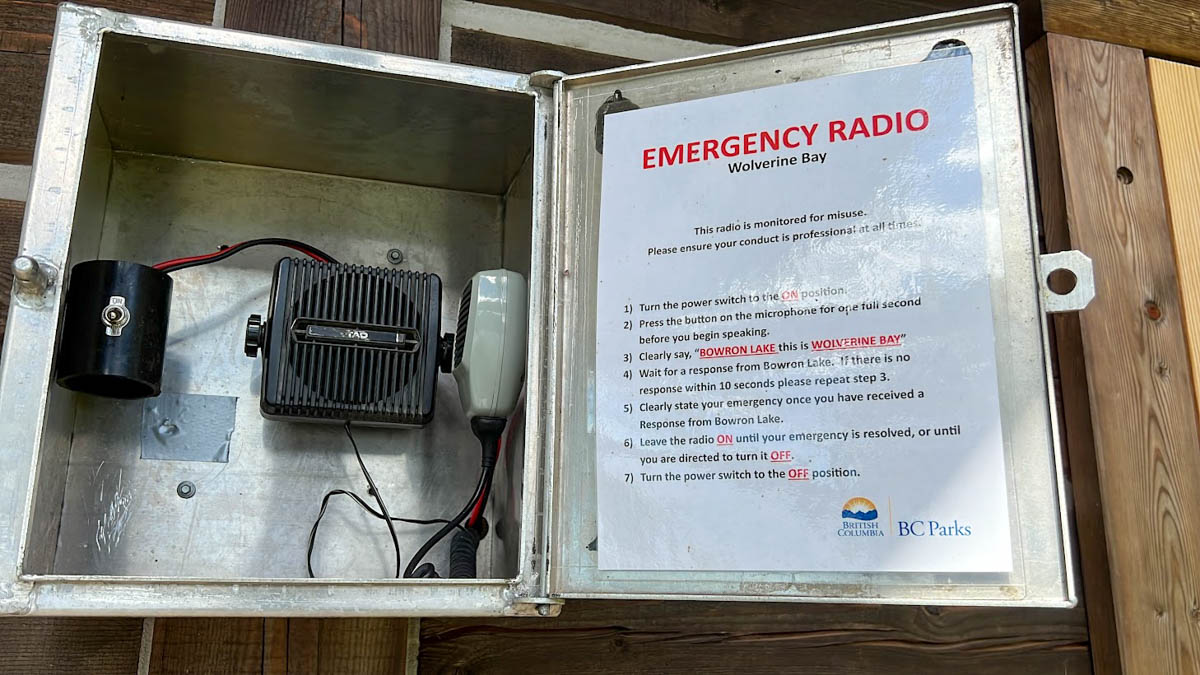 There are also different types of shelters at campsites throughout the park. Some were newly built, open cooking shelters meant for many groups to share at once. They had a woodstove with wood available. Others were small cabins that had been built a long time ago, that could only hold a few people at a time — even though the signs said they must be shared at all times.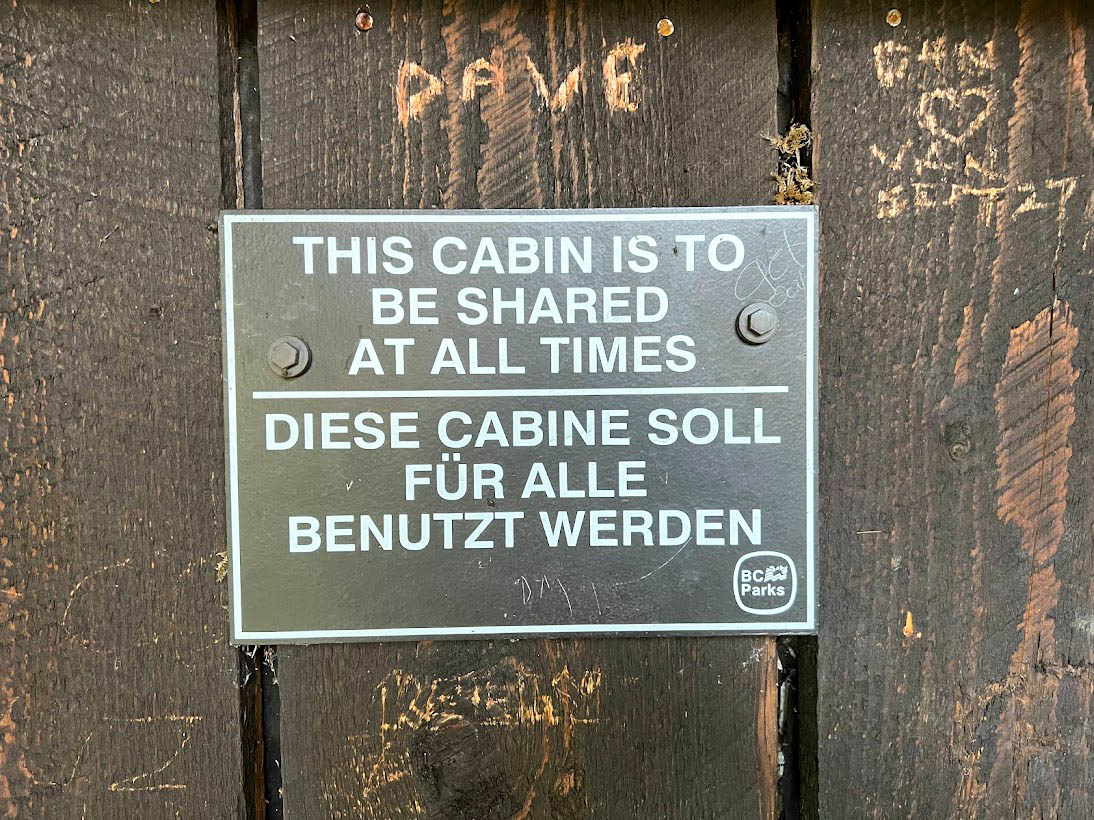 One of the nicest things was that there were wood lots scattered throughout the park. The rangers cut down dangerous trees into small pieces, which you can carry back to your campsite and chop into firewood,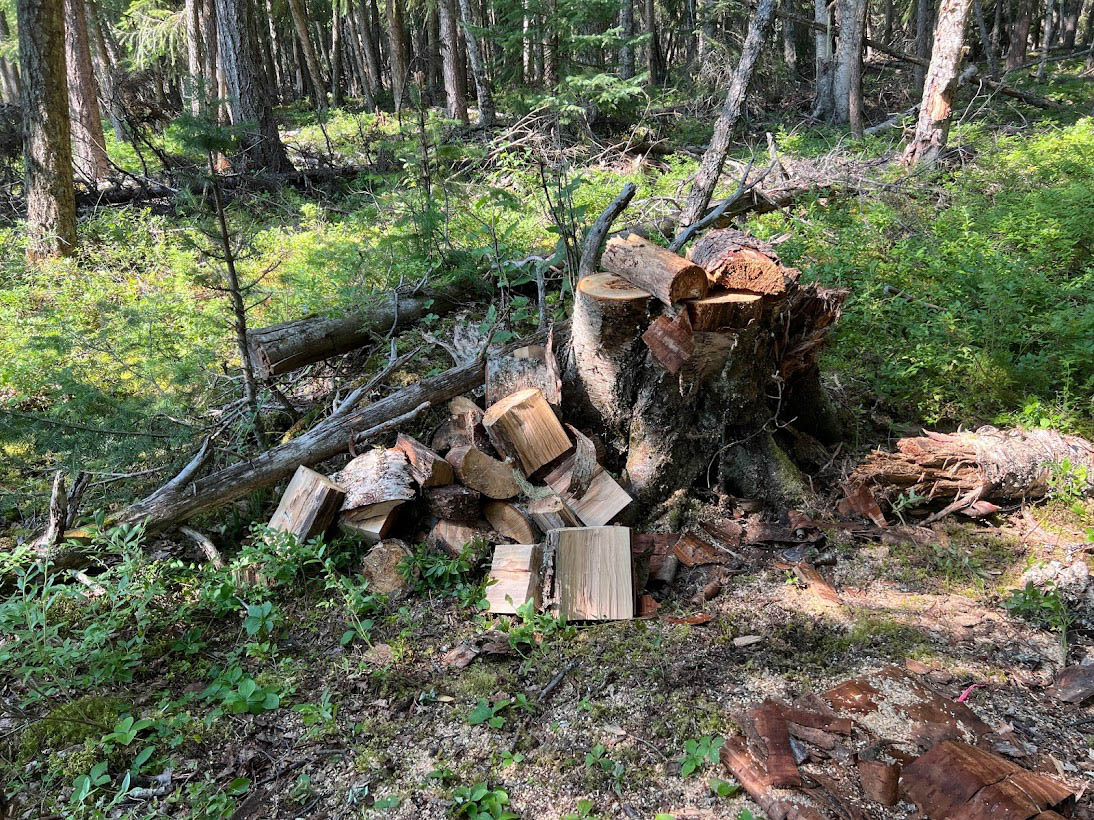 Where to stay
We spent the night before and after our trip in nearby Wells, BC. The town has about 200 residents. It has very colourful, small houses covered in murals. There is a big old hotel called the Wells Hotel. It has one of the only restaurants in town, with pretty good food and a very large selection of Scotch. Stay in Wells was highlight of my trip! The hotel was full both nights we stayed there so I would book ahead of time.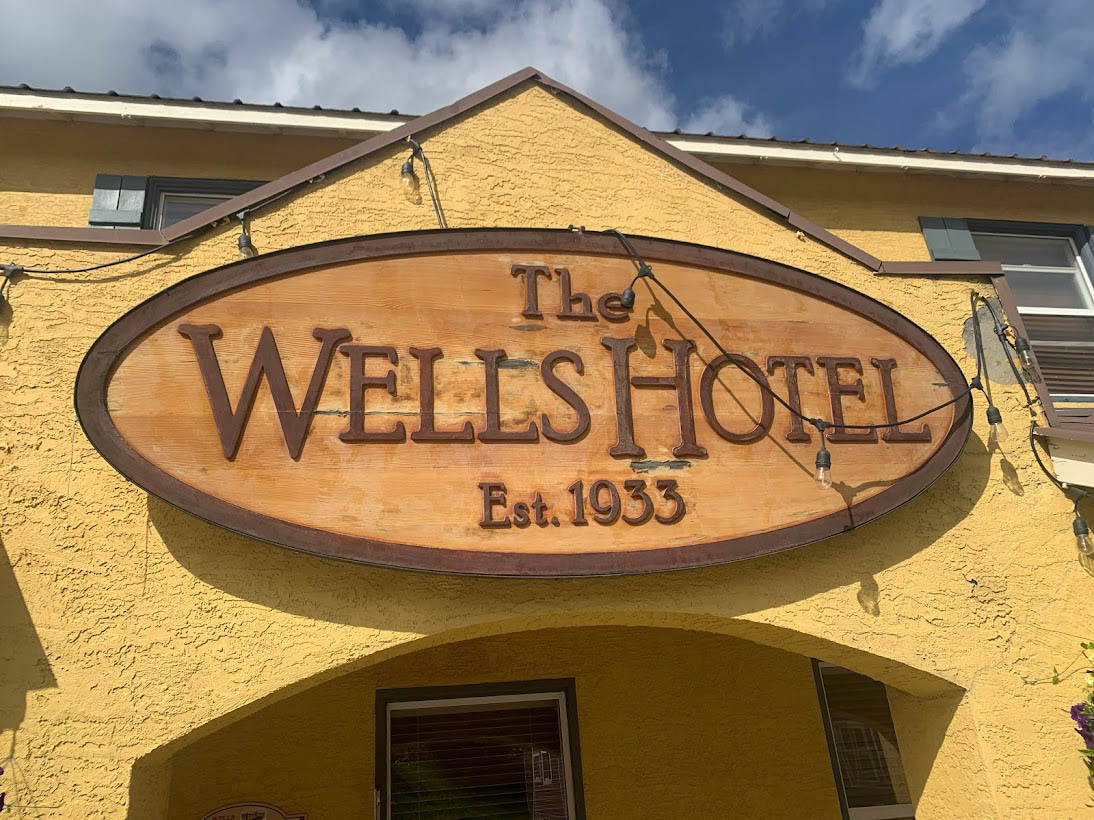 You can also stay and eat in nearby historic Barkerville if you want to pretend to be a goldrush town in the 1880s. You can also camp or rent a cabin right at the lake.
Permits
You must book your trip for Bowron in advance on BC Parks website. This year, reservations opened in April for the entire season. In other years, they have opened earlier.
July and August are the most popular months to visit, as you have the best chance of having pleasant weather. However permits fill up fast for these months.
We didn't even know about the circuit until months after bookings had opened. So we diligently refreshed the reservations page every day until we spotted a cancellation. It was for the end of August for eight days. A perfect reservation window. And that's how we were able to go! If you don't get a permit right away, don't give up!
Canoe Rentals
We rented a Clipper Tripper Bowron Lake Canoe. The prices were reasonable, you could book online and pick up was very easy — it was in front of the registration centre!
You can also rent from local outfitters such as:
Preparation
We learned to canoe in April with the Beaver Canoe Club in Vancouver. We had two days of lessons in Deer Lake in Burnaby. We four paddle strokes, and also what to do if you canoe flips over. It cost $25 to join the club for the year and the lessons are free for members. Lessons were really fun!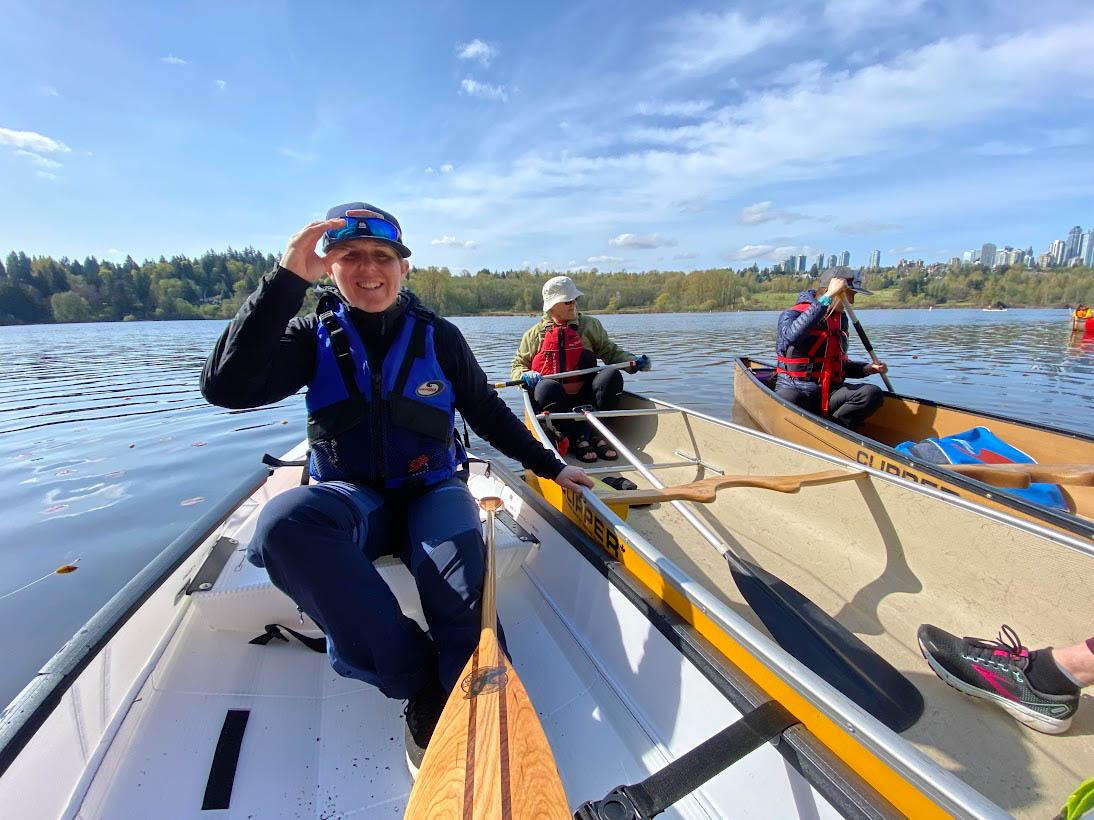 We also bought a folding canoe and practiced paddling all summer around Vancouver and a few overnight trips. Paddling a canoe where you want it to go takes real skill and practice. I cannot imaging doing a trip as big as Bowron as my first paddling trip or with no canoe lessons. But it's really worth it to learn!
I wish we had a bit of moving water experience to make that small river section worth it. We got lucky and had no problems. But obviously not everyone is as lucky.