As a climber, I always felt so sad when winter rolled around. I thought I was stuck inside until the snow melted. Then it turns out I was wrong. Learning to ski was the answer.
And not just any kind of skiing. Backcountry skiing. Where you take your skis for a walk up the mountain and then zoom on back down.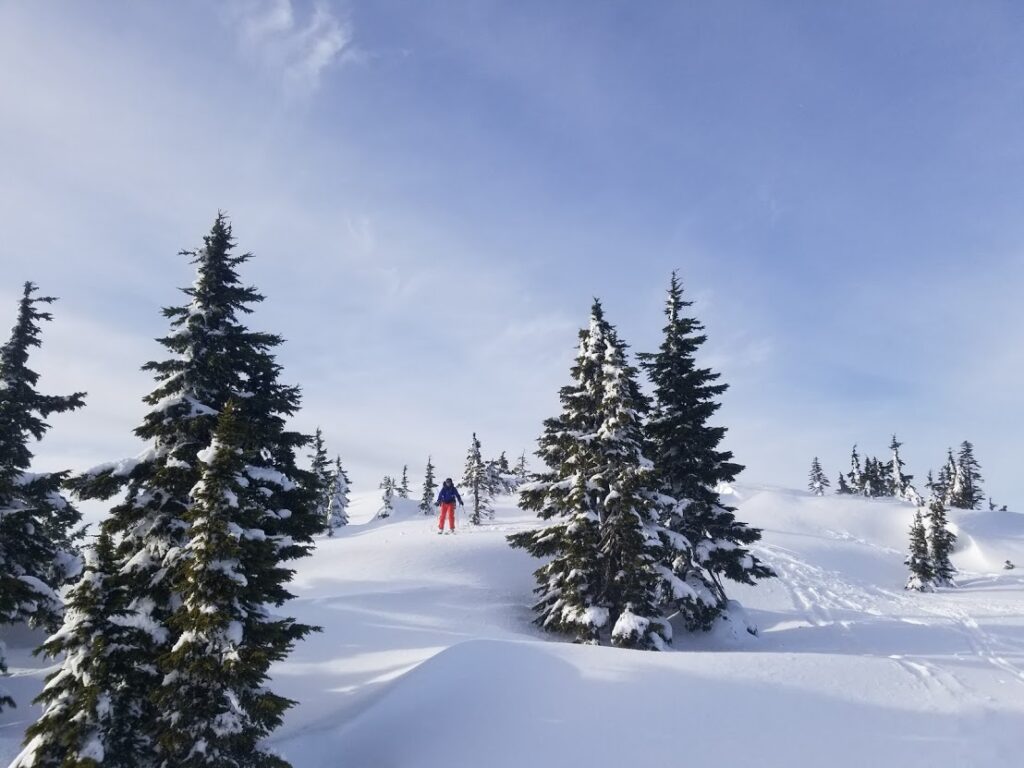 Why listen to me?
There are some great beginner guides out there like this one from REI.
What they don't cover is the particular challenges of getting into backcountry skiing on Vancouver Island, especially where to buy gear and where to ski as a beginner.
I just learned to ski last year. So the pain of all those learning moments are still fresh with me, but I have had some successes!
Step 1: Learn to ski
Before your first ski tour, you should be able to ski blue runs confidently.
Most people find learning from their significant other to be very emotionally challenging. (My "ski camp" involved some tears… But I still love you, Erica.)
So you might want to look for a teacher that you are not dating. Mt. Washington has a great deal called "Learn to Turn" where you can get three lessons, lift passes and rentals at a great price.
Dealing with trees and powder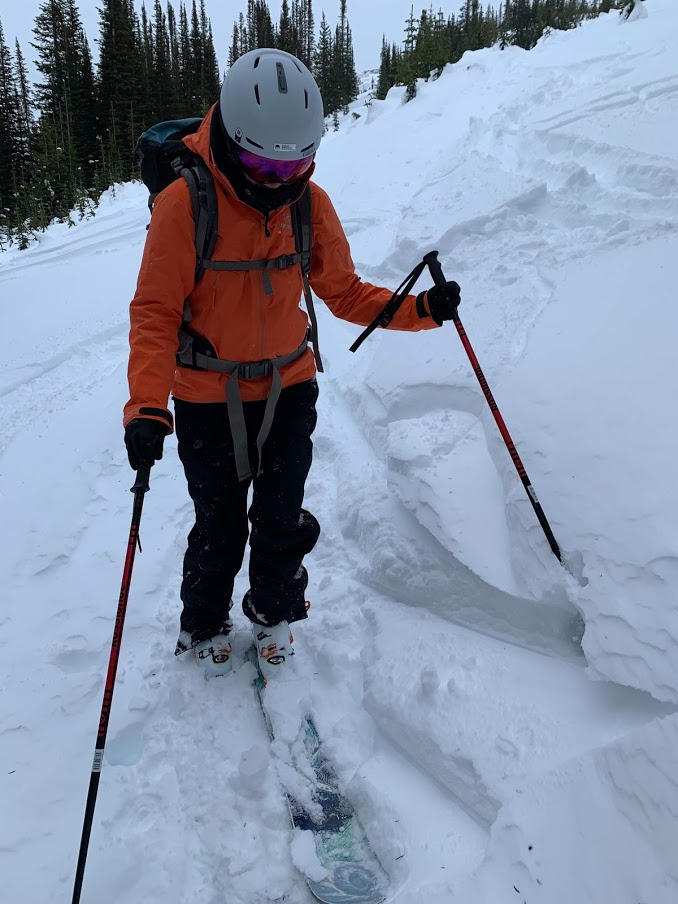 Once you can ski, the next step is learning to deal with trees and powder.
Powder will one day be a wonderful thing. But until you are used to it, you will just fall over. Skiing between trees is scary because they dictate when you turn and you end up going faster than you wanted to! So practice is necessary.
So how to practice powder and trees on Vancouver Island?
Mt. Washington
Mt. Washington does not have much in bounds that will help you. We skied the only ungroomed run we could find, Powder Face. The tree skiing at Mt. Washington was … groomed. Apparently there is great powder and tree skiing on the Outback, but that is double black diamond, so maybe save that for a later date.
Mt. Cain
I love skiing at Mt. Cain, the community ski hill on the north island.
Wait …. What am I saying? Cain sucks. It's the worst. Don't go there.
In all seriousness, to get to Cain you need a 4WD vehicle with snow tires and chains. (You're driving up a logging road in the winter!)
And since it's very hard to find a place to stay in one of the limited cabins, many people sleep in their cars or in tents in the parking lot. This is very cold and often extremely windy.
Or of course you are lucky enough live on the north island, you can make it a day trip.
On the mainland
Over Christmas, we did a road trip to the Rockies and skied in different resorts along the way like Big White and Marmot Basin. There are lots of good places to learn to ski on the mainland, and you can get there with a regular car!
Step 2: Take an avalanche safety course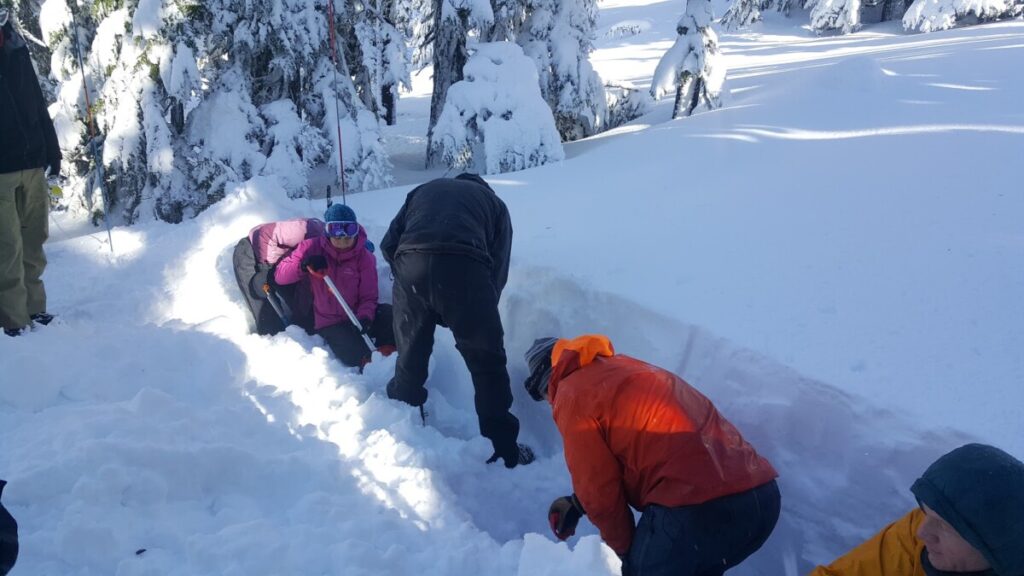 I know this seems really not fun. You are going to have to spend your entire weekend and almost $300 learning. How boring.
But you are going to do it. Because no one in their right mind is going to want to go out with you until you have this training. (Because if your friend gets buried in an avalanche, YOU are the one that is going to save them.)
AST 1 always fills up fast. So book your spot with Island Alpine Guides as soon as you can.
I did my course on snowshoes, which is always an option if you don't have the ski abilities or gear yet! This can also help to spread out the costs over time.
I had my course mostly paid for by the Alpine Club of Canada – Vancouver Island section. Check out the subsides available to trip leaders.
You can also check out the free educational resources from Avalanche Canada. I took their free Avy Savvy course as a refresher during my second year of touring.
Step 3: Get the gear
This is where I almost gave up. It's very hard to find all this stuff, especially if you live in Victoria. And it's sooo expensive. Here is what you need:
Ski gear
Ski touring boots
Skis with touring bindings
Skins
You can take your backcountry skis to the resort. But you cannot take your resort skis into the backcountry. The special (expensive) boots and bindings let you walk up hill and ski down.
Ski accessories
Ski poles
Helmet
Ski goggles
Ski socks
Do not skip ski socks, or you will have blisters up your entire shins. Not that I learned that the hard way or anything.
Avalanche safety gear
Outdoor gear and clothing
Listing all this gear is outside the scope of this post, but you need the clothing and gear to be safe in the wilderness in the winter. This includes clothing like warm jacket, GORETEX shell, gloves. It also includes the 10 essentials, like an emergency shelter and navigation. Invest in a great headlamp, as you may find yourself out in the dark during the long tours and short days.
Rent, buy new or buy used?
Rent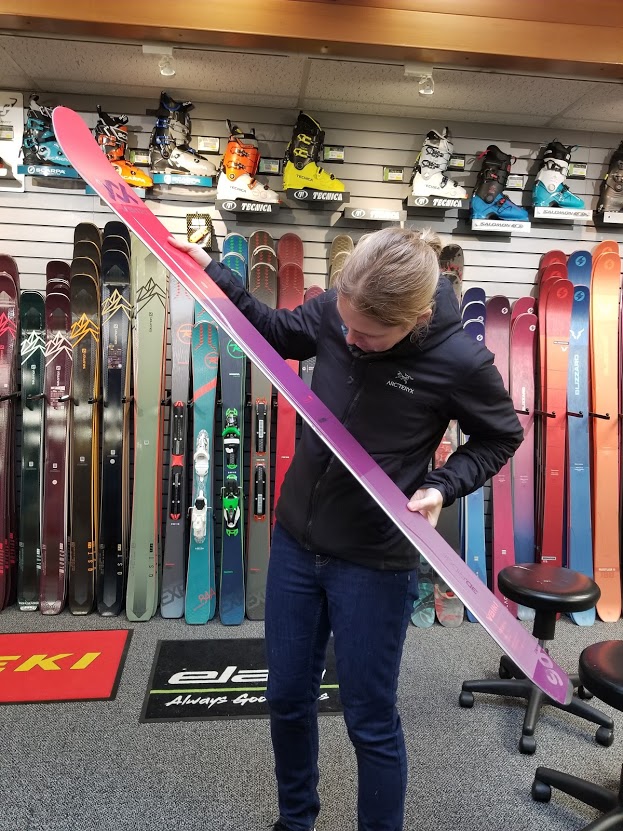 The first time I tried backcountry skiing, I rented from Ski Tak Hut in Courtenay. As far as I know, they are the only place on the island with backcountry rentals. It's a good idea to book ahead on popular weekends, like Family Day weekend.
You can get a 25% discount on rentals from Ski Tak Hut when you're on a trip or course with Island Alpine Guides! Helps cut down on costs when you're looking to build your skills from a knowledgeable guide.
Buying new
When I was ready to get my own gear, I bought almost everything new. I think I spent close to $3,000 getting the gear I needed to get started.
I bought my ski boots at Ski Tak Hut. We made a special overnight trip up to Courtenay just for me to shop there. The service was unbelievable. The person helping me spent so much time helping me try things on and make sure they were perfect. They also custom fit the boot to my feet using heat on the plastic shell. This is not something you can replicate by shopping online. It's worth the drive!
To keep costs down, I used Erica's old skis and skins at first. They were hand me downs when she got them! I didn't know what I wanted, so I didn't want to buy anything.
But after a season skiing in those heavy things, I was ready to upgrade! I bought new skis at VPO Victoria with an end of season sale. They are so knowledgeable and helpful there!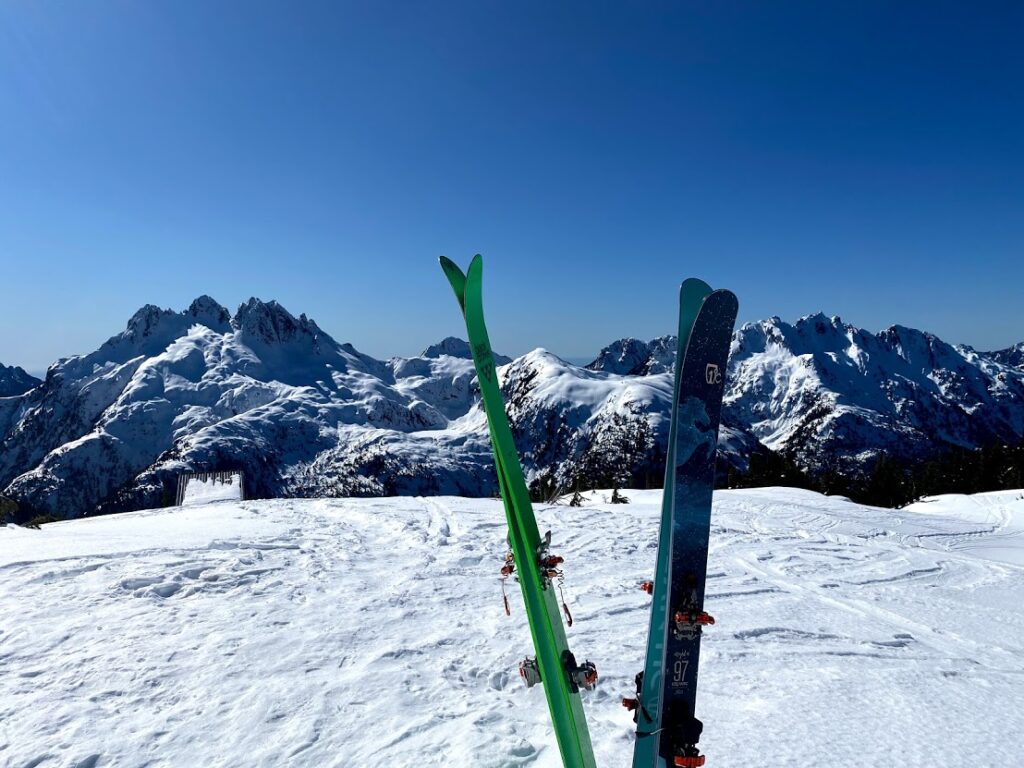 Used
Before I really got into skiing, I tried to figure out how to buy used gear. But I just had no idea what I was looking at. Was this the right size for me? Were these skis too old? How can I even tell?
Once I learned more, I realized most stuff for sale second hand online is not great. It's like buying a second hand Subaru. Everyone wants one few years old at a amazing discount … but stuff like that is almost never for sale. And if it is, it's gone in hours.
It's also very challenging to buy used gear if you are short, like me. Most people ski touring are men, which means they have larger boot sizes, longer skis, longer ski poles, etc.
Some people I know have had tremendous luck at the Blue Toque, also in Courtenay. They are a consignment store for outdoor gear, including ski gear. They have a huge selection of winter clothing as well.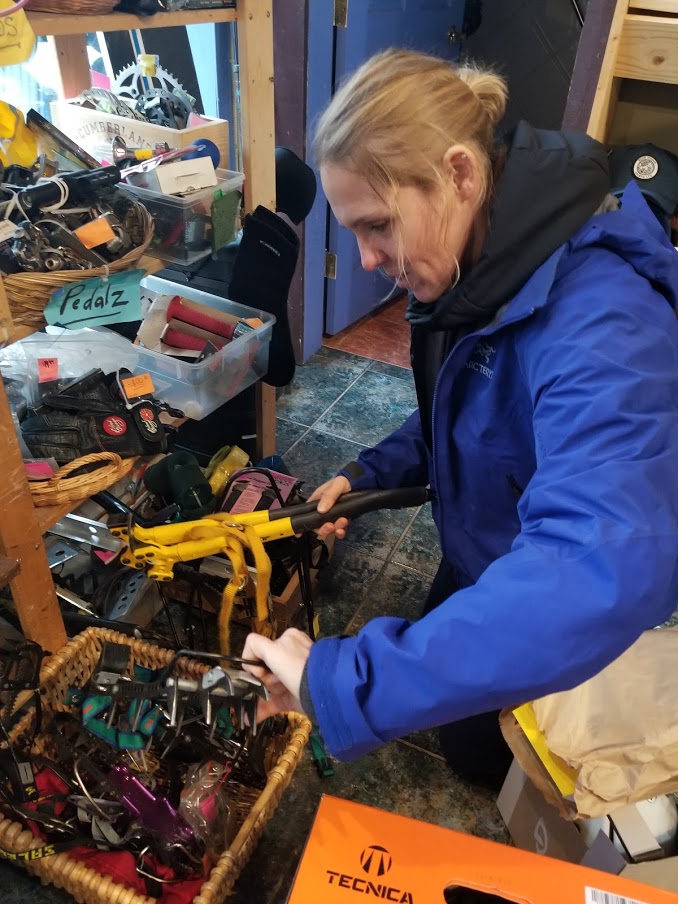 Plan your first trip
You know how to ski, you have your gear, you have done your avalanche safety course.
Here are a few of the places that people go for their first tour:
Mt. Elma or Mt. Brooks. You access these spots near Mt. Washington. It's a beautiful, long walk but not a lot of turns.
Mt. Becher. There are a few steep bits, but a very scenic tour!
West Bowl at Mt. Cain. You can take the T-bar up and then ski out of bounds. People do laps all day.
Check out Island Turns and Tours for lots of other destinations on the island. And once you have some experience, you might want to check out a multi-day trip to the only ACC backcountry hut on Vancovuer Island.
Courses
Watch the Alpine Club of Canada – Vancouver Island trip schedule for the annual "Intro to Backcountry Skiing" workshop. They usually go out near Mt. Washington for a day.
Island Alpine Guides also has courses on backcountry travel.
Avalanche forecast
Updated Dec 2021: Vancouver Island has joined Avalanche Canada. Check the forecast throughout the season, even if you aren't skiing that week. It will help you develop an understanding of the season's snowpack. AST 1 get you started on learning how to interpret the forecast and make appropriate terrain choices for that day.
Also check MIN reports on Avalanche Canada, which are user-submitted observations of snow conditions. They show up as blue pins on the map. You can even make your own reports when you see something interesting. I report a few avalanches that I saw during my second year touring.
Inspiration
Here are a few photos from my first season backcountry skiing for inspiration. All these photos were taken on trips on Vancouver Island from January 2020-March 2020.