Like many fellow adventurers and risk takers, I took a pause on all types of climbing during the first few months of the pandemic.
When I got back at it, I was surprised to discover my climbing abilities had evaporated in a very short period of time. At first I blamed it on fitness. Got to get those fingers strong again! But my first time outdoor climbing in our "new normal" showed me that perhaps something else was going on.
Erica and I went to Glenn Lake, a crag close to my home. It's full of short, easy climbs that I've climbed tons of times before.
My first lead of the day, I barely got off the ground. It took me about twenty minutes just to climb part of the way up. I kept pausing, hanging on the rope, feeling very uncertain. This was a climb that I easily ran right up not that long ago.
When I got to the third bolt about half of the way up, my hands were sweating. My mouth was dry. I like I was going to die if I went one inch further. Eventually I just had to come down.
The rest of that season was filled with climbing adventures that were completely unremarkable — other than how terrified I was attempting climbs that I had mastered years ago.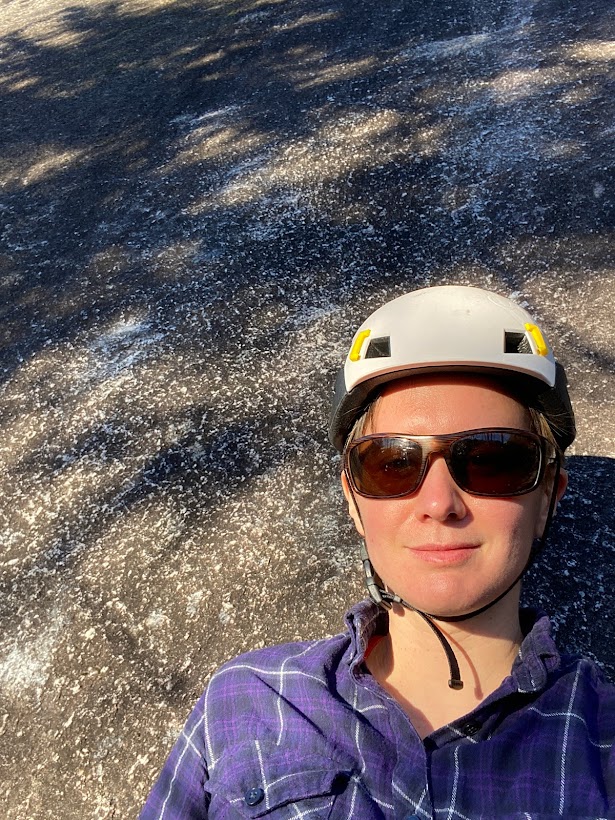 During the second summer of the pandemic, I was determined find my climbing mojo again.
I pushed myself to practice lead climbing at the gym. We had moved to Vancouver and were now about an hour away from Squamish, a world renown climbing destination.
I put a lot of pressure on myself to climb harder grades. To trad climb again.
And it just made climbing feel like a chore. A scary chore.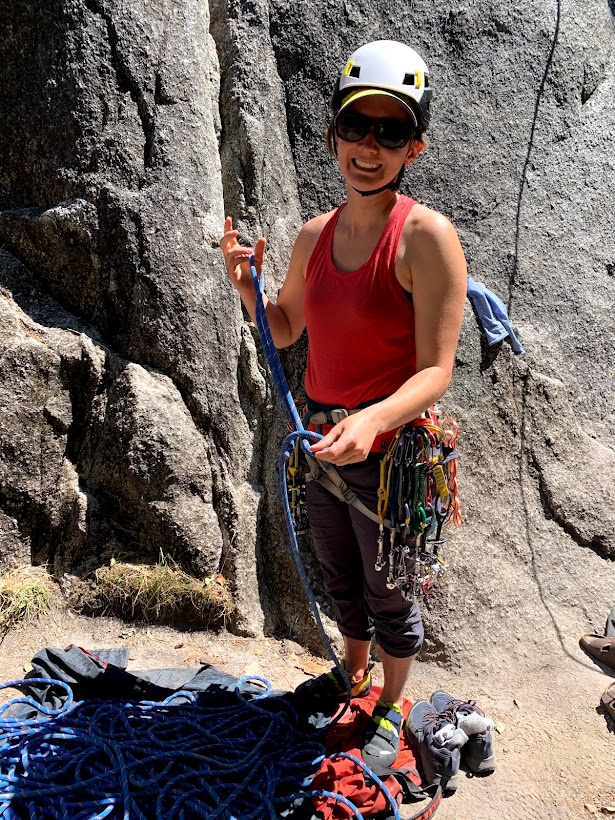 How did this happen? The pandemic on its own was stressful, for sure. But it also made the underlying problems in my life a lot worse. During the pandemic, I went to the Emergency Room twice because I felt like I was dying, but it was actually anxiety. I am far from alone in this regard. The World Health Organization reports that the pandemic triggered a 25% increase in anxiety and depression world wide.
I was fortunate that the doctor in the ER was very compassionate and pointed me to some amazing online resources. I saw (and still see) an amazing trans-affirming counsellor. I also attended a four-week course offered by a local non-profit that teaches people about trauma and how to better emotionally regulate.
After so much focus on my mental health over the year, I felt a lot better. Things that had been taking up valuable space in my brain for decades were fading away. I could move through my day without panic attacks or flashbacks. I felt healed.
But I still really didn't like climbing.
This is quite complicated because I had organized my life around climbing for over 10 years. It wasn't just something I did, it was who I was.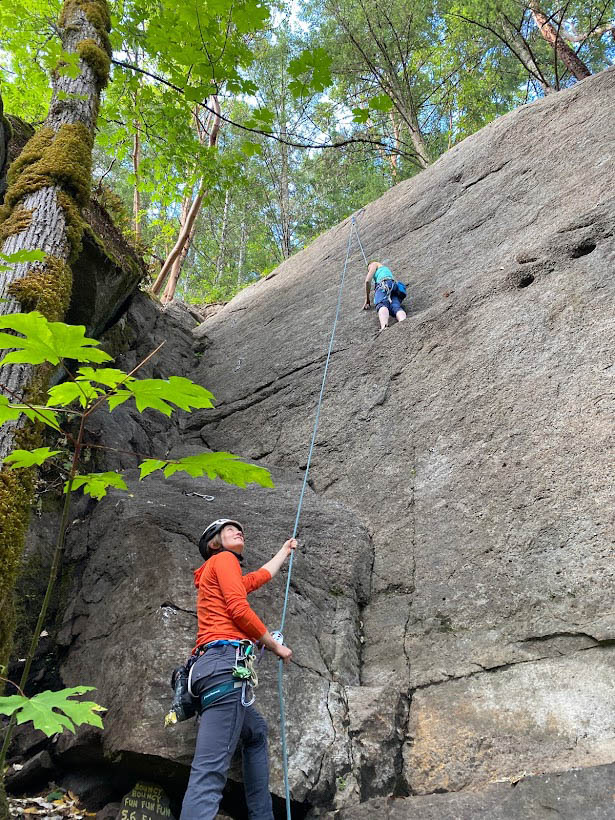 In June 2021, I came across an article titled: "Lor Sabourin, First Non-Binary Climber to Send 5.14a Trad." I had never seen coverage of a non-binary athlete treated the same a female or male climber. When I clicked through on the article, I saw a photo of someone that looked like me. And they were climbing something so incredibly hard!
In the article Lor talked about their work as a coach with the Warrior's Way. They taught workshops that address the fear of falling while climbing. This led me down an internet rabbit hole trying to figure out exactly who Lor Sauborin was and how I could take one of their Free Mind workshops way up here in Canada.
This is how I ended up sitting in a Zoom room with Lor and four other climbers in October 2021. I remember feeling like I really did not belong there. I was pretty sure my fellow students were going to be climbing way harder than me. I was not a good enough climber to be doing mental training.
When Lor asked us what we wanted to get out of the course, I think I said something about learning how to overcome my fear. I thought they may have some secret tips for pushing myself harder and smashing through fear like it was a brick wall. That was the only way I could fathom that they climbed like they did.
This is not at all what happened. Funnily enough, I don't think the grades ever came up in our class.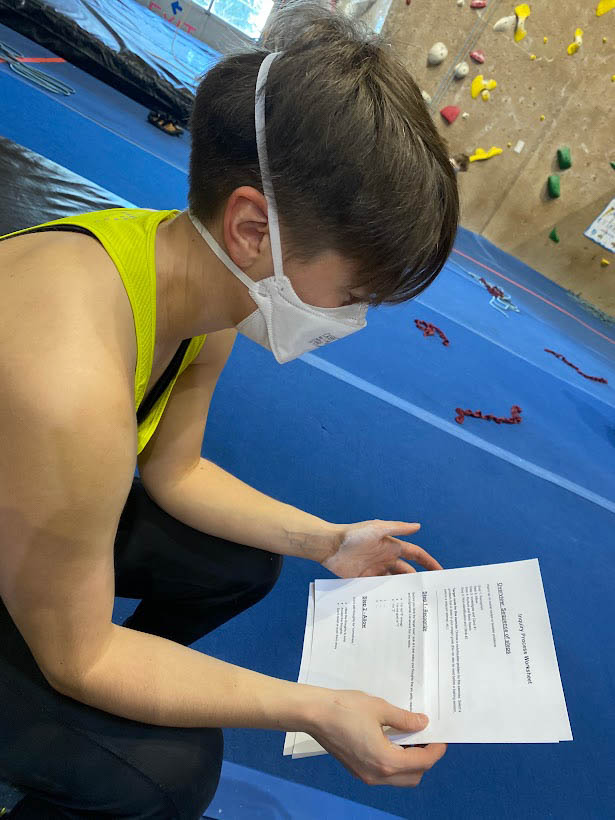 The first course I took focused on developing body awareness with climbing exercises. As I moved on to levels 2, 3 and 4, it became not just about what I physically did in the climbing gym. It became a lot more about understanding my needs, my emotions, my identity as a person, and how I related to other people. The lessons were often borrowed from counselling concepts or meditation practices — two things I enjoy very much!
I've had some insights that really changed how I behave as a person, not just a climber. One was just how much our human need for love and belonging motivates what we do. I feel this acutely at times. The desire to feel accepted by others drove me do things climbing that weren't actually right for me at the time.
Another was learning how to be vulnerable and share my needs with another person, not just jump right to problem solving. The entire fourth course focus on relationships because climbing is so dependent on other people.
I think most importantly I learned that I need to feel safe –physically and emotionally — before I can tackle physical challenges. When I feel afraid, it's a sign that an important need is not being met — not that I need to push through it. And when I feel safe enough, taking on challenges can feel fun and be an exciting opportunity for growth.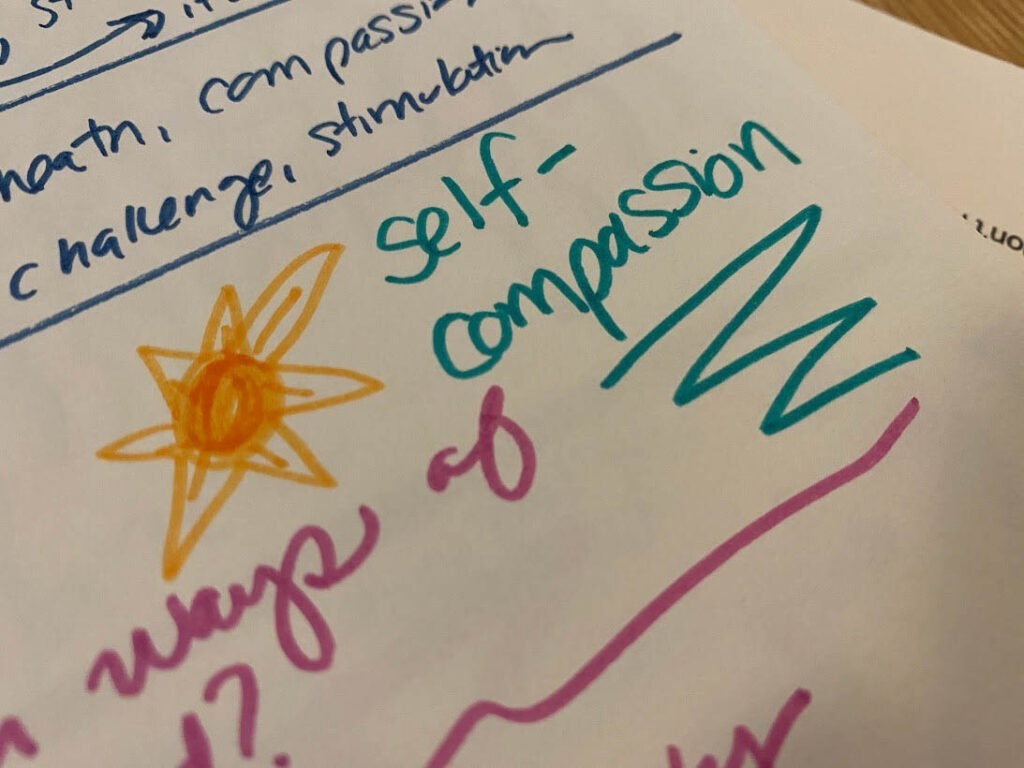 I wish I could end this post say that I was now climbing better than ever. But unfortunately I sustained a serious nerve injury six months ago. I've spent much of this time unable to walk very much. I spent many weeks in incredible pain. It's been incredibly sad and stressful.
Even though climbing again is on the distant horizon, I am still so grateful for the lessons I've learned and the supportive community these courses provided. As I try to negotiate what activities I can and cannot do with my body right now, I am often afraid and uncertain. I often want to do more activities than I should to try to meet my needs for community, for love and belonging. Honestly, the challenges I face with this injury are very similar to the ones I deal with climbing. I am digging deep, practicing self-compassion and slowly finding my way through. And when I am able to climb again, I know that I will have the tools to approach it in a more joyful way.
If anything I shared here resonates with you, I highly recommend checking out Lor's Free Mind training. It's online so you can participate from anywhere.