Most people know about the shoeshowing at Mt. Washington. It's beautiful. There is a nice lodge with hot chocolate. They plow the road so you can safely drive up there in all kinds of weather.
I decided to set out to explore the other place it snows near Victoria. The San Juan Ridge. Home to the worst-kept secret, the Kludahk Trail. This is a 50km trail that runs somewhat parallel to the Juan de Fuca Marine Trail. And in the winter, it's a wonderland.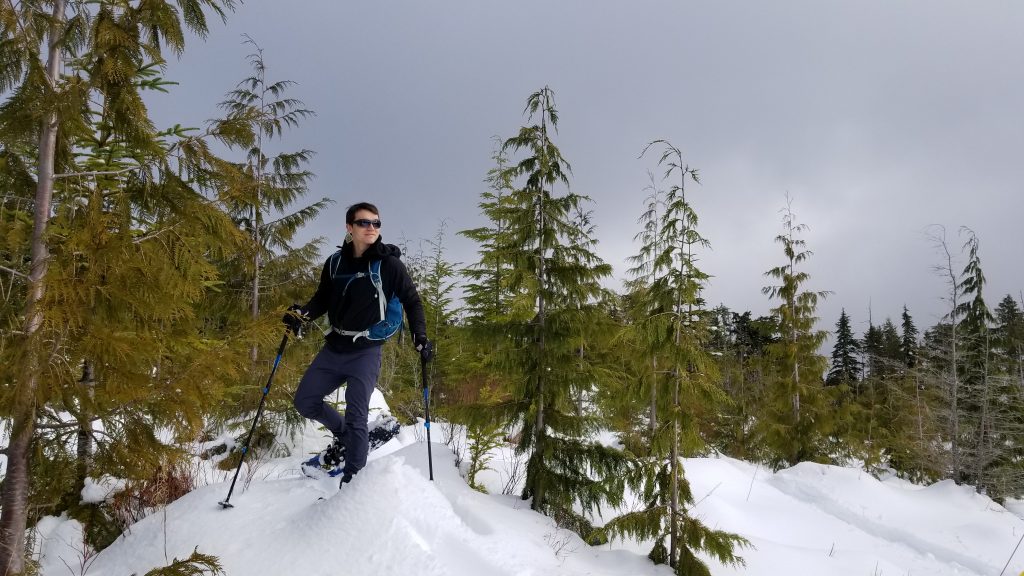 Unlike Mt. Washington, no one is maintaining the roads. No one is patrolling the trails. And you have to make your own hot chocolate.
Loving the wilderness, I set out to explore this part of Vancouver Island. I had never hiked all that far in snowshoes. I had never driven a car in the snow in the backcountry. It was time to learn some lessons about backcountry in the winter. Perhaps the hard way.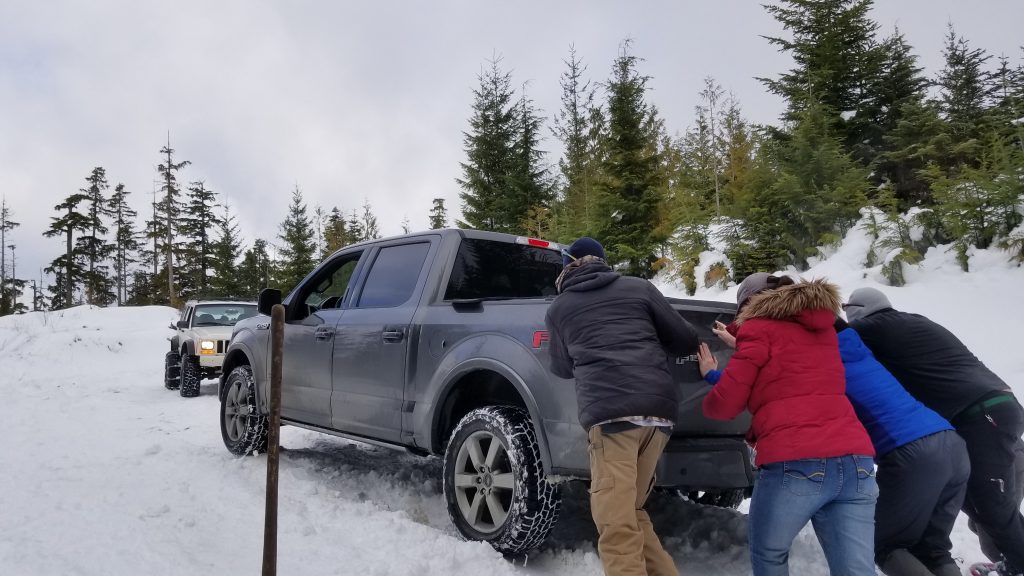 November
Bernie and I headed out toward to Kludakh test my new car on logging roads.
After a nice quick hike, we spent a very dark night at Meadow Cabin. I wasn't expecting any major snowfall in November, but it can definitely happen! It was a great trip to refamiliarize myself with the roads and the trails.
Note: Only Kludahk Outdoors Club members can stay overnight in the cabins along the Kludahk. Members reserve them in advance and contribute to their upkeep. Anyone can join the club.
December
It snowed. And the forecast said more snow was coming.
Having never really driven on snow before, I felt concerned. I have winter tires and AWD vehicle. But as soon as we found snow, I stopped driving. We parked at 5km.
Al, who is from Toronto, did not share my level of concern about the snow. But we had just started dating so she humoured me.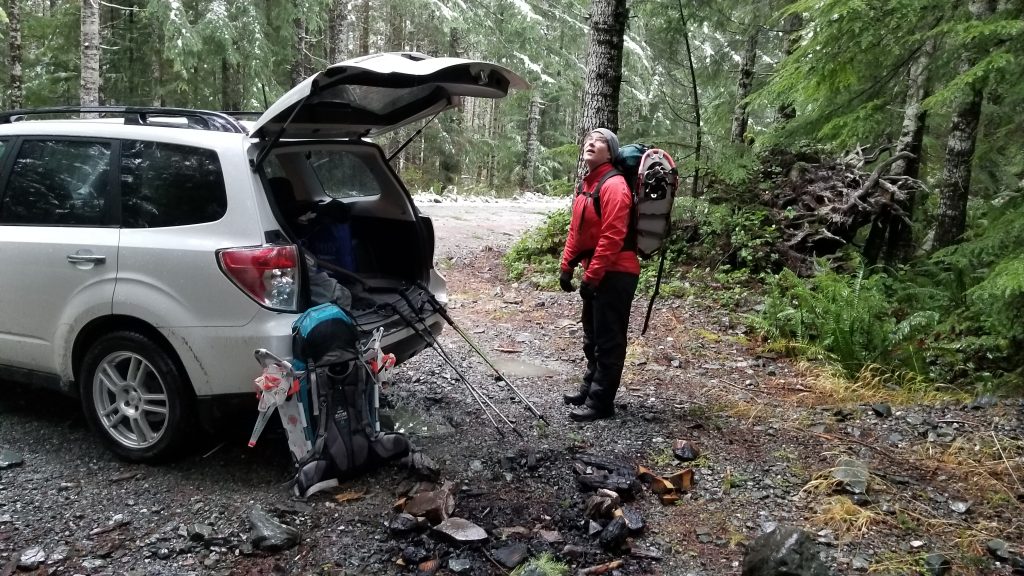 And then we walked. And walked some more.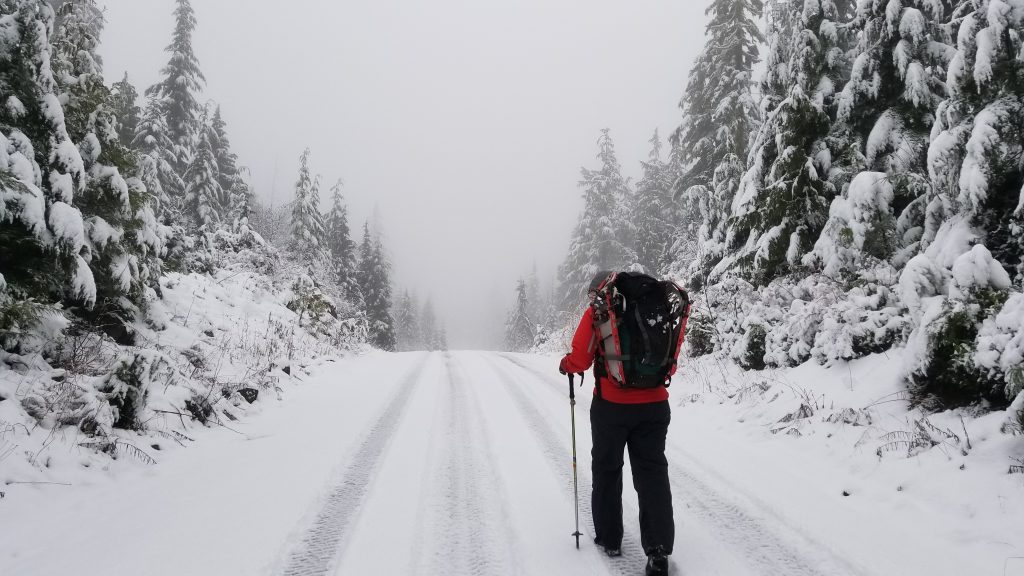 Most of the day was spent on logging roads. We had a short walk on actual trails as we approached Meadow Cabin.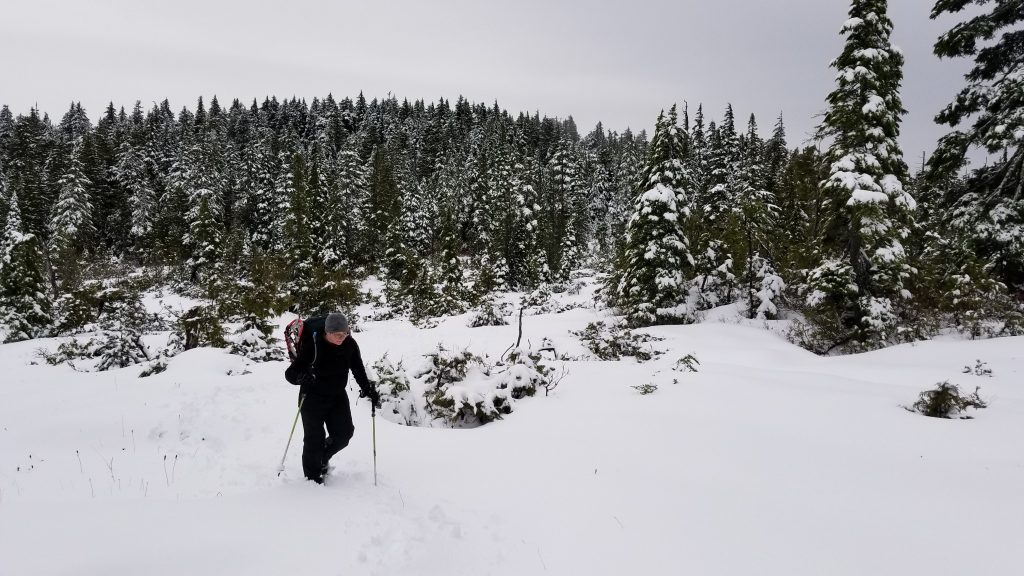 The flagging tape was sometimes hard to spot and the actual trail was covered in snow. So we relied on the GPS.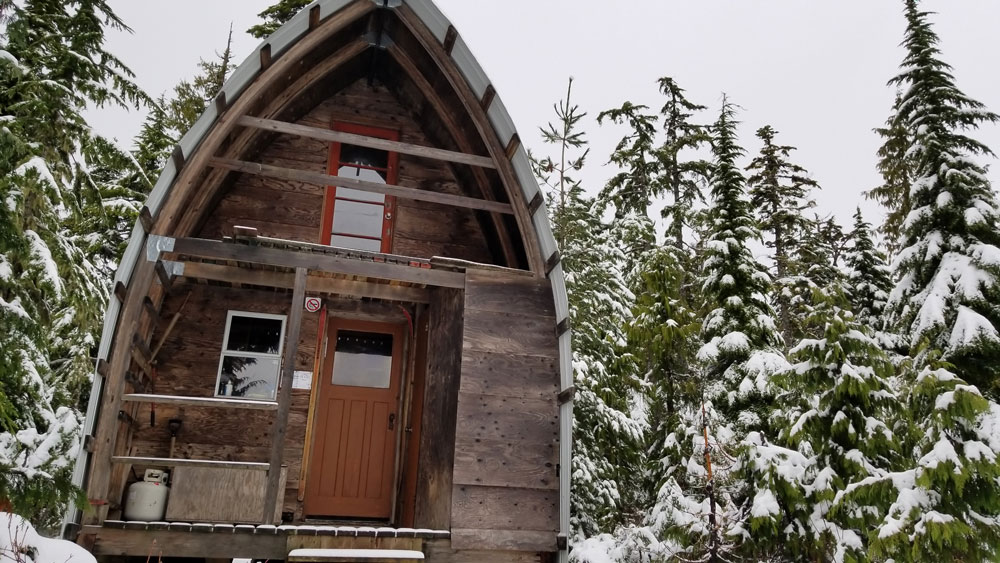 On the way in, it seemed quite magical. Overnight, it became a different story. It continued to snow. Hard. In the morning we put on our snowshoes for the first time.
Before it snowed, some parts of the trail had been covered water at. Sometimes deep pockets of water. Or so I learned, as foot punched through the new fluffy snow.
The hole was filled with roots and branches and my snowshoe got tangled in them. I was completely stuck knee deep in freezing water.
Eventually, the adrenaline kicked in and I managed to get my foot off the snowshoe. And even though I now thought snowshoeing was a very dumb hobby, I decided to go back in to rescue it.
This is the face of a cold human

I need to take up skiiing
Just 30 minutes before, I was explaining to Al why you cannot wear cotton while hiking, especially in the winter. Cause you never know what may happen. So maybe I sort of tempted fate.
Lower down, it had just been raining. We had a long walk in the rain to our car.
Two days later was my accident that led to my concussion, so I was grateful for this little taste of adventure!
February
My friend's boyfriend surprised her for her birthday with a weekend away with friends, including an adventure on the Kludahk! Someone in the group had a truck. And off we went.
The road covered with at least a foot of snow. Most people had parked down at kilometer 3 .
We kept driving and driving until we needed to hit the brakes to avoid a Scouts group walking in the road. And then we very slowly slid into a ditch.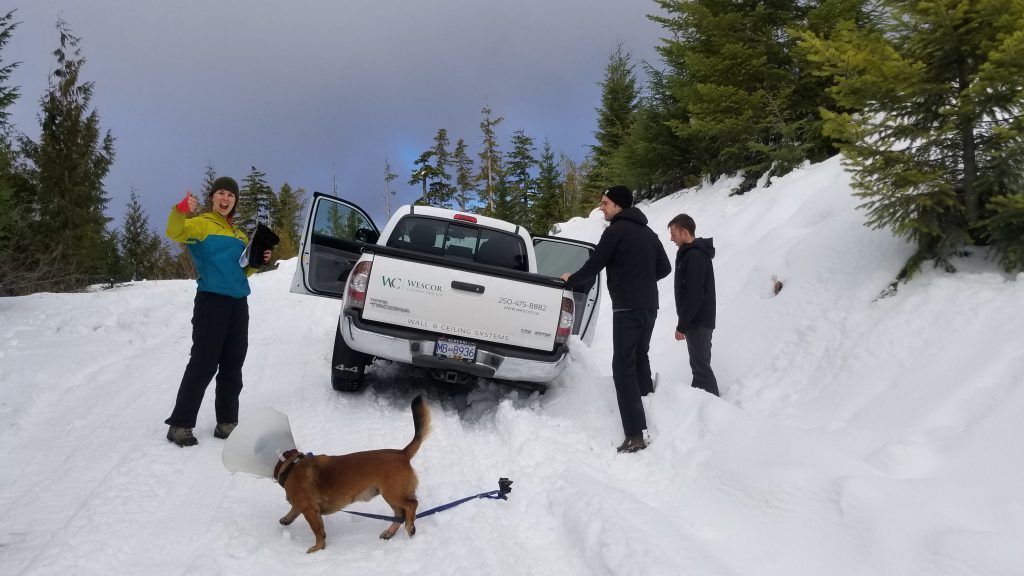 We had food, water and warm clothes. We had a shovel. Morale was high. My Subaru was parked just down the road. So I wasn't concerned for our survival. Just feeling a bit silly.
Shortly after our slow-motion accident, another truck came up behind us. And as they hit the brakes to avoid us, also slid right into the ditch. This made me feel a little less silly. Misery loves company.
And lucky for us all, a Jeep came to our rescue. They had tire chains (smart) and a winch! He pulled each truck out of the ditch as we all pushed.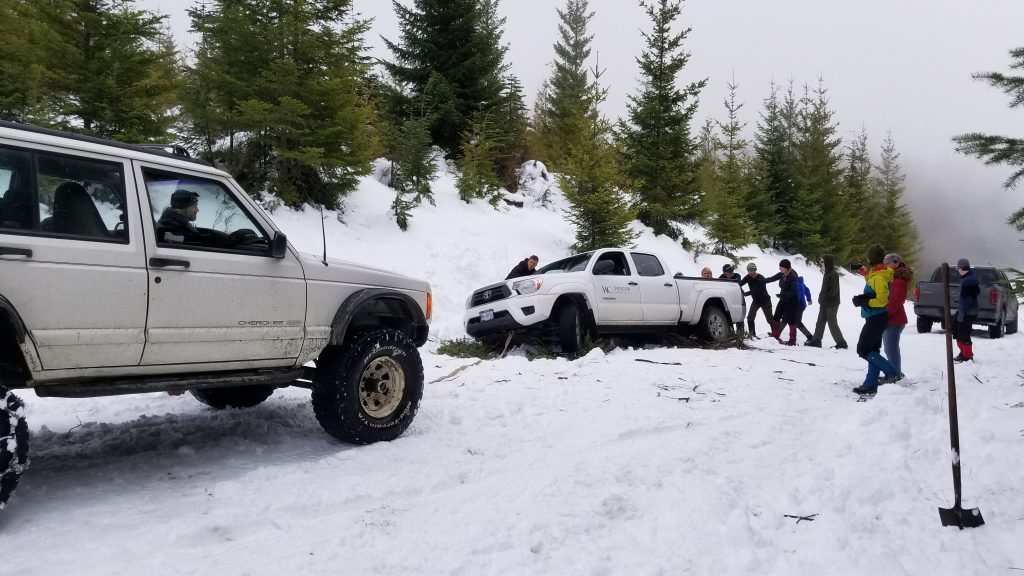 Morale of this story, park where everyone is parking. Or use chains.
Early March
Al and I set off to explore again, this time in a new area. We picked a smaller logging road (Gain Main) on the map that seemed like it would be nicer to walk on than North Main.
I had learned my lesson and we parked at the bottom of the hill. We enjoyed our nice walk in the sunshine.
Later in March
I think this is my favourite time to visit the Kludahk in winter. Al and I arrived expecting to have to walk all the way up the logging road again. But instead, there was no snow! It totally melted in a few weeks. And the trail itself was covered in compacted snow. Easy to walk on. Tons of sunshine. Perfect time of year to enjoy the Kludahk.