This weekend we hiked almost 40km and gained 3500 meters elevation. We climbed Nine Peaks and Big Interior twice since it was on the way.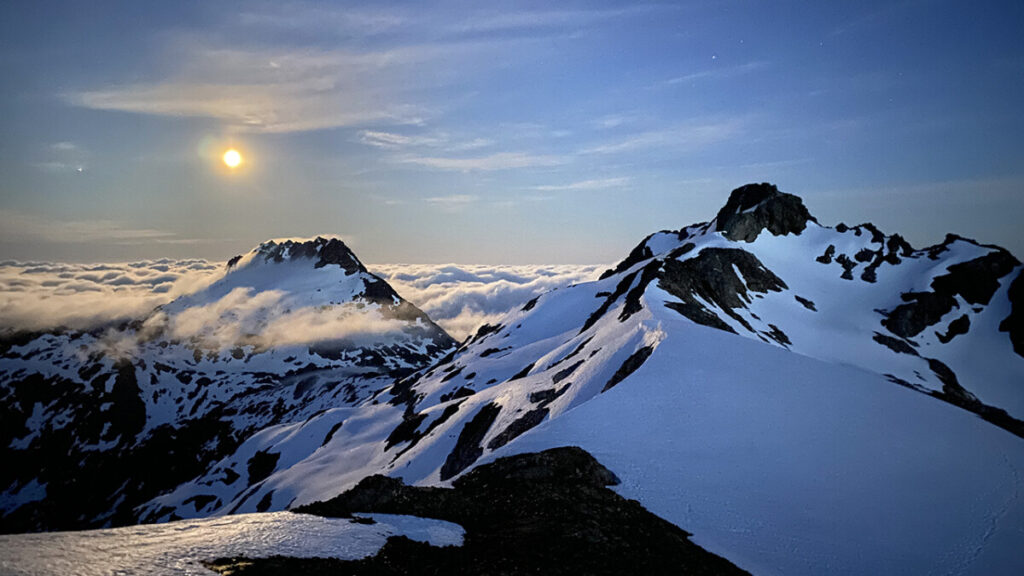 This was my first time climbing on Vancouver Island glaciers. They are quickly shrinking, but they were the real deal. Crevasses and all.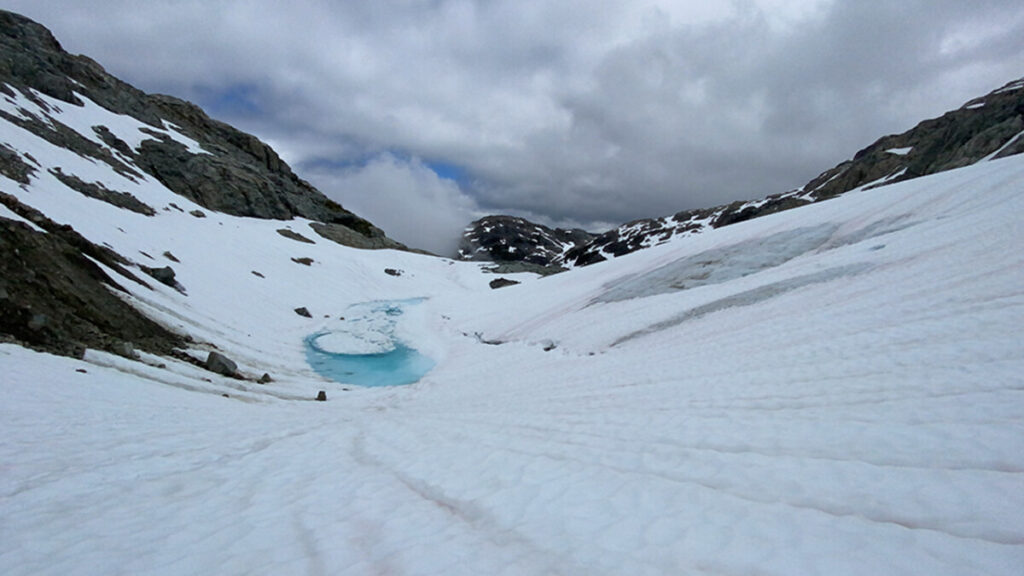 People usually climb Nine Peaks in three days. We packed enough for four days, thinking we might come home early or perhaps check out another area when we were done.
However our beautiful long weekend forecast turned into a foggy, rainy mess after our journey started. And we ended up needing all four days for this mission.
Day 1
We started out from the Bedwell trailhead in the morning. Once we made the off the main hiking trail, the white out began.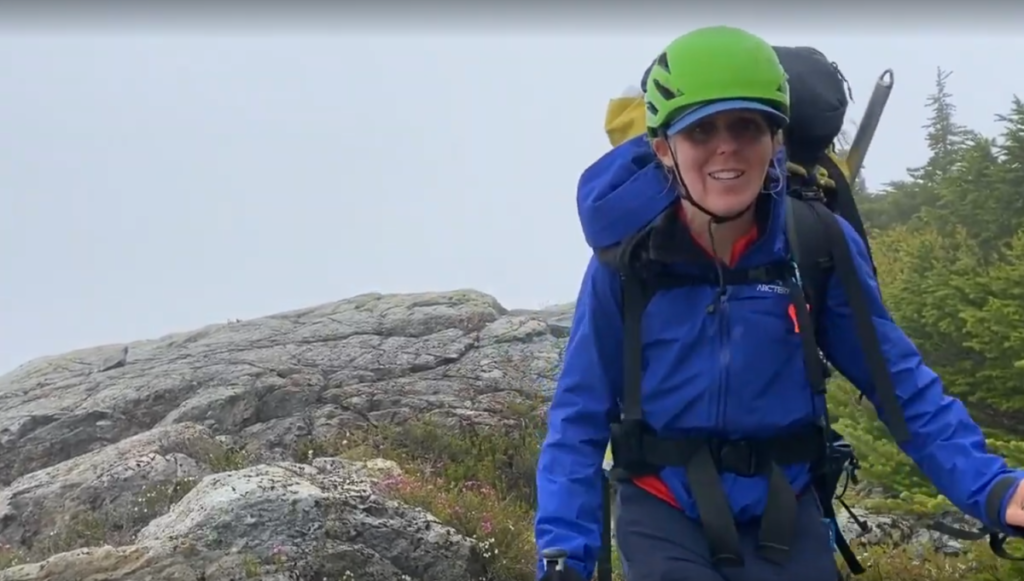 We had read in another trip report that the trickiest part was getting navigating down to the cirque near Big Interior. A cirque is a bowl shaped feature near mountains cause by an eroding glacier. This is a common spot for folks to camp before attempting either mountain.
I am not sure how it took us to almost an hour to go down 100m of elevation, but that trip report was not lying. It was quite challenging. On the way in, we ended up bushwhacking through some shrubs and walking down a stream.
We set up our camp in the cirque near some water and called it a day.
Day 2
Most people do their summit push on day 2. The advantage is you do not need to carry all your camping gear over Big Interior.
This was our plan … until we woke up at 5:00 am and it was pouring rain. We switched to Plan B and moved our camp closer to Nine Peaks.
The day started out nice enough. But before we knew it, our visibility disappeared.
Little did we know, we would spend almost the whole day looking at white. White snow. White sky.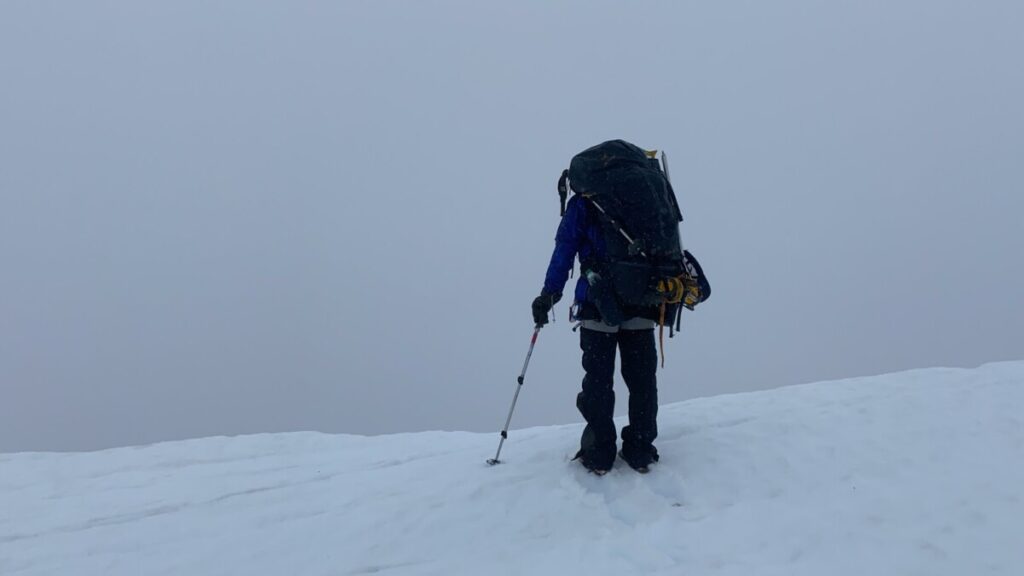 There were no footsteps to follow, so we were making all the navigation choices on our own. We used our GPS track, our compass, the guidebook descriptions and whatever terrain we could spot. Sometimes a faint outline of a peak would fade into view.
One of the biggest challenges was fighting off vertigo. When the ground and the sky are the same colour, my brain is like TIME TO LAY DOWN. Not great response when you're on steep snow.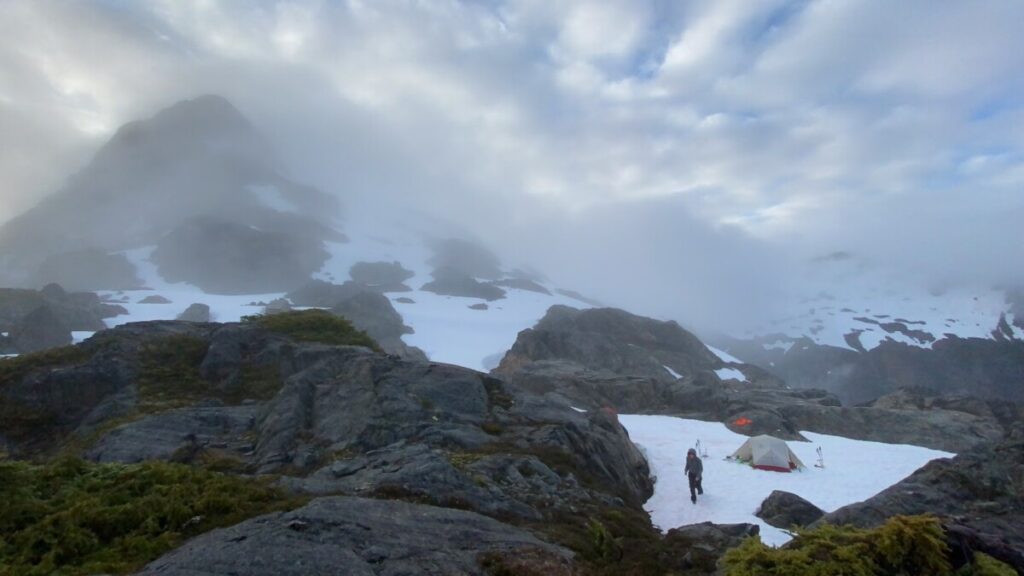 The other challenge was all the rain. We had rain gear and our gear was sealed in waterproof bags. But by the end of the day, it had rained so much it was hard to get in and out of the tent without contaminating our dry things.
Day 3
We got up expecting sunny skies, as the weather forecast had promised.
Instead we had more blank grey skies. And I saw some ice forming on my gloves.
Since we had come all this way, we thought there was no use moping too much. We might as well carry on towards Nine Peaks and see what might happen.
I am so glad we did, because we made it through the white out to the summit!
On the way back, we also ran into friends! It was shocking to finally see other people.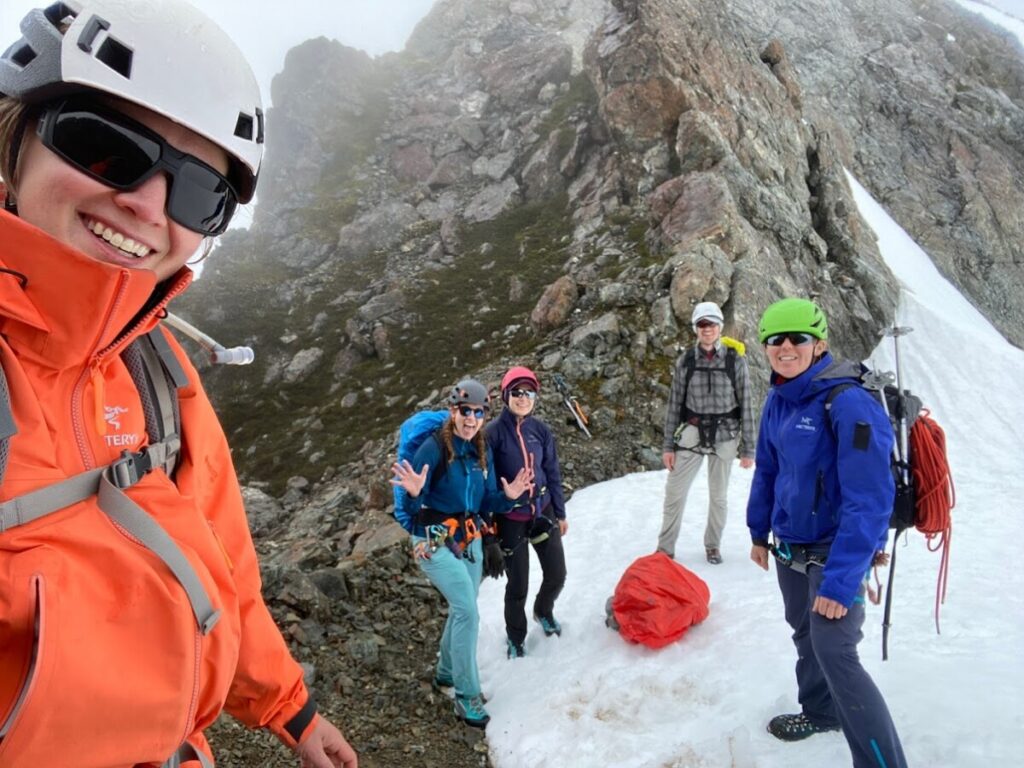 We decided to move our camp to the summit of Big Interior that evening. I am so glad we did, as we got some views!
Day 4
Finally some clear skies! As we went down Big Interior, it was amazing to see what we had climbed.
Now that had some visibility, we wanted to find a better way out of the tricky cirque.
However, being able to see did not help us at all. We ended up getting to the top of a cliff with nowhere to go. We had to backtrack for almost an hour before trying it all again.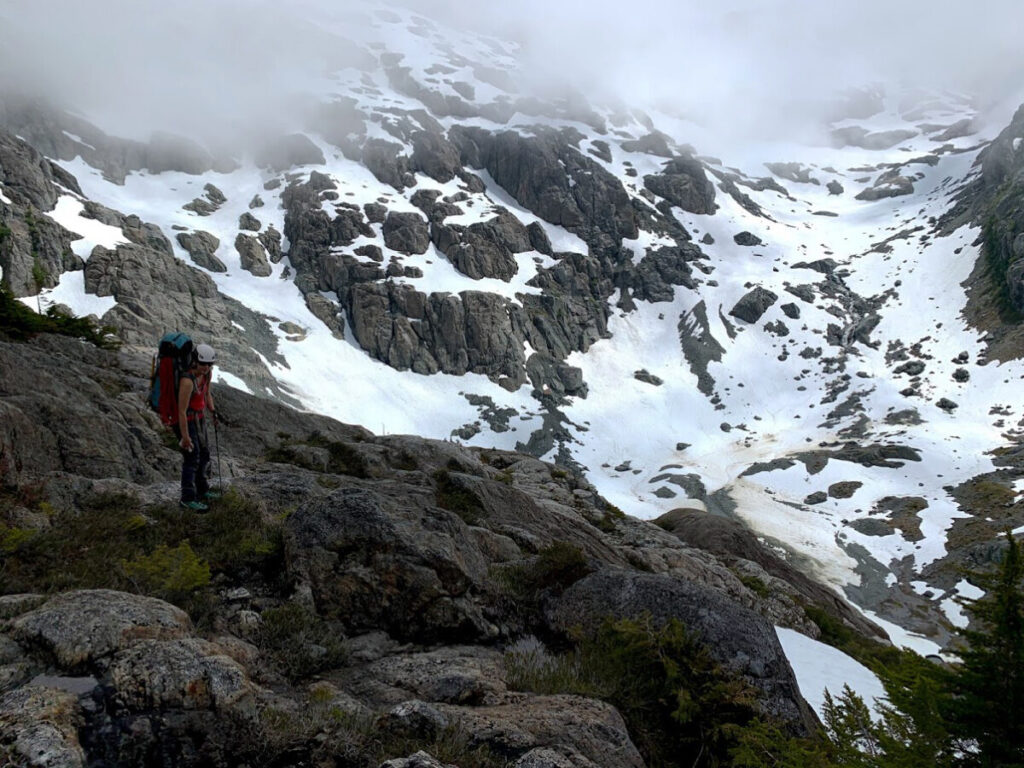 However, we finally found our way out. And we made it back to the truck completely soaked, but safe and happy.
Tips to make your adventure a safe one
Both Big Interior and Nine Peaks require glacier travel and travel on steep snow. We carried helmets, ice axes, crampons, harnesses, rope and glacier rescue kits. We both have had professional instruction on crevasses rescue and we practice these skills every year.
People often make this trip in the spring or early summer after avalanche forecasts are finished on the island. However, avalanches are still possible at this time. We also saw one large cornice on the route. A cornice is ledge of snow barely hanging on to the side of the mountain with nothing to support it below. You might think its a great place to walk because it looks like part of your route. However, this is a very bad idea. Don't walk on cornices.
As I mentioned, perhaps the most challenging part of this trip was navigating our way in and out of the cirque. Pay close attention to your surroundings and give yourself time in case you get lost. Speaking of navigating, we had two GPS devices, a GPS track from someone else, a recording of our own track, spare batteries, a paper map and a guidebook.