Red Pillar was not really on my to-do list. It's in the middle of nowhere. It's not an Island Qualifier. And the most reasonable access points are usually behind locked gates.
But a little bit of rain inspired the logging company to open the gates for the Canada Day long weekend. So I found myself scrambling to plan a last minute trip to the 11th highest mountain on Vancouver Island. And lucky I was, because it was so beautiful!
We accessed the area from Port Alberni by driving on logging roads towards Oshinaw Lake. If you have a canoe, you will enjoy a stunningly beautiful paddle to the trailhead. If you don't, you slog along an overgrown washed out logging road for much longer than you'd like to.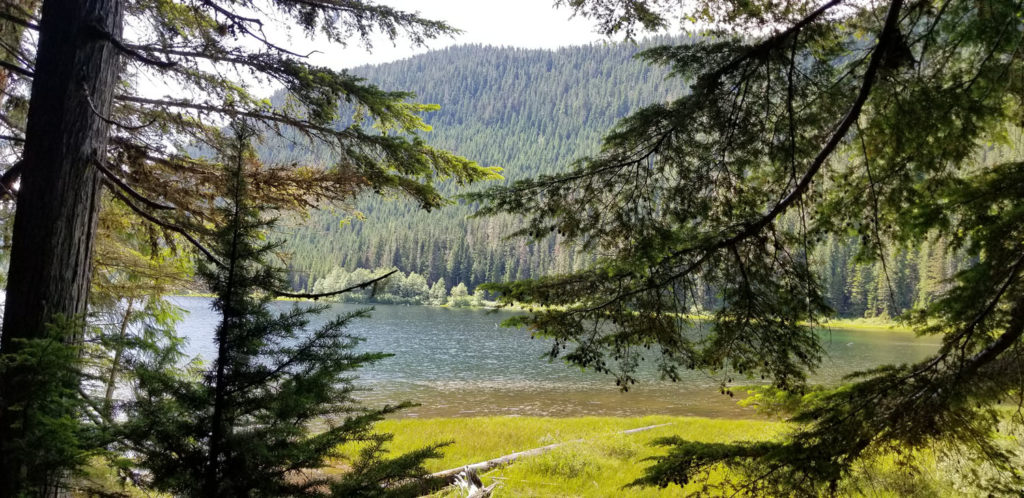 At the official start to the trail, the route is dotted with gorgeous old growth trees. This was a nice treat before the incredible steep slog that waited for us.
In this case, I don't mean "steep" like "I'm breathing hard." It felt like almost vertical dirt. I dropped my cell phone once at one point, and it would have rolled all the way down if I hadn't stepped on it.
With no canoe and the steep trail, it was getting dark before we hit the alpine. So we pitched our tents on a flat spot in the forest. Not ideal, but worked in a pinch.
Walking along the snow-covered ridges towards Red Pillar was a real treat. Even if you weren't climbing, this could have been fun to do.
The climb up Red Pillar was straightforward. Unfortunately, we ended up not quite being able to find the third class ridge walk to the actual summit. We wandered off to the right, doing some tricky scrambling along some sub-peaks. Once we realized our mistake, there was not enough time to change course. Oh well, can't sign all the summit registers.
Great trip. I'd love to come back and try Harmston this way. I need to luck out with another three day weekend with the gates open. And a canoe!