There are many ways to travel along the Camino de Santiago. These packing tips are meant for you if you are walking in the summer and plan to carry your own pack.
Some of the benefits of packing light are:
Save money, as you're going to buy less stuff.
Save energy for other things, like hanging out with friends, exploring cities, reflecting on your journey.
Prevent injuries, as walking will be easier on your body.
Packing light is especially good for people who are:
petite
carrying extra body weight
have a chronic injury or illness
haven't walked very far in a while
providing assistance to someone else, such as kids
Why listen to me?
I am a petite woman with chronic back pain. I just finished my second walk along the Camino Frances. The first time, I didn't get so far due to an injury. My injury was partly caused by overpacking.
This time, I walked 800km from St. Jean to Santiago! My backpack was so tiny, I could easily jump up in the air while wearing it.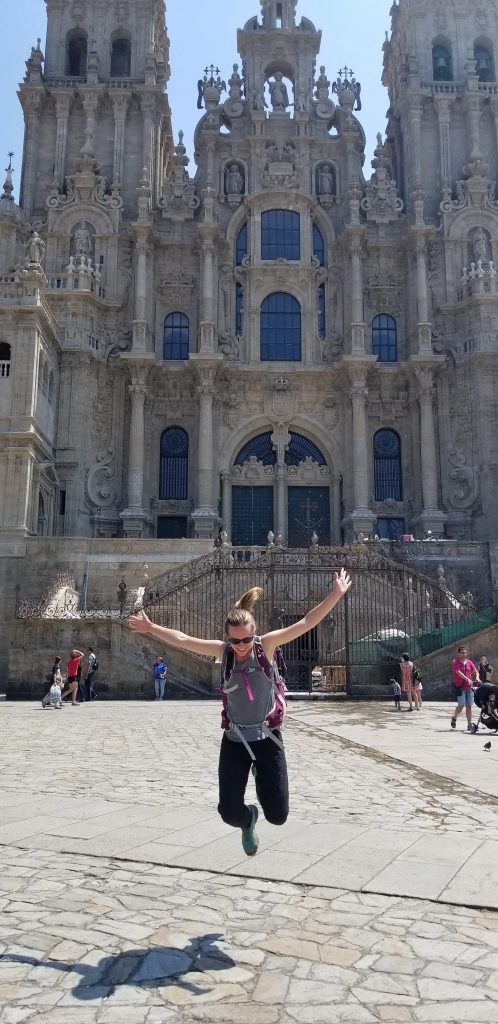 It weighed around 7.5 lbs without snacks or water. (Weight went up and down as I used and replaced things, like shampoo and sunscreen.) Could have gotten lighter if I spent more money on my sleeping bag, but I did not.
I also have 10+ years of hiking and backpacking experience. My systems just keep getting smaller and lighter, as I learn from others and try things out.
And last of all, many online Camino packing lists are written people before they walk. Or by outdoors stores that want you to buy all their stuff. I actually carried all this stuff to Santiago! I took a free hour in Santiago to go to a park and take pictures of all my stuff. So you are seeing photos of my scuffed shoes, sweaty tank top and chewed up toothbrush.
About this post
First, I will share a quick packing list. Then I will talk a bit more about my packing hacks in depth.
Part 1: My ultralight Camino packing list
Walking gear
Trail running shoes. Not GORTEX. Plenty of ventilation.
Walking sandals, like Teevas or Chacos.
30-35 L backpack. Must have comfy hip straps.
Rain cover for your pack
Water bottle
Collapsible hiking poles
Guidebook, if you are carrying one. I used an app — it's lighter!
Sleeping system
You need something that will keep you comfortable in a wide range range of indoor temperatures. This is probably not a sleeping bag you use for camping.
Popular options include:
a sleep sheet
a sleep sheet and small fleece blanket
a small, lightweight sleeping bag designed for warm temperatures (kind of expensive)
See my "tips and hacks" section below for more thoughts on this.
You also need:
You do not need a camping mattress unless you plan to sleep outside. This is not going to accidentally happen to you. There are plenty of places to stay.
Clothes
1 pair of walking pants or shorts. No jeans or cotton.
1 t-shirt or tank top for walking. Yes, just one.
1 long sleeve shirt. This is for warmth and to keep the sun off.
1 comfortable outfit to switch into after walking and to sleep in. Many women wear sundresses.
Raincoat or plastic poncho
2 pairs of summer hiking socks
2-3 pairs of underwear
1-2 sports bras, if applicable
Sun protection
Good quality sunglasses
50+ SPF sun screen
Chapstick with sunscreen
Hat with wide brim
Carrying your stuff in town
Small fanny pack to hold your money and passport. You should have this stuff on you all the time, unless it's in a locker. I know a fanny pack might seem kind of dorky, but everyone is doing it! 🙂
Very small and lightweight day bag for town. Most people had little drawstring gym bags. I used a reusable shopping bag because I had it on me.
Toiletries
Full-sized bottles, glass jars and bulk toiletry bags should be left at home. You are going to be refilling this stuff as you walk, several times.
Quick dry pack towel
Shampoo and conditioner
Tiny brush or comb
Bar soap
Toothbrush
Toothpaste
Deodorant
Nail clippers
Razor
Glasses, contacts, contact solution and case
Prescription medications
No laundry soap. You are going to buy it along the way or use bar soap.
No makeup. It will run off your face with all the sweating you are about to do.
Small first aid kit
You will be able to buy everything you need in Spain. So just bring a few things you already own if you like.
Pain killers
Bandaids and antibiotic cream
Athletic tape
Small scissors
Knee or ankle support
Electronics, cameras, books and entertainment
Just bring one thing: your smart phone. Your phone is your camera, your guidebook, your music, your books, your way to connect with home.
And an adapter for Europe. Don't carry a universal adapter. They are very heavy.
Part 2: Packing hacks and tips
Trail Shoes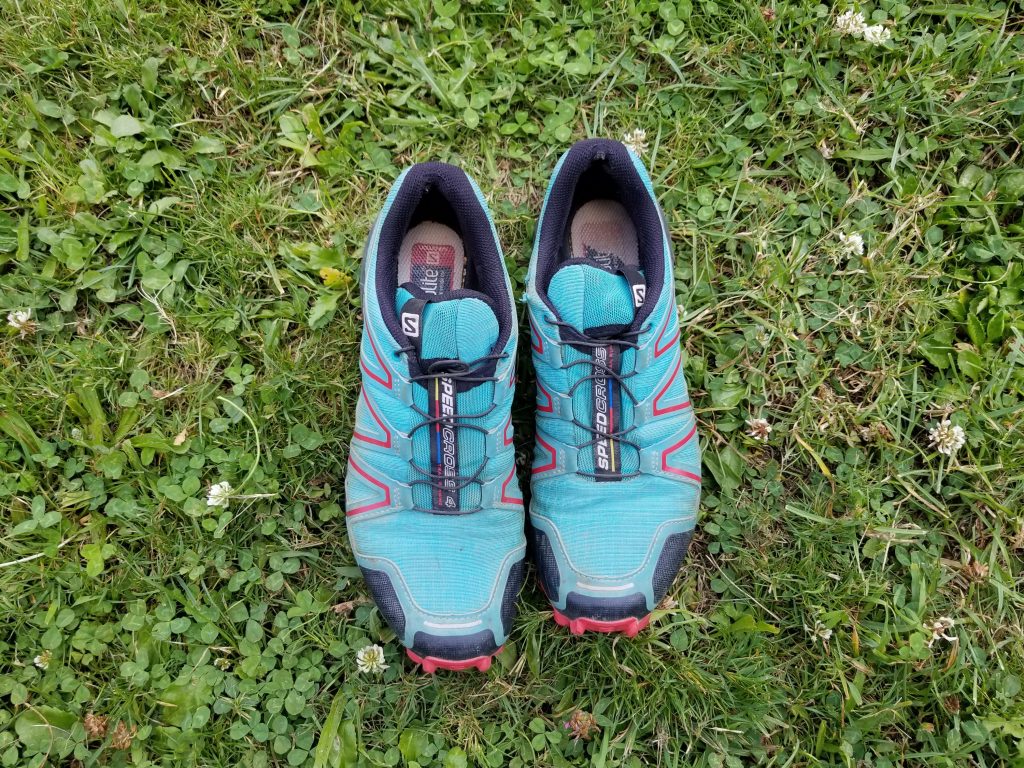 Spare no expense on your main walking shoes.
My first Camino I brought light, well-broken in hiking boots with ankle support and waterproofing. My entire feet became covered in blisters. Don't make the same mistake! The Camino is a walk. A very hot walk in the summer. Mostly along well-trodden dirt and gravel paths. Often along sidewalks and roads.
This time, I brought trail runners. There is saying that 1 pound of weight on your feet is like 5 pounds on your back. So I chose my shoes by picking up all the trail runners in the nearest outdoor store store. I tried on the lightest ones.
I also looked for tons of ventilation. I bought the ones that fit best in a slightly larger size. Your feet may swell on the Camino, as you are so hot!
Trail runners are not designed to last that long, so don't go overboard on breaking them in. I mean, by all means try them out and make sure they work. But save the miles for the Camino.  My shoes were completely destroyed by the end of 800 km.
Walking sandals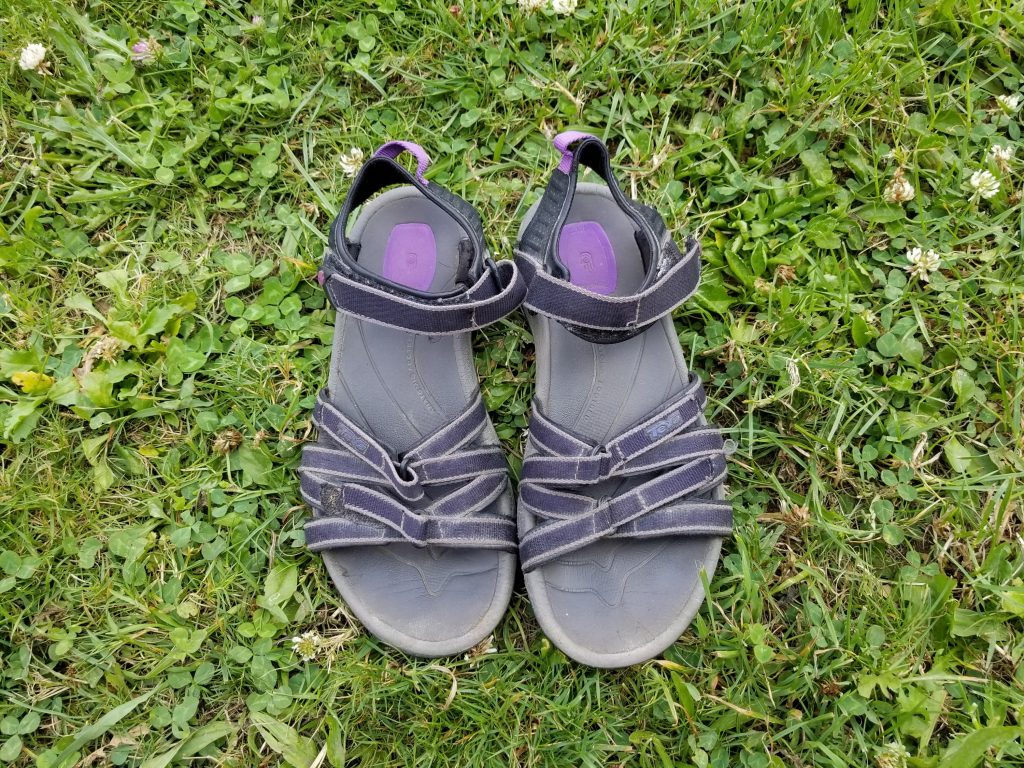 My secondary pair of shoes were walking sandals. I bought Teeva shoes because they are very lightweight and also sort of attractive. Chacos are also popular because they are so sturdy. But they are much heavier.
Walking sandals are better than flip flops, because you can also walk on the Camino with them too if you get tired of your main shoes. And they are more supportive when you're walking around town.
Socks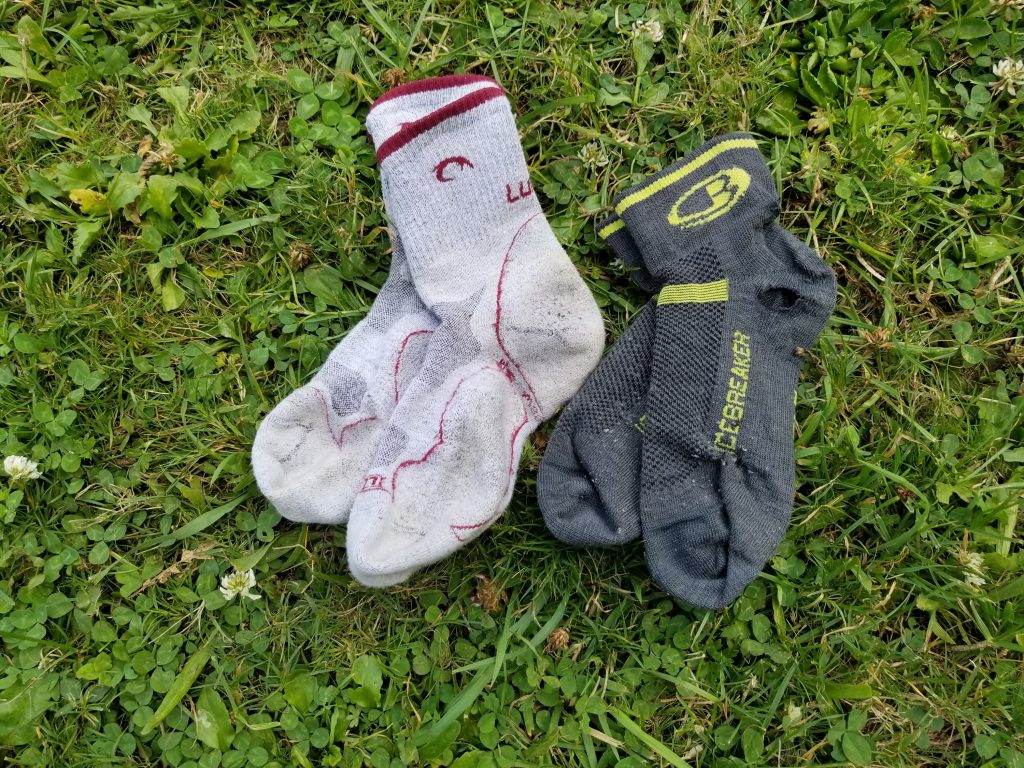 Bring two different pair, in case one style doesn't work well on the Camino. It's hard to test what will work ahead of time, as it's hard to replicate conditions of the Camino at home.
You need two pairs of socks because you are going to switch them in the middle of the day when they get drenched in sweat or rain.
You don't need more than two pairs because you are going to wash them in the sink every day.
Side note: It's so important to keep your socks and your feet clean! I washed my feet twice a day, in addition to my daily shower. Infections, salt rash and blisters are really quick way to being miserable and even ending up in the hospital.
Backpack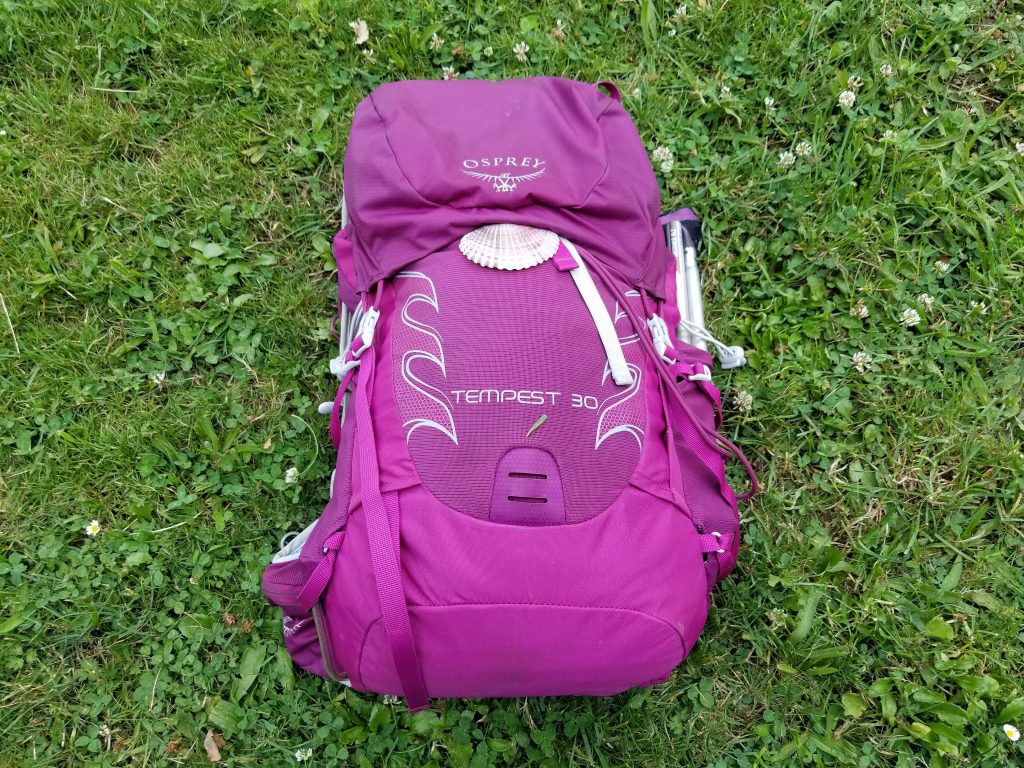 After shoes, this is the next most important piece of gear.
Your bag should not be bigger than 30-35L. Or else you have way too much stuff. Or you have special circumstances like carrying medical equipment or stuff for someone else, like your kids or someone dependent on you.
The bag needs to have hip straps. It should be as lightweight as you can afford. Osprey is the best but most expensive. Then Dueter. Then a store brand like REI or MEC. Mine is an women's Osprey Tempest 30.
Women specific bags are smaller & fit shorter people better. It's not just about the colour.
Get professional help fitting a bag at a reputable outdoors store, if you haven't bought many before. Don't let them sell you a higher volume bag. These larger bags are also much heavier! And you will fill it up with stuff…
Clothes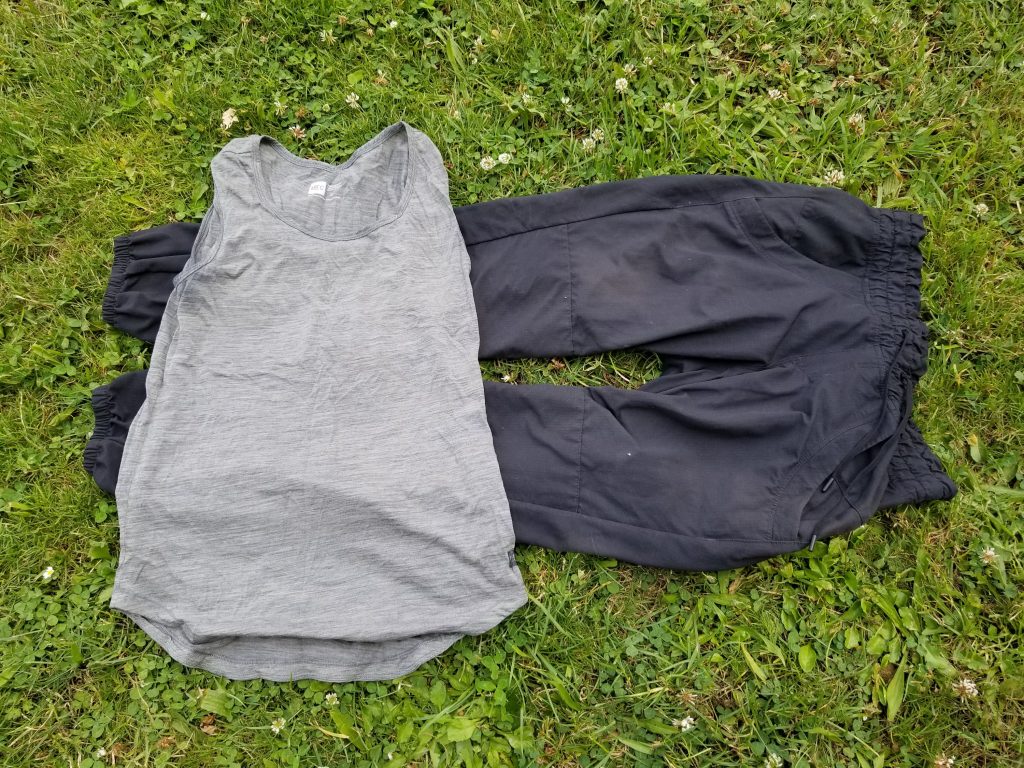 Spend the least amount of money on clothes as possible. Avoid buying new stuff because you are going to completely destroy your clothes. Also make sure you really love how they look and feel. You'll be seeing a lot of them. Synthetic get really smelly in a way that you cannot wash out. Wool does not. You should not hike in cotton, but its OK for town and sleeping.
Also do not bring TWO or more of anything besides underwear and socks. You are going to hand wash clothes every day along with everyone else.
And I LOVED my sundress for after walking. It helped take a break from being a stinky pilgrim.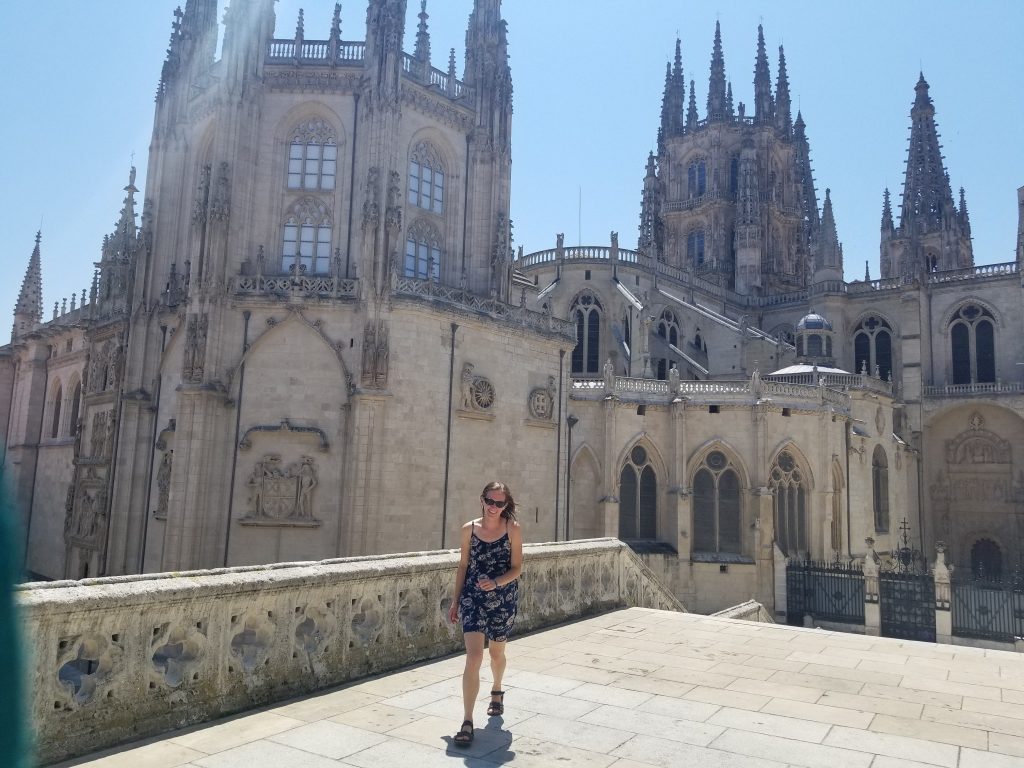 Sleeping system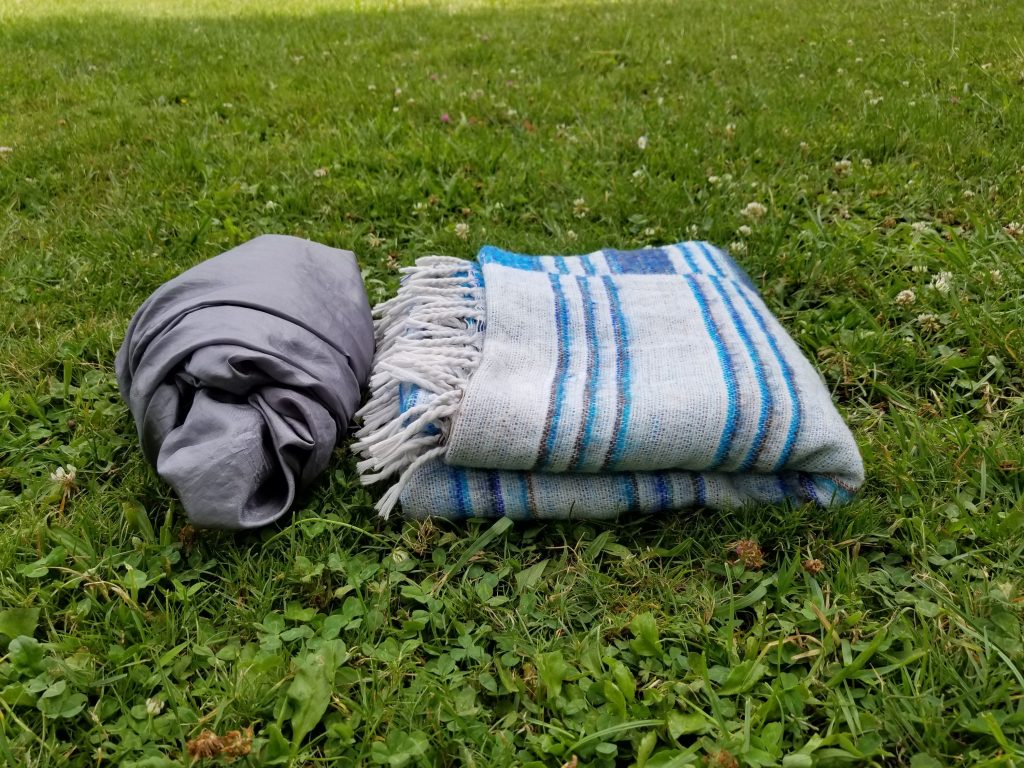 If you own or can afford a warm, lightweight sleeping bag, great. These types should compress as small as a 1L water bottle and cost $150-250.
If this is out of your budget, then you can use the same hack as I did.
I picked up a very cheap sleep sheet made from polyester. (Silk ones costs 10 times as much. People buy these because they allegedly prevent bed bugs and are more comfortable. That was not quite convincing enough for me to spend $100 on one.) This is for hygiene purposes, as albergues don't usually clean the beds or their blankets every day. It also is very comfy when its really hot out.
I also picked up a cheap, small blanket. Mine was wool, but fleece works too. I carried this blanket for times when albergues didn't provide them. I sleep cold, so this was important for me. You could also leave your cheap blanket behind if you find you aren't using it. When I was really cold, I put my rain jacket on top of my blanket.
If the sleeping bag you are looking at purchasing is bigger than a small blanket, think about why you are buying it. Especially if it costs more than $30. You don't need to sleep in a sleeping bag!
Toiletries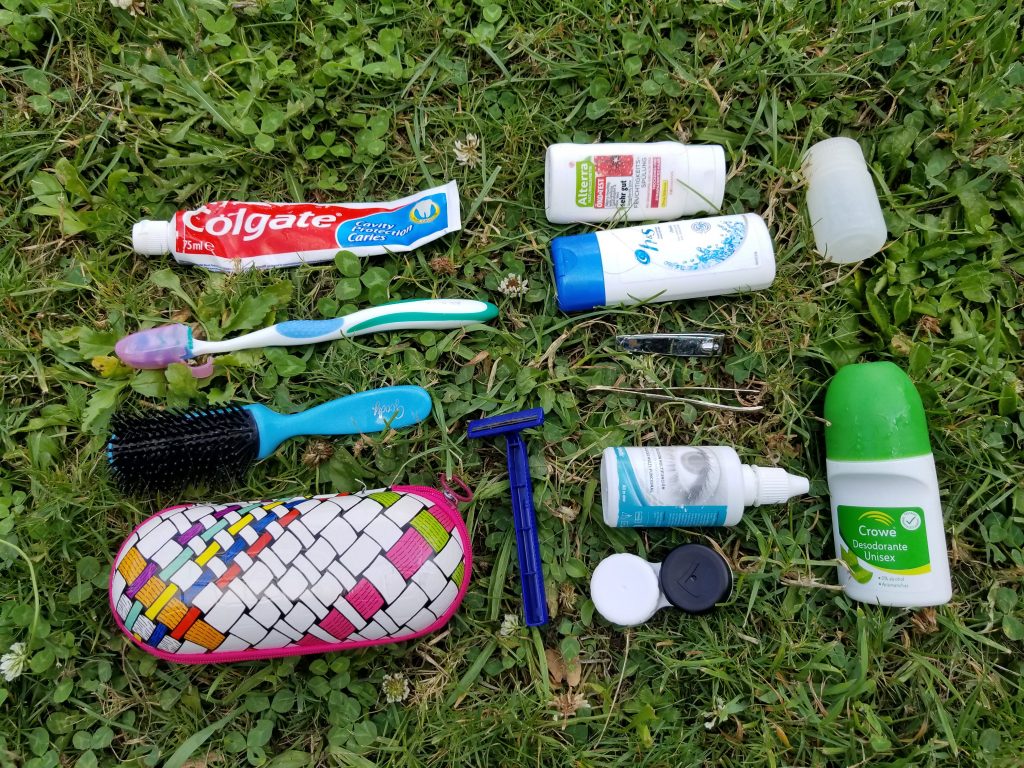 Do not bring full-size shampoo bottles. Bar soap is lighter than body wash, and doubles as laundry detergent.
Guidebooks and apps
But I did not carry a guidebook. As I could not figure out how to get one shipped to me while I was on the road. And I don't like carrying things. So I used an app. Unlikely normal hiking conditions, you do not need a paper map for safety reasons. The Camino is very well marked and full of people who can point you in the right direction.
The most popular app is Buen Camino.  I used Camino Pilgrim, which is free on Android. My favourite feature is that you can create a customized schedule that shows exactly how far you will walk each day where you stopped along the way.
Electronics and entertainment
I feel like this is one of the areas people bring way too much stuff, me included on my first Camino.
If you are lucky enough to have purchased a smart phone in the last few years, it is the only thing you will need.
Your smart phone has a great camera — probably better than any point or shoot you could buy for a reasonable amount of money.
If you want to read books, try downloading the Kindle app for your phone. I know it's not as nice as a paper book. But you really won't have much time to read anyway.
You don't need an external battery pack. They are heavy and probably require seperate cables for charging. If you really need to charge your phone on the road, just pop into a cafe and use your regular phone charger for a little boost.
What about you? What's one thing you wish you had NOT brought with you?
Leave a comment below! Let me know how it works out. And if this post is helpful, please share it!