One of the first things I did when I got home from my four month adventure was getting rid of all my stuff.
It felt urgent. Necessary.
I heard through the grapevine that some people thought this meant I was going to quit my job and start travelling full-time. Hahahaha. No. Maybe if I win the lottery or something.
But in the meantime, I plan to return to work and to keep enjoying my home. Except that home now felt stiflingly full of things. Things I should have gotten rid of a long time ago.
Not having something is not the worst thing in the world
I spent two months travelling through Asia with a 40L backpack. Sometimes I felt like I didn't have the things I needed. I ran out of T-shirts too quickly and had to keep washing them in the sink. I ran of deodorant one time, and couldn't find what I needed for a week. That wasn't fun.
But at the same time, my bag felt big and burdensome. I felt like a jerk for taking up two seats on the public bus in Nepal. Especially since people use shoulders and laps when the seats run out.
When I arrived in Spain to walk the Camino, I cut my stuff down to about 8 pounds. I sent everything else ahead so that I could pick it up when I finished the Camino. Everything that I carried fit into basically a school bag.
And this is when I started to feel really great. Free, even.
I could only carry what I needed. And I didn't need much. As soon as something stopped working for me, I got rid of it. I gave things away that were in good shape and threw other things away that were worn out.
This of course only worked because I was travelling through a country with tons of stores selling everything I could possibly want. And I had enough money to buy whatever I needed.
Just like home! I can just buy things I need, as I need them. Or better yet, I can just deal with uncomfortable feeling of wanting something and not having it.
My first suit and other things I got rid of
Fifteen years ago, my mom bought me a suit for my first job interview. I ended up working as a computer programmer in an accounts receivable department for a Fortune 500 company……
Sorry, I almost fell asleep there typing that sentence. Let's look at a picture of this dorky suit to wake us up again, shall we?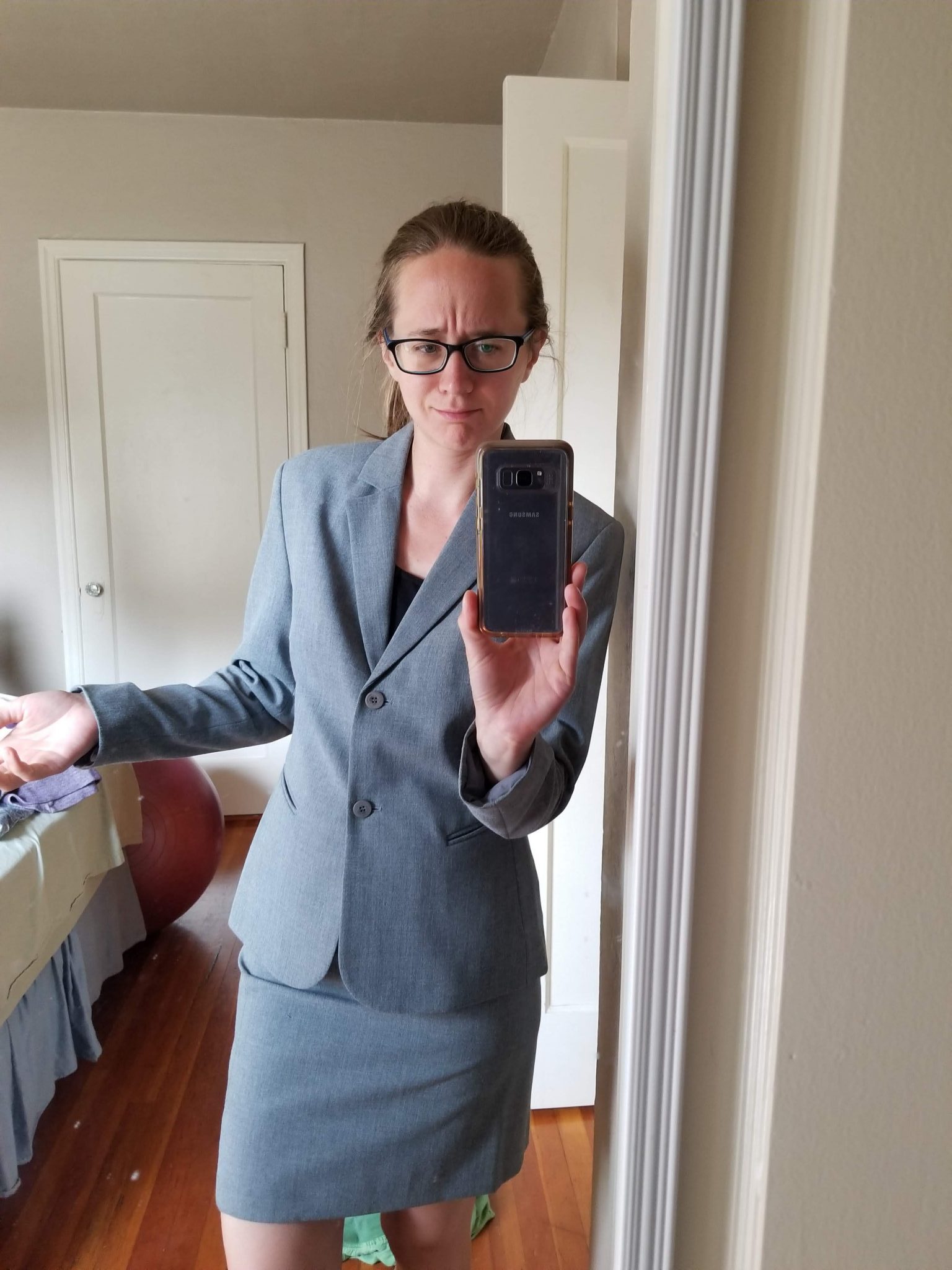 First of all, the zipper on the skirt is definitely not done up. Cause I've had some ice cream between now and then. Also, shoulder pads??
This Avril Lavigne song was popular the year that this suit was purchased. I got rid of my Avril CDs quite a long time ago. Because I no longer have a CD player. So why in the world was this suit still in my closet?
And my apartment was full of  stuff like this.
I got rid of an old prom dress. Why did I bring that all the way across the country after high school?
And our television. A year after we moved, we had never plugged it in.
I tossed some kitchen gadgets that really didn't work very anymore. I guess I thought that I'd fix it, but let's be honest. I don't know how to do that.
I gave away an awesome record player that I used when I was married to my ex. (You know what makes you NOT want to relax and listen to records? Thinking about your divorce.)
I sold a perfectly good DSLR camera. I have switched to taking photos and videos with my phone and I am not going back.
Bernard has been inspired. He has been selling hundreds of dollars worth of bike parts, which means we can now walk in our shed again.
Don't let the past weigh you down
It's not even the living out of a backpack thing that really changed me. It was having a chance to think about who I was. And to grow. And feel much more confident in who I was as a person.
Whether it's a handful of things on the Camino or my one bedroom apartment, the philosophy is the same. Just keep what you need. And say goodbye to the things you don't. Even if they were expensive. Or you thought you'd want them again.
You're becoming a new you all the time. And it's much easier to do without a bunch of old stuff weighing you down.