Updated April 10, 2020
How do physical distancing rules apply to hiking? And what trails are even open anymore?
Current guidelines in BC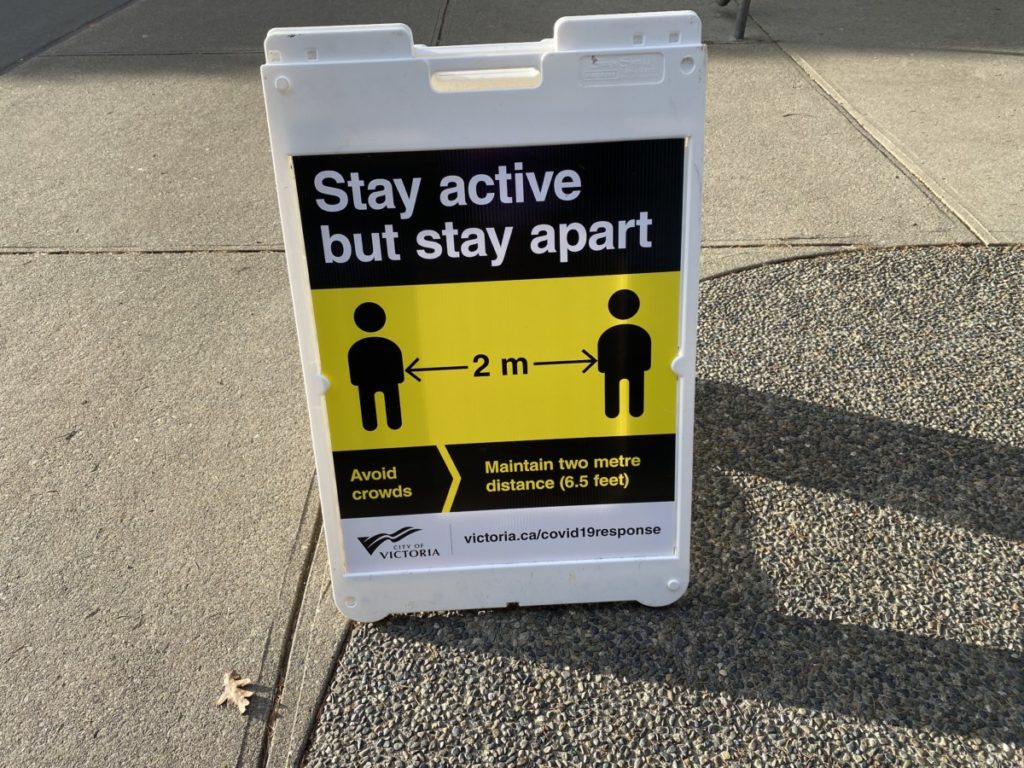 At the time of writing this British Columbians are allowed to go outside and get some exercise. But we all need to:
Stay at least 2 meters away from others
Avoid groups
Stay close to home
Make conservative choices
Respect park closures (see below)
Can you go on a hike with a someone you don't live with?
Official advice is not clear. Some folks are sticking to hiking with people they live with. I know other people who go on a hike with a friend, but stay 2 meters apart. Others are venturing out alone.
If you decide to go hiking alone, remember that it is more dangerous than going with others. (Do you want to be responsible for calling a huge group of Search and Rescue volunteers out to help you right now?)
Are you supposed to be self-isolating?
Self-isolating means you should not go outside at all, even for a little walk or groceries. People need to self-isolate when they are sick or because of recent travel. At the time of publishing this, most of us in BC are not self-isolating. This is why we can go outside if we practice physical distancing and do not drive to other communities.
Please check with the BC Centre for Disease Control for the most up to date information. The self-assessment tool is very helpful in determining if you need to self-isolate.
Trails that are still open near Victoria, BC
Your neighbourhood
I have been getting out for a walk, run or bike around around the neighbourhood every day after working at home. Sort of like a made up commute. Some time to clear my mind and transition to the rest of my day back at home.
Victoria Parks
The two biggest Victoria parks are Dallas Road waterfront and Beacon Hill Park.
As of April 10, Beacon Hill Park will be closed to cars to help making physical distancing easier.
Map (PDF) of Victoria Parks.
Saanich Parks
Saanich parks include PKOLS (Mt. Doug), Gorge Waterway, Mt. Tolmie.
Capital Regional District
The CRD has asked us to stay really close to home. For Victoria residents, this means no trips to Salt Spring Island, other Gulf Islands or the Juan de Fuca Electoral area. The JDF Electoral area includes East Sooke and anything west of Sooke such as Jordan River and Port Renfrew.
Facilities in CRD parks such as picnic tables, water fountains, playgrounds are closed.
Here are some of the CRD parks that are open.
What's closed?
This is not forever.
If your income has not been disrupted due to COVID-19, consider supporting your local outdoors stores like Robinsons and VPO. They have really great options to buy gear while respecting physical distancing requirements. And if you're a member of a climbing gym like Crag X, consider keeping your membership going. We need our climbing community to be there for us when this is all over.
Also … did you see this cool BC Gov graphic? (Can't believe I just said that….) But all our physical distancing is working! We're are flattening the curve. Keep up the good work.